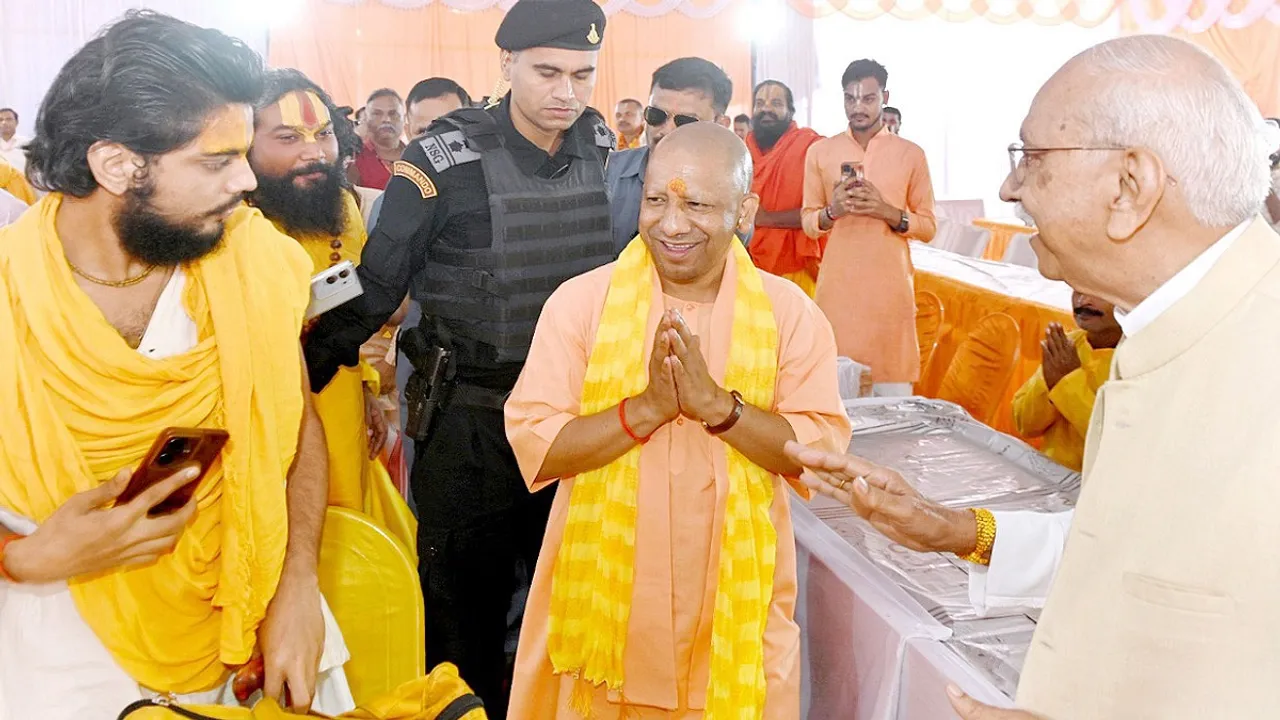 Gorakhpur/Lucknow: Uttar Pradesh Chief Minister Yogi Adityanath on Sunday celebrated Diwali with the forest dwellers here, continuing a practice he started about 15 years ago.
The Chief Minister inaugurated or laid the foundation stones of 52 development projects worth Rs 153 crore for different gram panchayats of Gorakhpur district on the occasion, the state government said in a statement.
Adityanath on Sunday also visited the Hanumangarhi temple and the Shri Ram Janmabhoomi in Ayodhya and offered prayers.
"Hearty congratulations and best wishes to the people of the state on the great festival of Diwali – the victory of truth over lie, virtue over tyranny and light over darkness. With the blessings of Lord Shri Ram and Mata Janaki, may this holy festival illuminate the lives of all of you... Jai Shri Ram!" he wrote on X.
दीपावली के अवसर पर आज गोरखपुर में वनटांगिया गांव वासियों को ₹153 करोड़ लागत की 52 विकास परियोजनाओं की सौगातें दी गईं।

'रामराज्य' की परिकल्पना को साकार करने के लिए डबल इंजन की सरकार पूरी प्रतिबद्धता के साथ कार्य कर रही है।

आप सभी को हार्दिक बधाई एवं शुभकामनाएं! pic.twitter.com/fexEm9XDLx

— Yogi Adityanath (@myogiadityanath) November 12, 2023
In Gorakhpur, Adityanath met the members of the Vantangiya community in Tikonia No. 3 village in Kushmi forest and spoke about their struggle for rights.
Diwali and 'Ram Rajya' are all about "providing all government facilities and civil rights to the underprivileged," he said.
The Vantangiyas were brought from Myanmar during the colonial rule to plant trees for afforestation.
Addressing the members of the community, Adityanath said he was happy to see that the poor were living in 'pucca' houses, had access to drinking water facilities, electricity, good schools, and anganwadi centres.
"There should be a passion to work and our efforts should be directed towards social upliftment. Efforts made to embrace every poor, deprived and destitute and take them along, bear fruits," he said.
During his visit, he also spoke about Ram Mandir which after a long legal battle is due to open next year in January.
"It is going to give a sense of pride not only to the whole of India, but also to all the followers of Sanatan Dharma in the world," he said.
Adityanath urged people to light five lamps in their homes as tribute to the 500 year wait for the building of the temple, which was said to have been felled by Mughal Emperor Babar.
He said that since independence, Gorakhpur, his constituency, has been continuously and deliberately neglected from the point of view of development.
But today road, rail, and air connectivity in Gorakhpur is excellent and in a few years, it will be connected with waterways too, he said.
Adityanath said that the Vantangiyas, who earlier used to live in fear of eviction, fake FIRs, and arrest from the forest department, are now aware of their rights.
"Their fear ended in the 'double-engine' government. They have got their rights. A Vantangiya now talks about his rights instead of fear. Today Vantangiya people have a permanent house, toilet, LPG connection, electricity connection, Ayushman card," he said.
He added that other neglected tribes like Musahar, Tharu, Cheru, Buxa, Kol and many others are also being provided such basic amenities as housing, electricity, kitchen, and health cover.
During his tour of the village, Adityanath visited the house of Ram Ganesh, the head of Vantangiya community, and lit a lamp there.
In a brief conversation with the media after meeting the saints in Karsevakpuram in Ayodhya, Adityanath said that Ayodhya witnessed the spread of a "positive energy" through Deepotsav.
"Ram Lalla is going to be seated in the grand Shri Ram temple in Ayodhya in the coming month of January. There is excitement and enthusiasm among the saints regarding this. All the saints are determined to participate in the inauguration programme of the grand temple of Ram Lalla," he said.