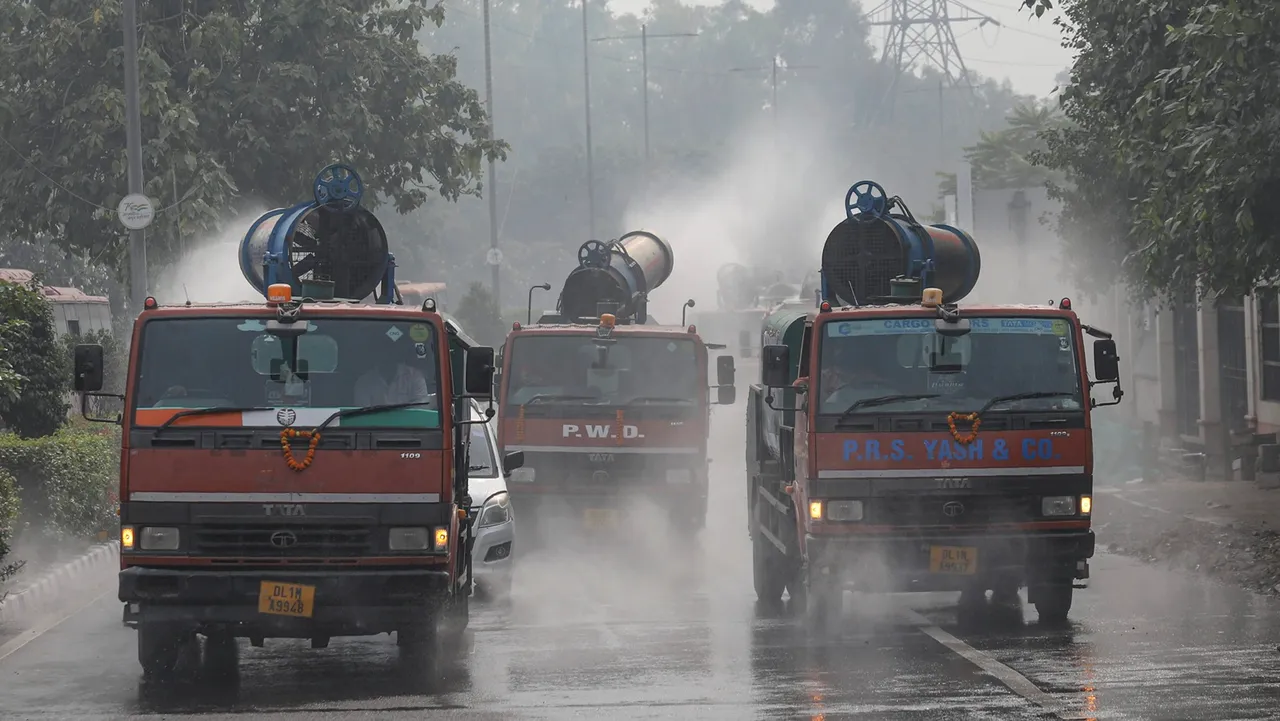 New Delhi: Delhi's air quality improved overnight due to an increase in the wind speed and a change in the wind direction, but it still stands in the "very poor" category, according to monitoring agencies.
The city's Air Quality Index (AQI) stood at 339 at 9 am, improving from 405 at 4 pm on Friday. The 24-hour average AQI, recorded at 4 pm everyday, stood at 419 on Thursday. It was 401 on Wednesday, 397 on Tuesday, 358 on Monday, 218 on Sunday, 220 on Saturday and 279 on Friday.
The relatively better air quality last weekend was attributed to rain. Air pollution levels surged in the following days due to intense firecracker bursting on Diwali night and a resurgence in stubble burning in the neighbouring states.
These effects were compounded by unfavourable meteorological conditions, primarily calm winds and low temperatures, hindering the dispersion of pollutants.
Neighbouring Ghaziabad (274), Gurugram (346), Greater Noida (258), Noida (285) and Faridabad (328) also recorded "very poor" to "severe" air quality.
An AQI between zero and 50 is considered "good", 51 and 100 "satisfactory", 101 and 200 "moderate", 201 and 300 "poor", 301 and 400 "very poor", 401 and 450 "severe" and above 450 "severe plus".
Recent findings from a joint project by the Delhi government and Indian Institute of Technology (IIT), Kanpur found out that vehicular emissions accounted for about 45 per cent of the capital's air pollution on Friday. This is likely to reduce to 38 per cent on Saturday.
Secondary inorganic aerosols -- particles such as sulfate and nitrate that are formed in the atmosphere due to the interaction of gases and particulate pollutants from sources like power plants, refineries and vehicles -- is the second major contributor to Delhi's foul air, accounting for 19 to 36 per cent of the air pollution in the city over the last few days.
An official at the India Meteorological Department (IMD) said an improvement in the wind speed from November 21 onwards might bring the air pollution levels down.
Delhi's air quality dropped over the last few days despite the city government implementing stringent measures, including a ban on construction work and the entry of diesel-guzzling trucks into the national capital.
According to IQAir, a Swiss company that specialises in air-quality monitoring, Delhi was the second-most polluted city in the world on Saturday after Baghdad.
The Commission for Air Quality Management (CAQM) had earlier said stringent measures, including a ban on construction work and the entry of polluting trucks into the national capital, under the final stage of the Centre's air pollution control plan -- the Graded Response Action Plan (GRAP) -- will continue until further orders.
The Delhi government set up a six-member special task force (STF) on Thursday to ensure a strict implementation of the measures outlined in the GRAP in the capital. Delhi's special secretary (environment) will head the STF, whose members include senior officials from the departments of transport, traffic, revenue, Municipal Corporation of Delhi (MCD) and Public Works Department (PWD).