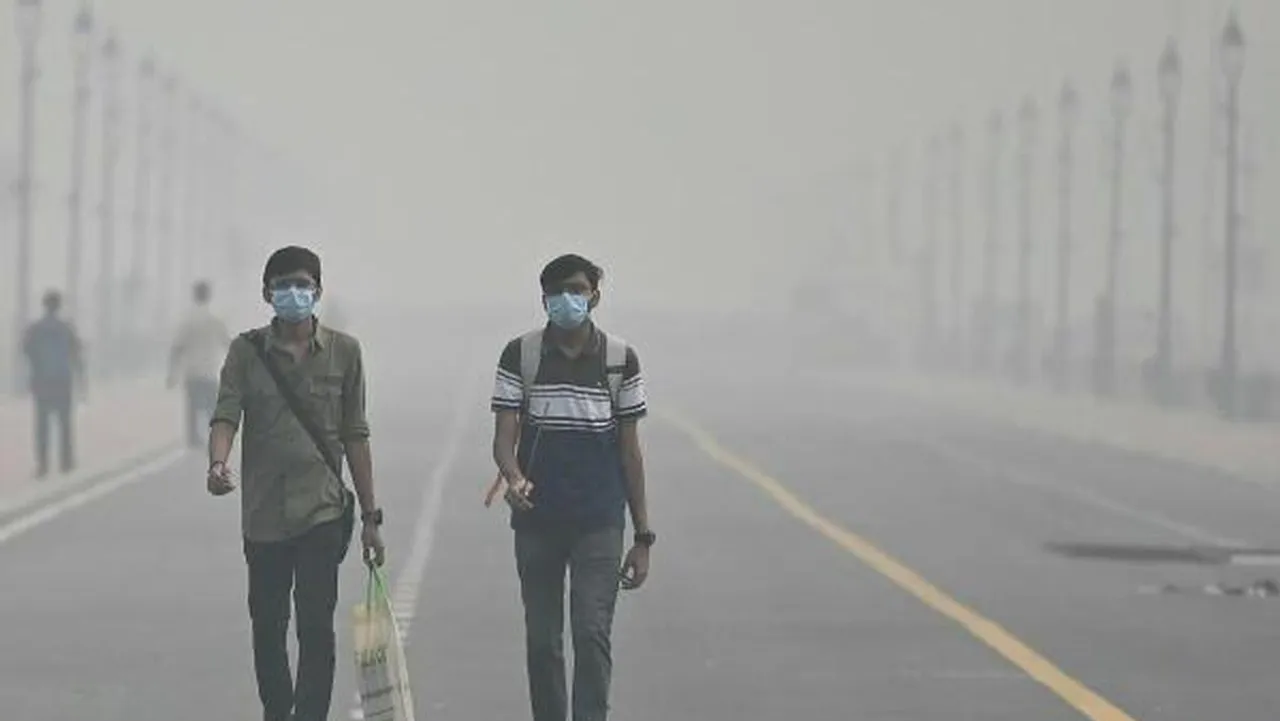 New Delhi: Air pollution in Delhi neared the "severe" category again amid unfavourable meteorological conditions on Tuesday and a relief is unlikely soon.
The capital's 24-hour average Air Quality Index (AQI), recorded at 4 pm everyday, stood at 397, worsening from 358 on Monday and 218 on Sunday.
Air pollution levels hit the severe category (AQI above 400) at many places within the city, including ITO (427), RK Puram (422), Punjabi Bagh (423), Nehru Nagar (450), Anand Vihar (439) and Nehru Nagar (450).
Neighbouring Ghaziabad (356), Gurugram (386), Greater Noida (348), Noida (364) and Faridabad (384) also recorded very poor air quality.
Squandering the relief due to rain, Delhi recorded a jump in pollution levels and a smoky haze returned on Monday after people flouted the ban on firecrackers on Diwali night.
According to IQAir, a Swiss company that specialises in air quality monitoring, Delhi was the most polluted city in the world on Tuesday, followed by Dhaka Lahore and Mumbai.
Delhi recorded its best air quality on Diwali day in eight years on Sunday, with its 24-hour average AQI settling at 218 at 4 pm.
However, the bursting of firecrackers till late Sunday night led to a spike in pollution levels amid low temperatures.
An AQI between zero and 50 is considered 'good', 51 and 100 'satisfactory', 101 and 200 'moderate', 201 and 300 'poor', 301 and 400 'very poor', 401 and 450 'severe' and above 450 'severe plus'.
"It's evident that the spike in pollution levels post Diwali is due to two factors -- firecracker bursting and farm fires -- with fireworks being the predominant reason in this case," an official of the Commission for Air Quality Management (CAQM), a statutory body responsible for formulation of strategies to reduce pollution in Delhi-NCR, told PTI.
According to a system developed by the Pune-based Indian Institute of Tropical Meteorology to identify the contribution of different pollution sources, stubble-burning accounted for 12 per cent of the air pollution in the capital on Tuesday. It is likely to be 14 per cent on Wednesday and 6 per cent on Thursday.
Delhi recorded an AQI of 312 on Diwali last year, 382 in 2021, 414 in 2020, 337 in 2019, 281 in 2018, 319 in 2017 and 431 in 2016, according to CPCB data.
The city's AQI a day after Diwali stood at 360 in 2015, 445 in 2016, 403 in 2017, 390 in 2018, 368 in 2019, 435 in 2020, 462 in 2021 and 303 in 2022.
The CAQM official quoted above said stringent measures, including a ban on construction work and the entry of polluting trucks in the national capital, under the final stage of the central government's air pollution control plan called the Graded Response Action Plan (GRAP) will continue until further orders.
"Stubble burning incidents are rising again and the meteorological conditions are not favourable (for dispersion of pollutants). We will review the situation and act accordingly," the official added.