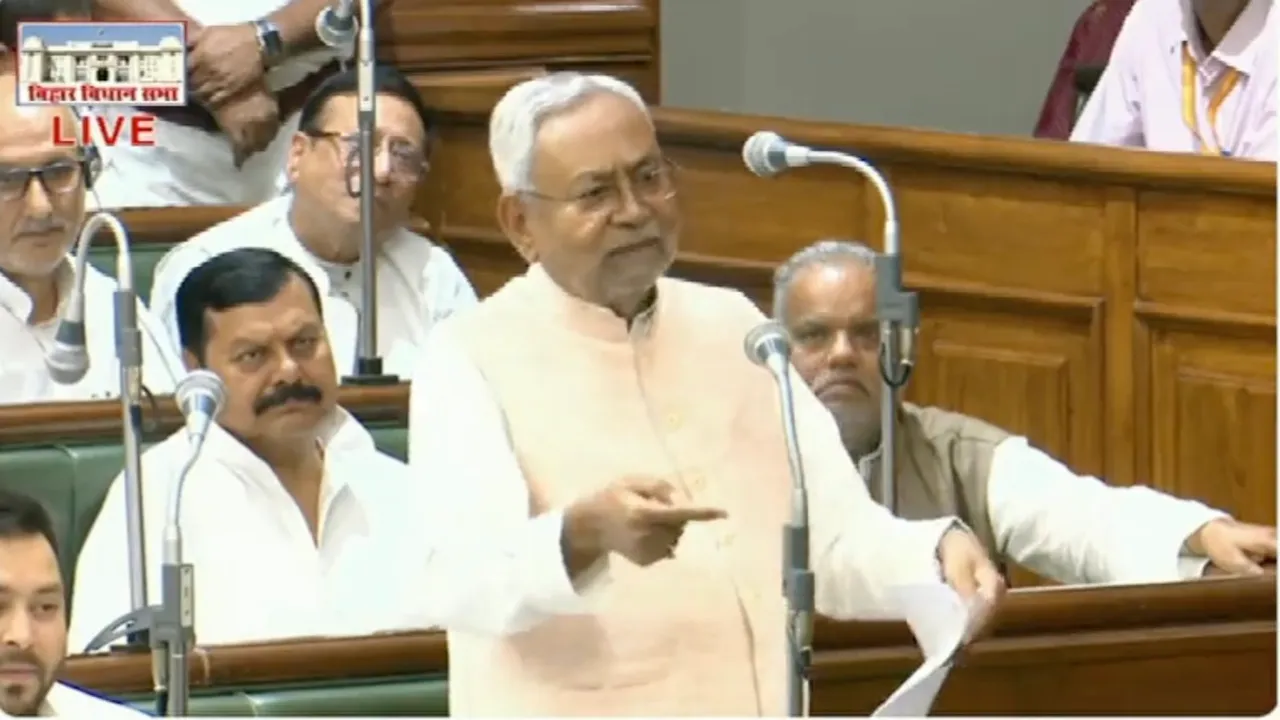 New Delhi: The BJP on Tuesday flayed Bihar Chief Minister Nitish Kumar for his remarks on the importance of women's education to control the population calling those "most misogynistic, vulgar and patriarchal", and demanded his resignation.
The Bihar chief minister, while emphasising the importance of education among women to control the population, put forward a vivid description in the state assembly of how an educated woman can restrain her husband during sexual intercourse.
"The husband's acts led to more births. However, with education, a woman knows how to restrain him... this is the reason the numbers (of births) are coming down," Kumar said in a rustic style.
Reacting sharply, Union Minister and a senior BJP leader from Bihar Ashwini Kumar Choubey said Kumar has tarnished the dignity and decorum of democracy with his remarks.
"It is very shameful to make such a statement in the Assembly. It seems he is mentally ill," Choubey said, adding, "He should resign and immediately consult a doctor."
Lashing out at Kumar for his remarks, BJP national spokesperson Shehzad Poonawalla said, "The language used by Nitish Kumar inside the assembly is most vulgar, indecent, most misogynistic, sexist and patriarchal."
"This is the mindset of the chief minister of Bihar... Kumar has become a bekabu babu from shushan babu. Imagine what will be the plight of women of Bihar if such a language is spoken in the Bihar assembly," he added.
Poonawalla demanded that the chief minister step down.
"Nitish Kumar has no moral authority to continue as chief minister after insulting 40 per cent of the population of the county. If he has any integrity, he must step down," he said, adding that women of this country will never forgive Kumar after his remarks.
"Kumar's most despicable, disgusting, atrocious, obnoxious and anti-women comments only show the impact of the influence of the RJD on him," he charged.
The BJP spokesperson also took on the Congress and other members of the INDIA block of opposition parties and questioned their silence over the Bihar chief minister's comments.
"Instead of condemning the statement, Mamata Banerjee, Rahul Gandhi, Priyanka Gandhi Vadra, Akhilesh Yadav, Arvind Kejriwal all of them are silent. So they endorse it," he claimed.
Poonawala also slammed Bihar Deputy Chief Minister and RJD leader Tejaswi Yadav for defending Kumar and said this shows "the very little education he has."
"But if he (Yadav) is justifying his (Kumar's) comments it only shows the level to which this INDI alliance has fallen," he charged, adding, "This is a common parlance in the entire 'INDI Alliance'. Therefore, they are justifying it, not condemning it".
Yadav defended Kumar, stating that whatever he said should be seen from the right perspective. "There was nothing objectionable. These things are taught to children in schools as part of sex education," he said.
Congress MLA Neetu Devi, whose party is a part of the ruling alliance, also said that Kumar did not speak with bad intentions. "He was trying to make a simple point but the BJP is indulging in mischief," she said.
BJP Rajya Sabha MP Vivek Thakur flayed Kumar for his remarks in the state assembly, calling them "indecent and vulgar". He said Kumar has lost his "mental balance" and needs medical assistance.
"Chief Minister Nitish Kumar has reached that stage of his age where a person is no longer aware of what should be said when and where. Grand alliance leaders should seriously consider getting the Chief Minister treated so that Bihar can be saved from becoming a laughing stock in the world," he said.
BJP MP from Godda Nishikant Dubey shared the video of Nitish Kumar and said this is the kind of language a PM aspirant from INDI alliance uses for women.
देखिए यह है INDI गठबंधन के प्रधानमंत्री पद के सपने देखने वाले प्रत्याशी नीतीश कुमार जी। पागल भी शरमा जाए? महिलाओं के लिए इतना घटिया विचार,शब्दों की कोई मर्यादा नहीं https://t.co/GtlL7bfnQa

— Dr Nishikant Dubey (@nishikant_dubey) November 7, 2023