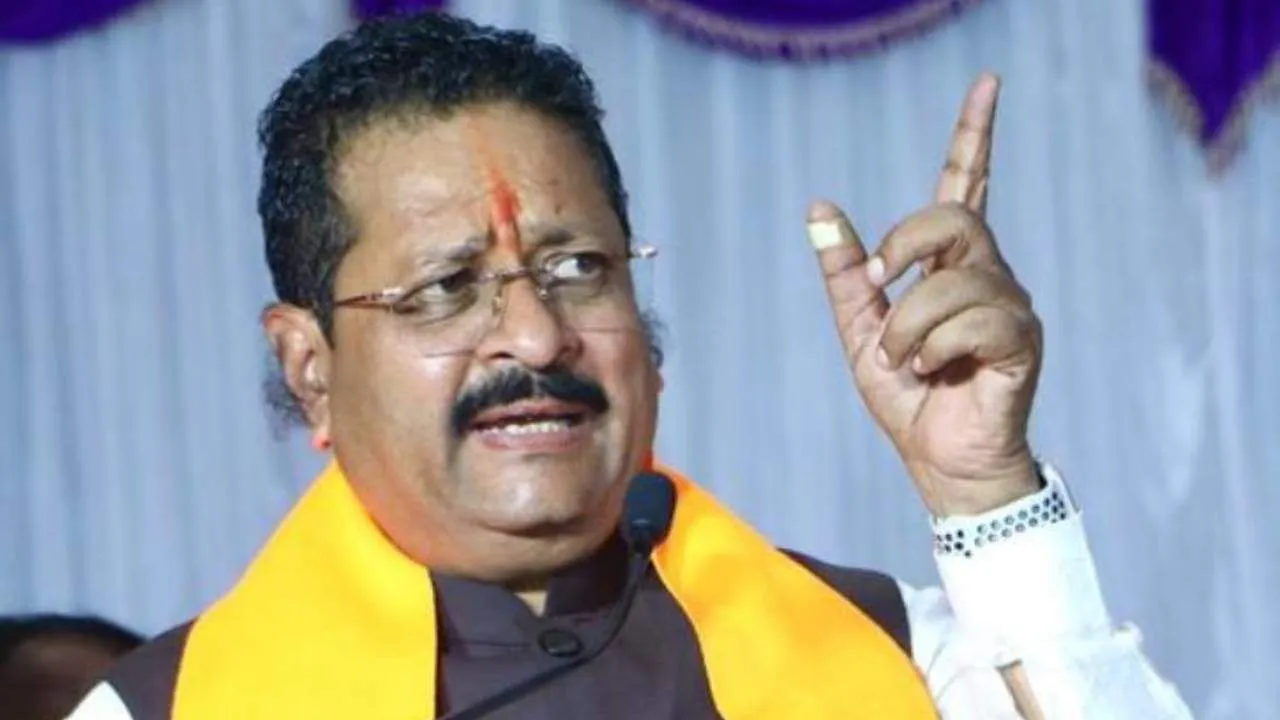 Bengaluru: Senior BJP MLA Basanagouda Patil Yatnal on Friday said the party should not become a part of one family, in an apparent reference to the appointment of B Y Vijayendra, son of veteran leader B S Yediyurappa, to the post of Karnataka state unit president.
Neither the BJP nor Hindu activists will accept it if it becomes a party of one family, the Vijayapura MLA said, striking a discordant note ahead of the Legislature Party meeting where opposition leaders in the Assembly and Council are slated to be chosen later on Friday.
He also put forth a demand that the leader of the opposition in the Assembly should be from North Karnataka.
Yatnal was speaking to reporters after Union Finance Minister Nirmala Sitharaman, BJP national general secretary Dushyant Kumar Gautam and Karnataka BJP general secretary (organisation) Rajesh G V met him at his residence here ahead of the meeting.
Yatnal, a former Union Minister, said all of them sat together and discussed about the developments that have taken place in the last six months in the Karnataka unit of BJP.
He said he told them in great detail about those who "got adjusted" (played "adjustment politics") and who betrayed the party in the May Assembly elections where the party suffered a debacle, and the way the party has become "centralised to just one class of people".
"They were not aware of many truths. While others are scared, I explained to them what had happened in Karnataka because I firmly believe in justice, ethics in politics, and have interests of the party...I told them that BJP should not become a party of one family. We will not accept it. Neither the BJP workers nor the Hindu activists will accept it," Yatnal, who is a strong critic of Yediyurappa, said.
To a question whether he would welcome the newly elected BJP state chief Vijayendra, the firebrand MLA, who is not known to mince words, preferred not to react.
He said he will attend the meeting this evening to present his point.
Noing that he is not scared of anyone or functioned under compulsion, Yatnal claimed that attempts were made to 'buy him.' "Yesterday an agent had come to buy me. I told that chap that I have the capacity to buy 10 people like him. Such cheap things are done." To a question whether it was Vijayendra who had sent the 'agent' to him, he said he will disclose when "the time comes." Regarding attempts made by Vijayendra to speak to him, he said: "I am not the one who spoke to everyone. I speak to those who respect me".
When asked whether any blackmailing happened in the selection of the state president, Yatnal said, "What else is it? Our honest Hindu workers are getting killed. A fear is created by jailing people for a single Facebook post. What's the reason? All this is happening because of their (certain BJP leaders') 'adjustment politics'." The BJP leader stressed that the BJP was in power when the KG Halli riots happened in Bengaluru, a Hindu activist (Harsha) was killed in Shivamogga and a police station in Hubballi was attacked.
"Wasn't our government in power then? Why you did not kill people in encounter as is done in Uttar Pradesh. Why the BJP reached the stage of 66 seats? We would have got 133 seats," he pointed out.
Asked about his stand if the demand -- that a legislator from north Karnataka be made leader of the opposition -- is not fulfilled, he said, "Then people and we will decide. We will not sit idly. This is not my nature to tie hands and say 'Jee Huzur.'" He claimed that he has many MLAs with him.
The 59-year-old leader said he wants Narendra Modi to become the Prime Minister again.
According to the MLA, if Hindus want India to survive, the country needs Narendra Modi to win the the 2024 elections. It's not about Narendra Modi but for the survival of the country, he said. "Today after seeing Israel and Hamas, we feel that if Narendra Modi does not come back then India will not survive."