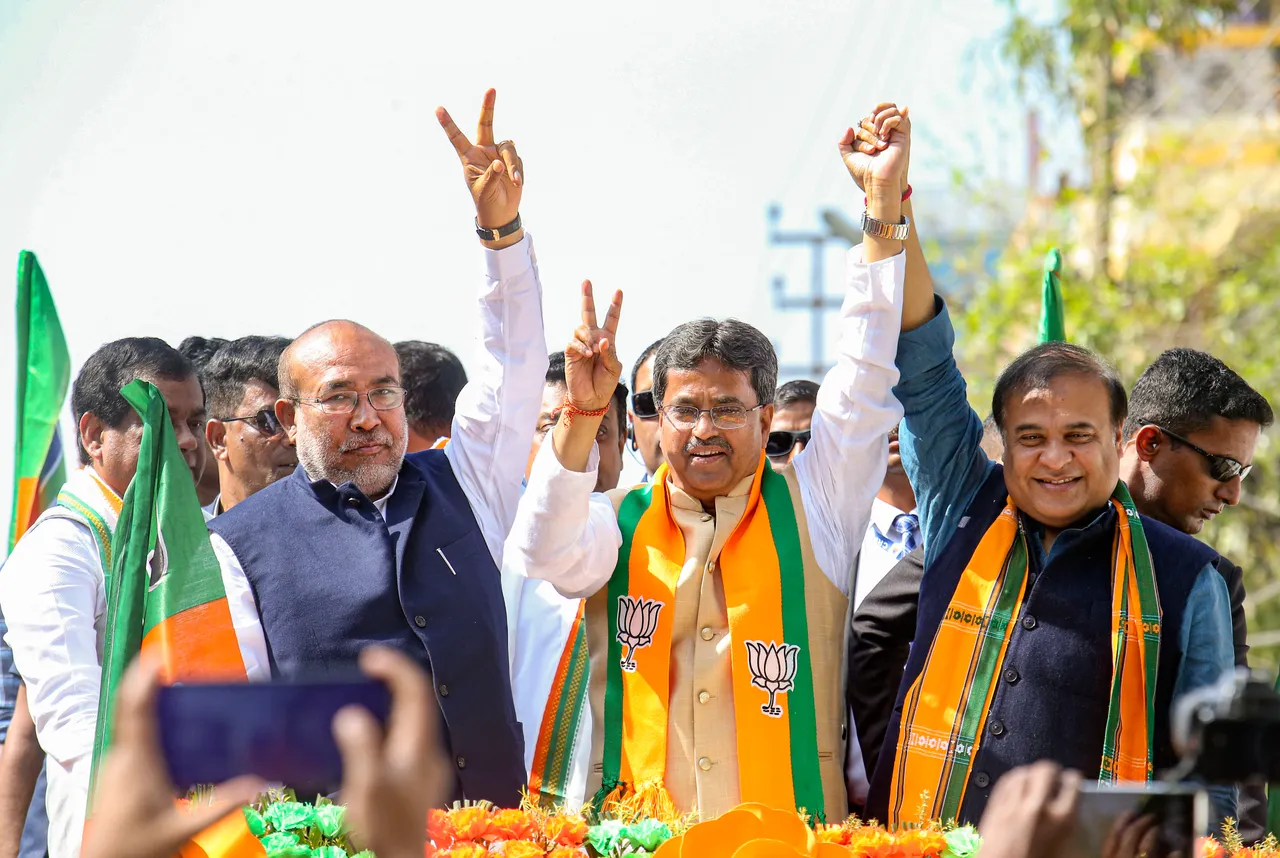 Agartala: Assam Chief Minister Himanta Biswa Sarma Monday claimed that BJP will form the next government on its own strength in Tripura in the February 16 Assembly poll.
Sarma accompanied Tripura Chief Minister Manik Saha to file his nomination from Town Bardowali seat on Monday, the last day to file nominations. Manipur Chief Minister N Biren Singh also accompanied them.
The party will emerge victorious because the development in the northeast state during the past five years under the BJP-led government, he told the media on the sidelines. "BJP will be able to form the next government in Tripura on its own strength because of development during the past five years. The saffron party has decided to fight the election alone for the unity and development of the state and to ensure the people's rights," said Sarma, who arrived here on Sunday night to be present during the submission of nomination papers of Saha and BJP state president Rajib Bhattacharjee.
"There should not be any doubt about BJP's victory in the Assembly election on the basis of development that Tripura has witnessed, Prime Minister Narendra Modi's dream for the country and the face of the chief minister," he said.
The saffron party has an alliance with the IPFT like the last term as it is an "old friend", he said.
Hitting out at the opposition, Sarma, who is also the chairman North East Democratic Alliance of BJP, said the Congress is "a big zero in the entire country while the CPI (M) is nowhere in the world".
"If we add two zeros the result will be zero," he said.
On the BJP poll plank for the coming election, Sarma said BJP believes only in development and it will be its main card. "The BJP has only one card - that is development. We have no other cards like donation or extortion," he asserted.
Saha posted in the social media, "Today I filed the nomination from Town Bordowali seat in the presence of Assam CM Himanta Biswa Sarma Ji , Manipur CM N Biren Singh Ji and Dr Sambit Patra ji. Thousands of karyakartas (party workers) accompanied me before filing the nomination. I am sure that BJP will secure a spectacular win".
All the BJP nominees for 55 Assembly constituencies will submit the nomination papers on Monday, a senior party leader said.
Former Tripura chief minister Biplab Kumar Deb will accompany the party candidates in Dharmanagar sub-division in North Tripura district during the filing of nominations.
The BJP is contesting 55 seats in the 60-member Tripura Assembly and has given five seats to ally IPFT.
In the 2018 Assembly election, BJP had secured 36 of the 60 seats and its ally, the Indigenous People's Front of Tripura (IPFT) bagged eight seats.