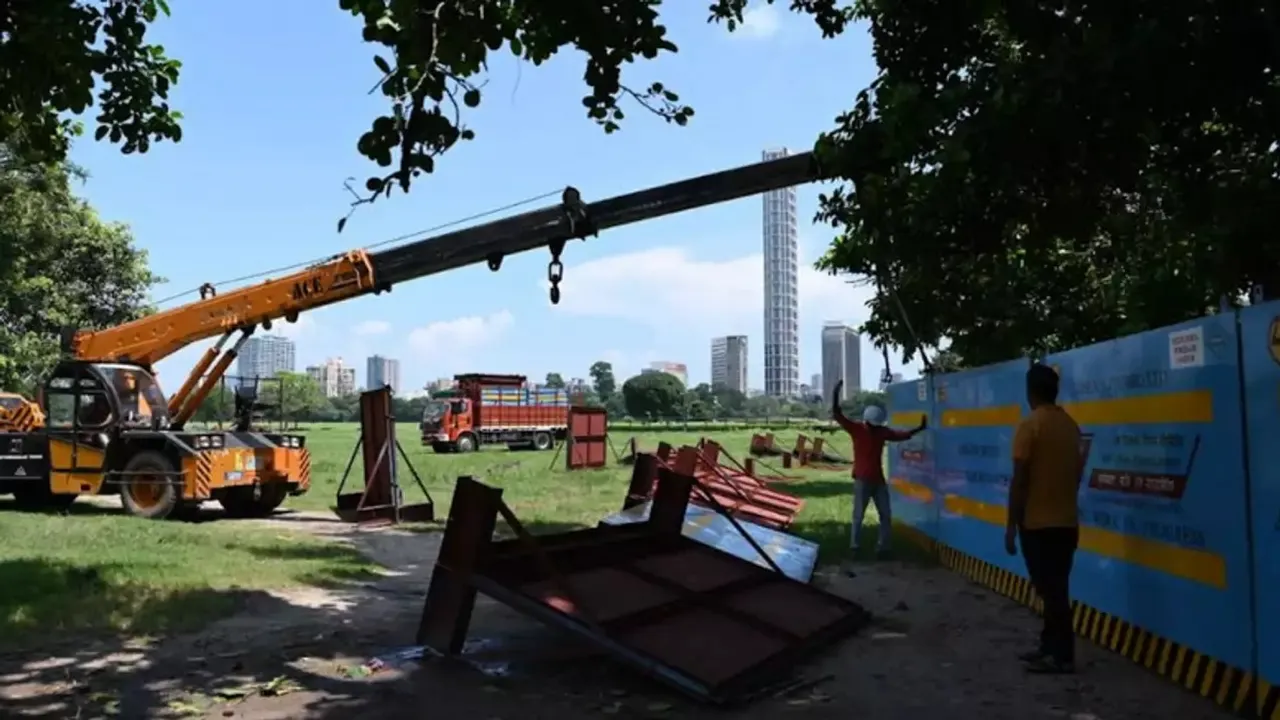 Kolkata: The Calcutta High Court on Friday observed that the Rail Vikas Nigam Ltd (RVNL) cannot uproot any tree in Maidan area of the city as of now for construction of Victoria Metro station for the Joka-Esplanade line.
The court said there is nothing to indicate that the project has been stopped or stalled by an earlier order of a vacation bench and as such RVNL need not have any apprehension in this regard.
A division bench presided by Chief Justice TS Sivagnanam observed that RVNL as of now cannot uproot any tree in the Maidan area, nor carry out transplantation of trees as permission from appropriate authorities are yet to be obtained.
The petitioner had moved the high court claiming that a number of trees in the area were being uprooted for construction of the station thus affecting the city's ecology.
Through an interim order dated October 26, a vacation bench injuncted RVNL from uprooting trees in Maidan area until RVNL and the Union Ministry of Environment file their respective affidavits.
RVNL filed its affidavit in opposition and prayed for vacating the interim order before the bench presided by the Chief Justice.
The bench, also comprising Justice Hiranmay Bhattacharyya, directed the West Bengal government, State Heritage Commission, Union Ministry of Environment, Forests and Climate Change and the General Officer Commanding (GOC), Bengal Area, of the Army to file affidavits stating their stand on the PIL.
The court also suo motu impleaded the state's forest department in the matter.
It directed the RVNL to file a supplementary affidavit annexing more documents in the matter and granted leave to the petitioner to file a supplementary affidavit for bringing forth certain facts.
The court directed the authorities to file their respective affidavits by December 7, reply by the petitioner by December 15 and the matter will be heard again on December 19.
In the application, the RVNL said Defence authorities have already given land and working permission for construction of the underground station.
The RVNL also informed that an application has also been sent to the Defence authorities to grant permission for transplantation of trees falling in the construction area.
It was stated that once the Defence authorities give their nod to transplantation of trees, permission would be sought from the forest authorities.
Only cordoning off land for the proposed Victoria Metro station has taken place and no question of construction arises before grant of NOC, the RVNL counsel submitted.
The court noted the RVNL counsel's submission that it is not in a position to uproot any tree on the Maidan area as necessary permission is yet to be obtained.