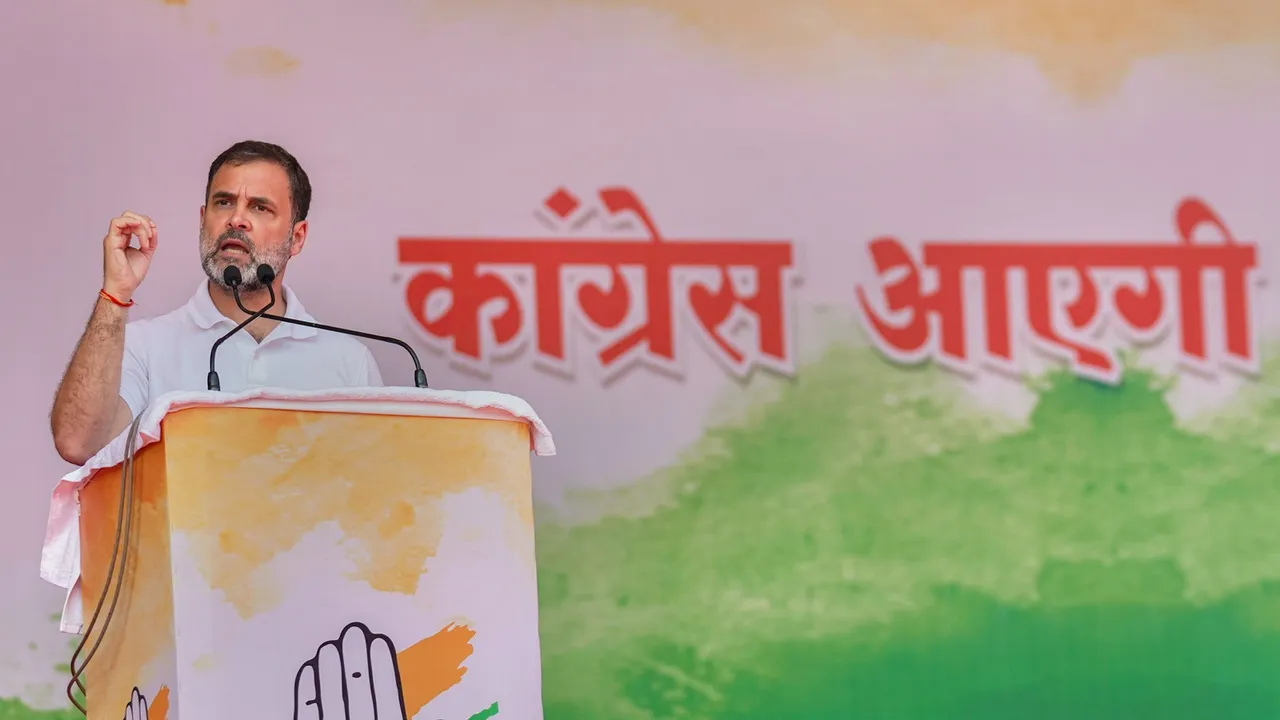 Satna (MP): Caste census is a revolutionary step that will change the lives of the people, said Congress leader Rahul Gandhi on Friday, stressing that his party will get the survey conducted in Madhya Pradesh as well as at national level if voted to power.
Addressing a rally at Satna in MP, where assembly elections will be held on November 17, he also slammed the BJP-led Centre over rising unemployment.
"After coming to power in the state, the first thing to be done is conducting a caste census to know the exact number of OBCs in Madhya Pradesh. It is like an X-ray which will reveal all (number of other backward classes) and accordingly policies will be framed for their welfare," he said.
The Congress will also carry out caste census at the national level if it is brought to power at the Centre, he said, calling the exercise a "revolutionary and life-changing step" for the people.
Gandhi alleged that Prime Minister Narendra Modi always used to say that he was an OBC but stopped talking about it soon after the Congress leader raised the issue of conducting caste census in the country.
Of the 53 IAS officers who run Madhya Pradesh, he said, only one is an OBC. "This means if the state's total budget is Rs 100, then the OBC official has control over just 33 paisa or .03 per cent," he claimed.
Gandhi alleged that because of debt-related hardships, 18,000 farmers have died by suicide in MP in the past 18 years.
Referring to unemployment, he said that Demonetisation and Goods and Services Tax (GST) attacked small-medium businesses and traders. "It resulted in this (joblessness) situation in the country," Gandhi said.
Citing his experience during the 'Bharat Jodo Yatra', Gandhi claimed that 50 per cent of the population of this country belongs to OBCs.
Termig caste census an X-ray, he said it was necessary to ensure the participation of OBCs, Dalits and tribals in the government as per their proportion in population.
Taking a potshot at the Centre's crop insurance scheme, he said that money from this scheme is being taken out from people's pockets and given to 16 companies.
Whenever farmers seek relief under the scheme after calamities and want money, which belongs to OBCs, Dalits, tribals and farmers, these companies deny that any calamity ever took place, the Congress leader alleged.
Gandhi said that none from Dalits, OBCs and tribal communities work in these 16 insurance companies.
"Narendra Modi doesn't want OBCs to know their correct population," Gandhi said, adding that he will ensure that a caste census is conducted if the Congress is elected to power.
Taking a swipe at the BJP, Gandhi said that during the Bharat Jodo Yatra, he encountered a large number of youths who had degrees but no jobs.
"This is the truth of this state and country. Youths are capable, have energy and want to strengthen the country but they are not able to get employment," he said.
Gandhi said employment is not really provided by big industrialists. Small- and medium-scale industries and small businesses generate jobs, he said.
Earlier, such units used to provide jobs to the youths, said the Congress leader.
But, PM Modi and Bharatiya Janata Party governments attacked the small and medium industries and small businesses through demonetisation and by bringing in the Goods and Services Tax (GST), he said.
He called GST a weapon to "eliminate" small and medium industries and small businesses.
For the first time, he alleged, farmers have to pay taxes as tractors and other equipment have been brought under GST.
Gandhi said 18,000 farmers have died by suicide due to debt in Madhya Pradesh in 18 years, referring to the BJP rule in the state. The BJP government didn't give them the right prices for their crops, hence, they had to take loans and sell their land, he said.
"BJP gives money to big industrialists like Adani. So your GST goes to Adani, who spent in big cities and at international level," he said.
Small business, industries, the poor and farmers are worried as the engine of their economy is not working, he said and alleged that PM Modi and Madhya Pradesh Chief Minister Shivraj Singh Chouhan stole their government by hobnobbing with the big industrialists. He said 670 farmers died by suicide in Madhya Pradesh in 2021, compared to 70 in neighbouring Chhattisgarh. This is the difference because the Chhattisgarh government worked in favour of farmers, he said.
Gandhi said that he met a young 'coolie' (porter) at a railway station and asked him what was his dream before becoming a porter. "He said that he wanted to become an engineer as has a degree in civil engineering, obtained by spending thousands of rupees (on education)," Gandhi said.
Since he didn't get employment, he was working as a porter, he said, adding, "This is the truth of this country."