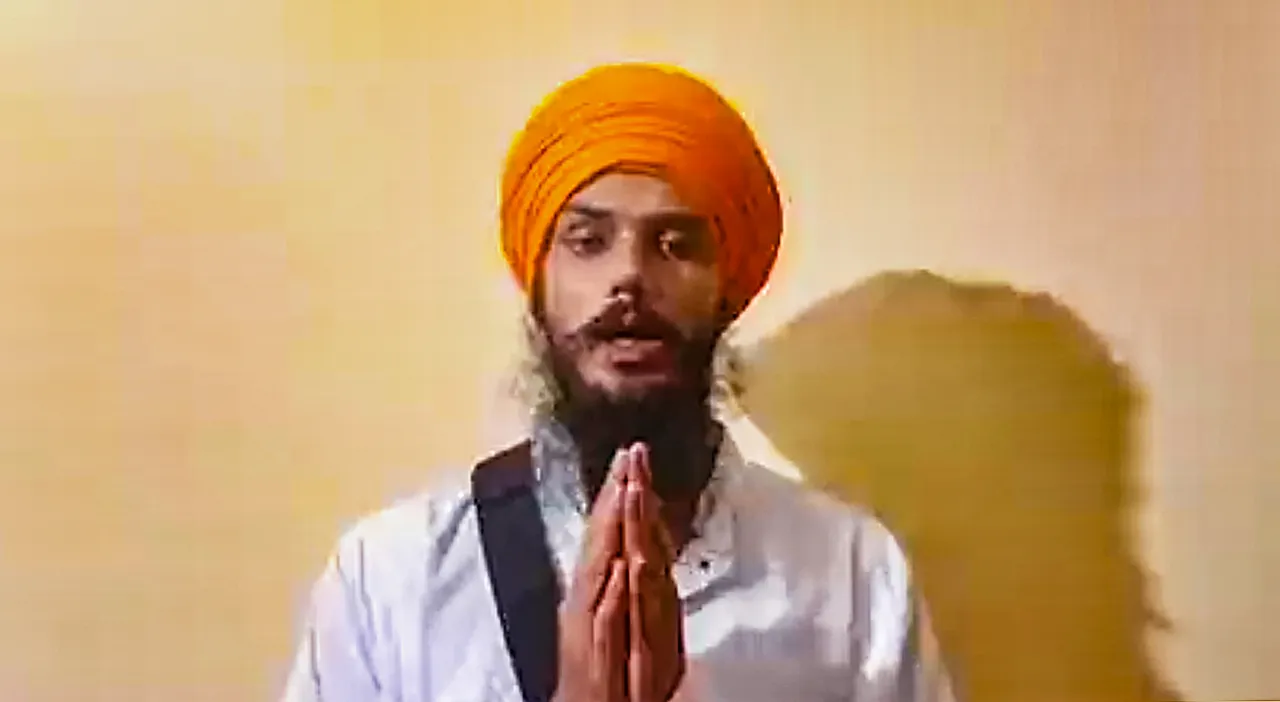 Chandigarh: Over a month-long "cat-and-mouse" chase finally came to an end on Sunday with police arresting radical preacher and Khalistan sympathiser Amritpal Singh from Punjab's Moga district.
After having hoodwinked the Punjab Police since March 18 while search operations for nabbing him were conducted in Punjab, Haryana, Uttar Pradesh and Rajasthan, Amritpal was held from Rode village in Moga, the place where he was anointed as the chief of the "Waris Punjab De" outfit in September last year.
Amritpal managed to evade arrest for more than a month, which was proving to be a major embarrassment for the Punjab Police that had launched a crackdown against the radical preacher and his aides on March 18.
Punjab Inspector General of Police Sukhchain Singh Gill said Amritpal was arrested from Rode on Sunday morning after police personnel surrounded him, leaving no way for him to escape.
Amritpal has been taken to Assam's Dibrugarh under the National Security Act (NSA), Gill told a press conference here.
The Khalistan sympathiser was arrested at around 6:45 am.
Police launched the crackdown last month after Amritpal and his supporters, some of them brandishing swords and guns, broke through barricades and barged into the Ajnala police station on the outskirts of Amritsar city on February 23 and clashed with police personnel, demanding the release of Lovepreet Singh Toofan, one of his aides.
Police exercised utmost restraint as Amritpal and his supporters had brought the "Palki Sahib" (palanquin) of Guru Granth Sahib to the police station.
Finally, the police action was seen on March 18 when some aides of the radical preacher shared videos on social media, claiming that police personnel were after them.
Another video showed Amritpal sitting in a vehicle and one of his aides could be heard saying policemen were after "Bhai saab" (Amritpal).
Another close aide of Amritpal, Bhagwant Singh alias Pardhanmantri Bajeke, shared a video from a field, claiming that policemen were chasing him.
Amritpal's cavalcade broke through a "naka" (police checkpost) in Amritsar's Khilchian area. Subsequently, the radical preacher switched vehicles to escape the police dragnet in Jalandhar.
Jalandhar Police Commissioner Kuldeep Chahal had, on March 19, said, "It is a game of 'chor' and police. Sometimes, they manage to escape." Despite Amritpal and his close aide Papalpreet Singh being sighted multiple times in CCTV footage and pictures that surfaced on social media, police failed to nab them.
They were seen in changed appearances in Punjab, Haryana and Delhi, but they always appeared to remain a step ahead of police.
The Khalistan sympathiser again managed to give a slip to police personnel when he, along with Papalpreet, returned to Punjab in Hoshiarpur from Uttar Pradesh on March 28.
Police conducted search operations in Marnaian and some other villages of Hoshiarpur for days to locate Amritpal and Papalpreet. They even searched "deras" in Hoshiarpur and other places.
Police tasted a major success when Papalpreet Singh was arrested from the Kathunangal area of Amritsar district on April 10.
Papalpreet was earlier spotted in CCTV footage in which he was seen at a "dera" in a Hoshiarpur village.
There were also rumours that Amritpal might surrender on the day of Baisakhi at Takht Damdama Sahib in Bathinda's Talwandi Sabo.
Tight security arrangements were made at Talwandi Sabo during the Baisakhi festival. Police had said the arrangements were made for the convenience and safety of devotees.
During the police operation against him, two videos and an audio clip of Amritpal emerged on social media platforms, in which he called for a "Sarbat Khalsa" -- a congregation of Sikhs -- and also said he would soon appear before the world.
While Amritpal was on the run, Punjab Police chief Guarav Yadav had said those wanted by the law should submit themselves to the process of law.
Nine of Amritpal's associates, including Daljit Singh Kalsi and Papalpreet, are also in the Dibrugarh jail after they were charged under the NSA.