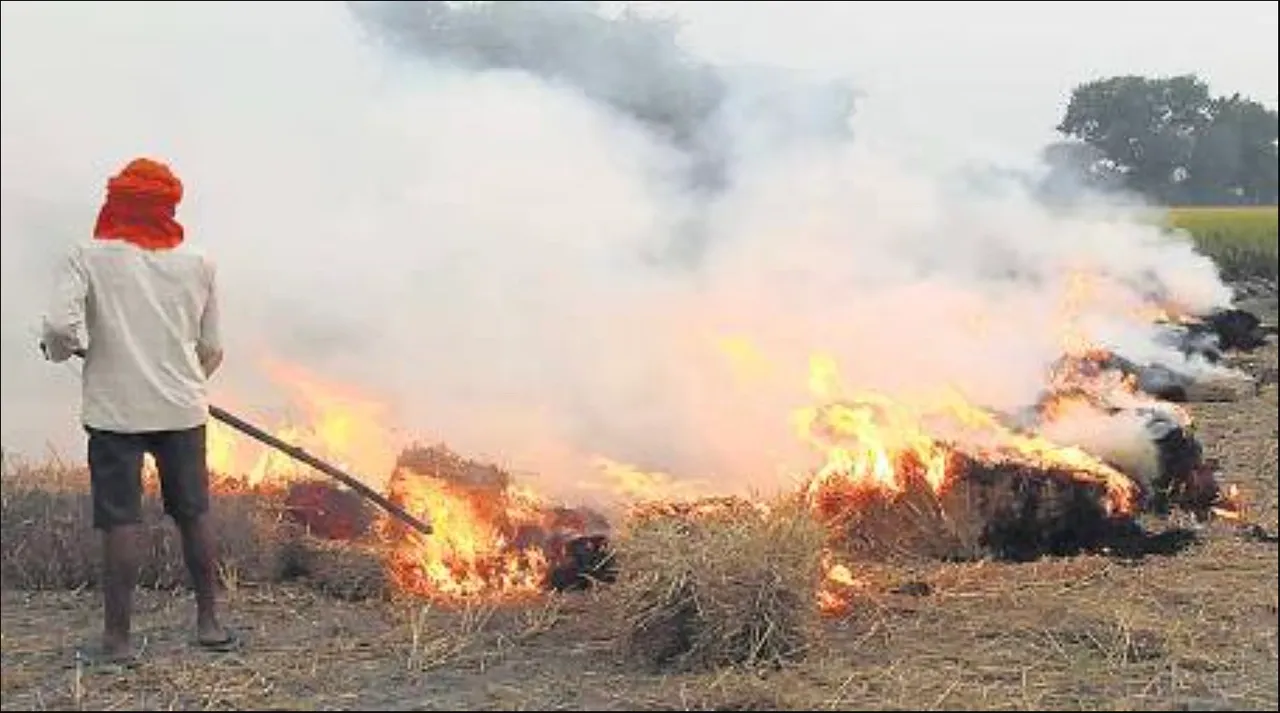 Chandigarh: Stubble fires in Punjab increased substantially after the state recorded 3,634 stubble fires on Wednesday, November 2.
Punjab was dotted with red and yellow spots in Indian Agriculture Research Institute (IARI)'s satellite imagery released after the state recorded the highest cases of the season on Wednesday.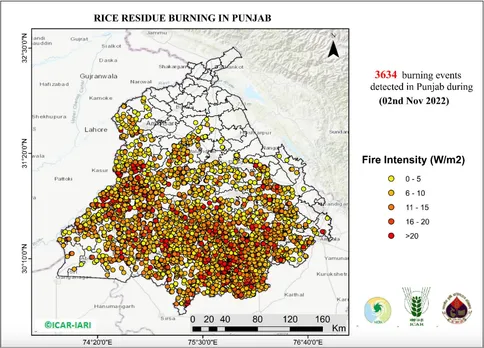 21,480 stubble fires recorded so far from September 15 to November 2 are already 19% higher than last year's 18,064 cases reported during the same period.
The chances of the state crossing last year's 71,304 stubble fires can't be ruled out.
Dr Ravindra Khaiwal, professor of Environment at Post Graduate Institute of Medical Education and Research (PGIMER), said that stubble fire counts will intensify even further in the coming days as farmers are clearing the stubble in their fields to sow the next wheat crop.
As Delhi has literally turned gas chambers and air quality in Punjab and Haryana are equally bad, the centre mounted an attack on Aam Aadmi Party, blaming it for its failure to reduce the stubble fires in Punjab, a state it is ruling since March this year.
Union Environment Minister Bhupender Yadav in a series of tweets said that as of today, Punjab, a state run by the AAP government, has seen an over 19% rise in farm fires over 2021. Haryana has seen a 30.6% drop.
"There is no doubt over who has turned Delhi into a gas chamber," he added.
Hitting back, AAP national convener and Delhi chief minister Arvind Kejriwal blamed the centre saying that the Modi government was responsible for stubble-burning fires in Punjab as it declined the proposal to incentivise Punjab farmers.
He said the problem of bad air pollution was not only in Delhi and Punjab. It has been a problem all across north India, for which the intervention of the Prime Minister is needed.
"If Modi govt is unable to handle the looming crisis, it must step down and let those who can solve the problem," he added.
On the other hand, Yadav said, "The scam is where AAP is. In the last 5 years, the Central Government gave Rs 1,347 crore for crop residue management machines to Punjab. The state bought 1,20,000 machines. 11,275 of those machines have gone missing. Money utilisation shows clear incompetence."
AAP changes tune
As Delhi is literally choking with bad air pollution days, Kejriwal's old statements have surfaced online. In one video, he was blaming Punjab's stubble burning for Delhi's pollution.
In another video, he was promoting bio-decomposer spray as the best solution to deal with stubble fires.
AAP appears to have changed its stand after winning the Punjab elections this year.
All its speakers from Punjab chief minister Bhagwant Mann to Delhi Environment Minister Gopal Rai are now claiming that air pollution is not an exclusive problem of Delhi as other cities are equally in trouble.
If one carefully studies Gopal Rai's recent statements, he is no longer holding Punjab's stubble fires responsible for Delhi's pollution.
On the other hand, there is no discussion on bio-decomposer spray, which once was Kejriwal's best solution.
Instead of promoting it in Punjab, AAP has shifted focus to cash compensation for farmers as the best solution forward.
Centre, on the other hand, has been pushing the use of crop residue machines and mindset change among farmers as a more permanent solution.
It claimed despite Punjab getting lion's share from its financial assistance meant to distribute subsidised crop residue machines, it failed to address the problem. Whereas Haryana performed far better with similar solutions.
People continue to suffer
With both AAP and the centre taking different positions, it is the common man who continues to suffer.
As the stubble fire cases nearly entered the peak zone in Punjab, Delhi's air quality on October 29 deteriorated to the severe category.
A day later on October 31, it came down to a very poor category. But again On November 1, it jumped to a severe category.
System of Air Quality and Weather Forecasting and Research, an institute under the Ministry of Earth Science, predicted in its latest report that the air quality may become severe again on Friday.
Not only Delhi, but Great Noida, Faridabad, Gurgaon and Gazipur were in a very poor category on November 2.
VK Soni, a senior scientist at India Meteorological Department, said that the situation is bad right now in Delhi because the pollution is stuck in the surroundings due to dwindling temperature and is unable to disperse right now. "With wind speed likely to improve in days to come, pollution levels will come down accordingly. Till then, people are advised to take precautions," he added.