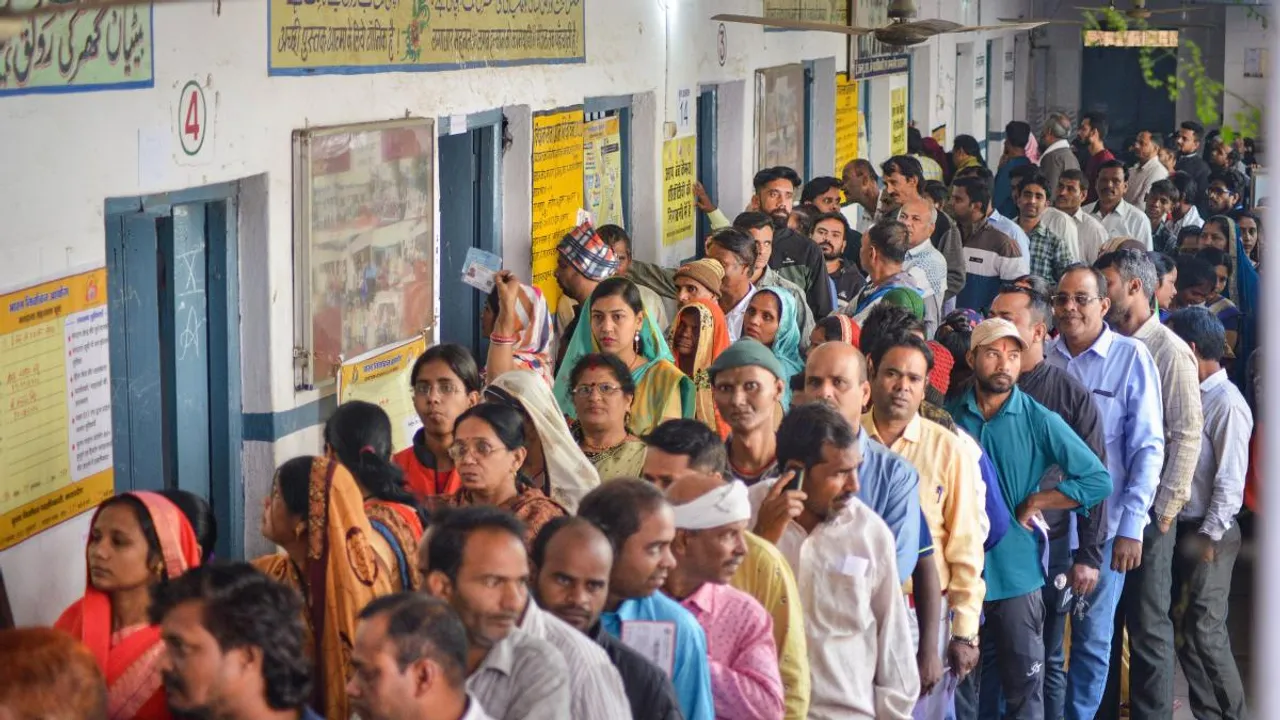 Raipur: A voter turnout of 55.31 per cent was recorded till 3 pm in 70 assembly constituencies for the second phase of the Chhattisgarh elections that began on Friday morning under a thick security blanket of police and paramilitary personnel, a poll official said.
Polling in 70 constituencies began at 8 am and will conclude at 5 pm, except in nine polling booths in the Naxal-affected Bindranawagarh seat in Gariaband district, where voting began at 7 for security reasons, a poll official said.
Voting in the nine booths of Bindranawagarh --Kamarbhaudi, Amamora, Odh, Bade Gobra, Ganwargaon, Gariba, Nagesh, Sahbinkachhar and Kodomali, where process began at 7 am, concluded at 3 pm, he added.
Till 3 pm, 55.31 per cent turnout was recorded in 70 constituencies,  he said.
While a woman died of an unknown reason while she was standing in a queue to cast her vote at a polling booth in Kasdol assembly constituency in Balodabazar-Bhatapara district, a man was killed in an elephant attack when he was heading towards a polling booth in Korea district.
Returning Officer of Kasdol segment Bhupendra Agrawal said the woman, identified as Sahodara Bai Nishad (58), fainted when she was standing in the queue at polling station no.76 in Malda village panchayat.
She was shifted to the community health centre in Kasdol by her family members with the support of polling personnel, where doctors declared her dead, he added.
In another incident, one Umendra Singh (25) was trampled to death by an elephant near Mangora village under Korea forest division, an official said.
As per preliminary information, Singh was heading to the polling station to cast his vote and stopped on seeing a group of people who were on the way to watch the pachyderm roaming the area, the forest official said.
The elephant suddenly charged towards the crowd and Singh, who could run away in time, was trampled to death, he said.
Chief Minister Bhupesh Baghel cast his vote in Kuruddih village in his constituency Patan Durg district.
Chhattisgarh Governor Biswabhusan Harichandan and his wife cast their votes in Civil Lines Raipur.
Talking to reporters ahead of voting, Baghel said his party will win 75-plus seats (in the 90-member assembly) and there is a one-sided contest in Patan Segment.
In Baghel's turf Patan the BJP has fielded his distant nephew and party MP Vijay Baghel. The candidature of Janata Congress Chhattisgarh (J) state president and son of former chief minister Ajit Jogi, Amit Jogi, in Patan has added a new dimension to the contest.
When asked about the possible triangular contests in Patan, Baghel denied and said it is people and farmers are contesting (elections on his behalf) not him and the contest is one sided.
Deputy Chief Minister TS Singh Deo (Ambikapur) and State ministers -- Ravindra Choubey (Saja seat), Anila Bhedia (Dondilohara), Amarjeet Bhagat (Sitapur) and Jaisingh Agrawal (Korba) and state assembly speaker Charandas Mahant (Sakti), who are Congress candidates from their respective segments, were among those who cast their vote.
State BJP chief and MP Arun Sao, who is the party candidate from Lormi seat, cast his vote in Bilaspur segment. BJP MP and Union Minister Renuka Singh, who is party candidate from Bharatpur-Sonhat seat (spread over Korea and Manendragarh-Chirmiri-Baikunthpur (MCB) districts) cast her vote in Premnagar segment in Surajpur district.
The state's Chief Electoral Officer Reena Baba Saheb Kangale cast her vote at a polling booth in Dharampura in the capital.
Meanwhile, residents of Thenthaguddi in Raigarh district decided to boycott the polls alleging a road had not been constructed in their village.
Speaking to reporters, village resident Sonu Pradhan said, "There are more than 330 voters in the village and everyone has decided not to exercise their franchise. We have already said we will not take part in the electoral process till our demand for construction of road in the village is fulfilled."
Similarly, residents of Manikpur Dhenka village panchayat in Masturi segment in Bilaspur district also refused to vote alleging lack of development, including absence of roads in the area.
Bilaspur Collector Awnish Sharan said the local Sub Divisional Magistrate (SDM) was at the village to hold discussions and further details were awaited.
The second phase of polls will decide the electoral fate of political heavyweights like Chief Minister Bhupesh Baghel, his deputy TS Singh Deo, eight state ministers and four members of Parliament.