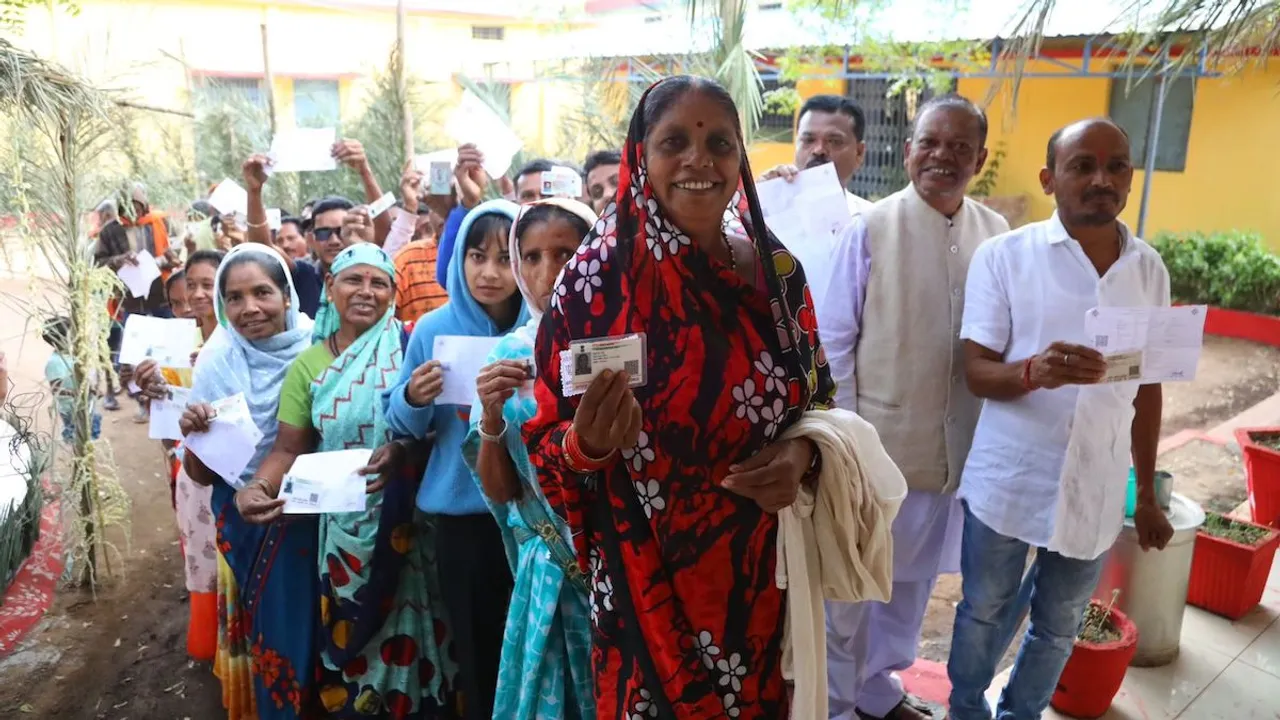 Raipur: Women voters outnumber men in 16 out of the 20 assembly where polling is being held in the first phase on Tuesday in Chhattisgarh, as per officials.
The total number of voters in the 20 constituencies are 40,78,681, comprising 19,93,937 men, 20,84,675 women and 69 third-gender persons, they said.
"In 16 seats, namely Mohla-Manpur, Bhanupratappur, Kanker, Keshkal, Kondagaon, Narayanpur, Dantewada, Bijapur, Konta, Rajnandgaon, Khujji, Pandariya, Kawardha, Bastar, Jagdalpur and Chitrakot, there are more women voters than men," a poll official said.
"In Kawardha, of the 3,31,615 voters, 1,66,843 are women. The number of male voters is 1,64,770, while there are two transgender persons. In the remaining four seats, Antagarh, Dongargarh, Khairagarh and Dongargaon, there are more men voters than women," he said.
Out of the 5,304 polling booths set up for the first phase elections, 200 are 'sangwari' polling stations managed by women staffers, while 20 each are managed by 'divyanjan' (persons with disabilities) and youth, the official said.
"Of the 69 transgender voters in the first phase, Jagdalpur seat has the maximum 29, followed by eight each in Antagarh and Bijapur, four each in Dongargarh and Narayanpur, three in Keshkal, two each in Kawardha, Rajnandgaon, Kanker, Kondagaon and Bastar and one each in Chitrakot, Dantewada and Konta," he said.
The eight transgender voters in Antagarh assembly segment of Kanker district will be able to cast their votes at a specially designed 'rainbow' model polling station, the official said.
"All eight transgender electors in Antagarh seat live in Pakhanjur area. That is why the 'rainbow' model polling station has been set up at Pakhanjur-3 not only to address the social apprehensions and stigma regarding the third gender but also to make them feel they are an important part of the democracy," Kanker Collector Priyanka Shukla told PTI.
The initiative is possibly the first of its kind in the country, Shukla claimed, adding that four transgender police personnel will also be deployed for security at this booth.
"This booth has 887 voters, comprising 421 men, 458 women and eight transgender persons," she said.
The polling station has been painted in seven colours of rainbow with tent works of same colourful designs, making it visibly attractive.
Voting in the remaining 70 seats in Chhattisgarh will be held on November 17 in the second and last phase of polling for the 90-member state assembly.