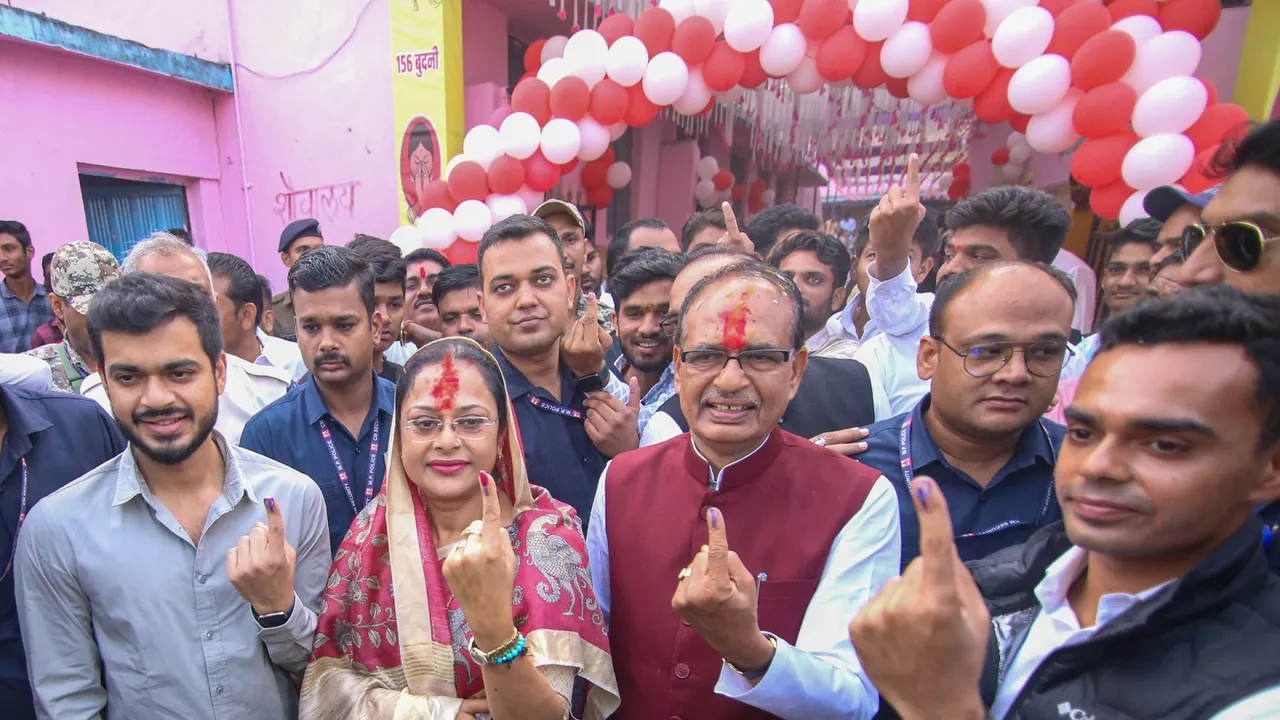 Chhindwara/Bhopal: Madhya Pradesh Chief Minister Shivraj Singh Chouhan and state Congress president Kamal Nath on Friday voted in their respective constituencies after polling began in the state in the morning.
Chouhan along with his wife Sadhna Singh and their two sons cast their votes in village Jait, part of the Budhni assembly seat in Sehore district, from where he is a BJP candidate.
Before heading to the polling booth, Chouhan offered prayers at a temple in the village.
Nath, his son and Lok Sabha MP Nakul Nath and daughter-in-law also cast their votes at Shikarpur in the Sausar assembly seat of Chhindwara district, the home turf of the state Congress chief. Nath is the Congress candidate from Chhindwara assembly seat.
Prominent among those who voted early in the polls also include home minister Narottam Mishra, sports and youth welfare minister Yashodhara Raje Scindia, industries minister Rajvardhan Singh Dattigaon, former minister and Congress leader Jitu Patwari and MP's Chief Electoral Officer (CEO) Anupam Rajan.
Senior Congress leader Digvijaya Singh's son and former minister Jaivardhan Singh, who is contesting from Raghogarh, also cast his ballot along with his family members.
Polling began at 7 am across all 230 constituencies, including 47 reserved for ST and 35 for the SC, in the state, a poll official said. A total of 2,533 candidates, including 2,280 males, 252 females and one third gender person, are in the fray.
Women were seen standing in queues at various polling booths, including in Hoshangabad and Dindori, state BJP president VD Sharma told PTI on the way to cast his vote.
"Ladli Behnas are turning out in large numbers to vote across the state," Sharma said, referring to the BJP government's flagship 'Ladli Behna' scheme.
Voting will continue till 6 pm in all the polling stations except those in Naxalite-affected areas of Balaghat, Mandla and Dindori districts where it will end at 3 pm, the official said.
At a polling booth in Datia district, poll officials made arrangements for voting in candlelight after the power supply was interrupted. It was restored after about 10 minutes, an eyewitness said.
A total of 64,626 polling stations have been set up in the state. Among these, 64,523 are main booths and 103 associate (sahayak) stations, where the number of electors is more than 1,500, CEO Anupam Rajan said.
As many as 5,60,58,521 voters, including 2,87,82,261 males, 2,71,99,586 females and 1,292 third gender persons, are eligible to exercise their franchise. The total number of voters also includes service and overseas electors, Rajan informed.