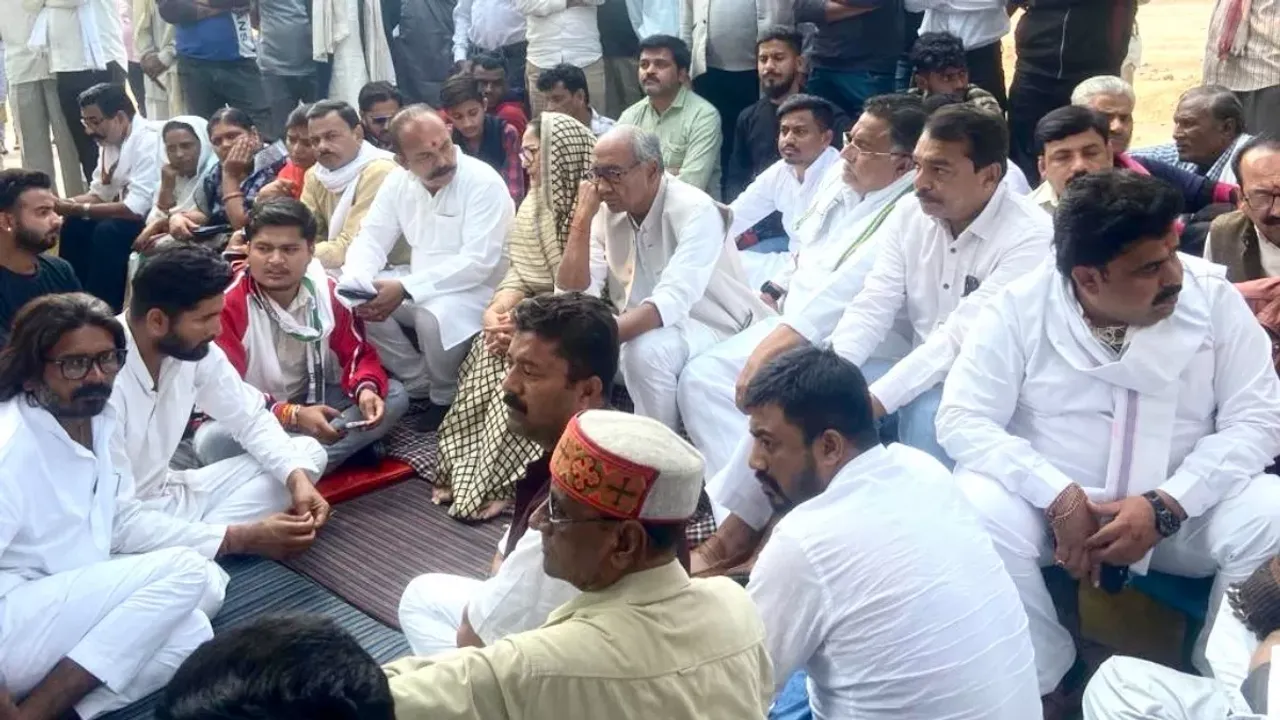 Chhatarpur: Police have registered a case against a Congress candidate from Chhatarpur on charges of attempt to murder in connection with an incident wherein a party worker died during the Madhya Pradesh assembly polls, an official said on Monday.
The Congress worker, identified as Salman Khan, died during a clash between BJP and Congress workers in Rajnagar constituency in Chhatarpur district on Friday when the assembly polls were held in the state.
According to police, Khan was run over by a vehicle.
Congress leader Digvijaya Singh had alleged that Khan was not killed in an accident, but it was a murder.
After the incident, the Khajuraho police on November 17 registered a case against Rajnagar BJP candidate Arvind Pateria and 20 other workers of that party under Indian Penal Code sections 302 (murder), 307 (attempt to murder) and other relevant provisions.
The BJP had accused the police of adopting a biased attitude under the Congress' influence.
Following a complaint filed by Bharatiya Janata Yuva Morcha district president Neerav Chaturvedi, the police on Sunday night registered an FIR against Congress candidate Vikram Singh Nati Raja and eight others along with some unidentified persons under IPC sections 307 (attempt to murder), 341 (wrongful restraint), 147 (rioting), 149 (unlawful assembly), 294 (obscene act), 506 (criminal intimidation) and 427 (mischief), the official said.
According to the FIR, Vikram Singh and his supporters attacked Pateria with sticks and also fired at him but it missed the target.
Superintendent of Police Amit Sangh said two FIRs have been registered in connection with the incident.
A scientific investigation will be carried out in this case and further legal steps will be taken on the basis of facts, he said.
Truth will be revealed following the investigation, the official said.
No arrest has been made so far because the election process was going on, he added.
Congress veteran Digvijaya Singh staged a sit-in agitation outside Khajuraho police station on Saturday against Khan's death. Singh was demanding the BJP candidate's arrest.
He ended the protest on Sunday afternoon after an assurance by the SP of justice in the case.
Madhya Pradesh BJP president VD Sharma in a complaint to the Election Commission of India (ECI) on Sunday claimed the police were biased in their action and accused Congress candidate Vikram Singh of killing his own driver (Khan) to influence the election.
Sharma along with other party leaders also submitted a memorandum to the district administration and police on Monday, saying the BJP candidate was wrongly implicated in the case.
Talking to reporters on Monday in Khajuraho, Sharma alleged that the Congress candidate killed Khan for political benefits.
The police should seize the vehicle which crushed Khan, he said.
Sharma claimed the police wrongly implicated 35 BJP workers in this case.