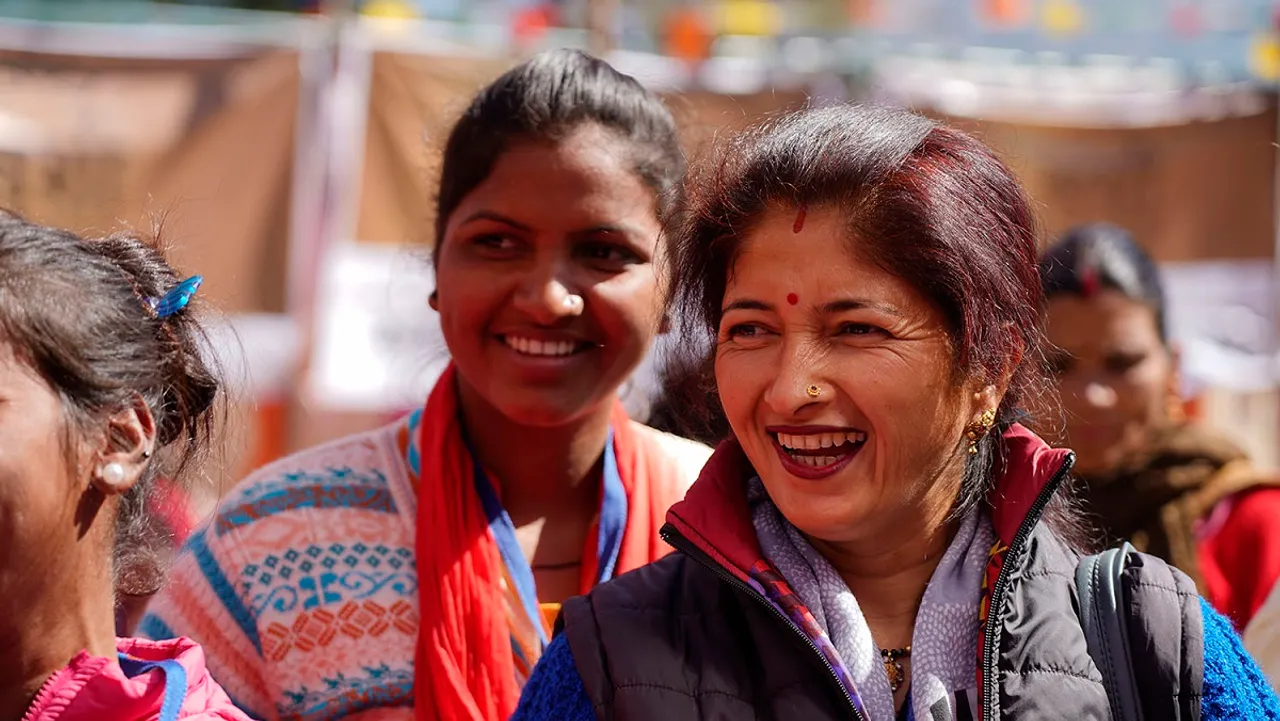 Kiyari: A movie show, games, some pampering at a salon and good food you haven't cooked yourself... hundreds of women in distant mountain villages of Uttarakhand have been enjoying a rare day away from their daily chores which for once were left to the men of the family.
For the women, including many mothers- and daughters-in-law who together manage house, hearth, children and livestock too, it's a day to let their hair down, maybe shake a leg to 'pahadi' music and just bond.
Evocatively titled 'Khushi Ka Ek Din', the event, being held over five months in 25 locations and five districts in Uttarakhand's Kumaon region, will end in February next year.
"We were sitting in a village meeting and were interacting with a group of women and asking them what happiness means to them, and the responses we got were as simple as 'we want to play games', 'go out', 'travel'," said Anjali Nabiyal from Udhyam, the NGO spearheading the 'Khushi Ka Ek Din' programme.
"That's how the programme was designed, keeping in mind that we will bring all the happiness in one place, right from games to food they want to have, movie theatre experience, beauty, just pampering them for a day. So that's how the concept came into picture," she told PTI.
And so it was on a brightly lit autumn day in Kyari village near the Corbett National Park recently that 300 women from around the area gathered for their treat day. The event started around 10 am and went on till sunset.
As the sun shone down, premises of a primary co-ed government school doubled up as a playground for the ladies -- young and old -- with a host of activities lined up for them. These included beauty parlours, food tents dishing out chowmein, fun games, dance performances, a makeshift movie theatre and even a health camp.
For many women, the event was a series of firsts -- playing games, heading out without male counterparts, dancing on stage, getting makeup done in a beauty parlour and more. Everyday things for many women but maybe not for them.
Colourful tents were put up and a red carpet was rolled out as women dressed in their best attire joined the one-of-its-kind free and women exclusive event. Each visitor was given a 'golden ticket', which had coupons for different activities. A sari was gifted for 'saas-bahu' pairs as special incentive.
Among those was Kavita Mehra, 30, who danced her heart out at the event with full support from her 65-year-old cheerleader, her mother-in-law Kamla Devi.
"She is not someone who'll dance at wedding functions also. This is the first time I saw her dancing in real. Of course, I felt really, really happy," Kamla Devi said.
"I am happy that men are taking control of the house today, saas-bahu ko bhi toh kabhi nikalna hai na ghar se bahar ya nahi? (the mother-in-law and daughter-in-law should also sometimes get the opportunity to step out of the home or not?)" she added smilingly and authoritatively.
Another saas-bahu duo, Nirmala, 50, and Gitanjali Belwal, 25, said they had made sure the men had taken a day off from their jobs to look after the home, animals and children.
"I played the coin in a bucket game and won the prize too. It was fun. Also, for most of us, this is the first time that we are taking part in activities like these. I would like more such events to take place in our village in future as well," said Gitanjali, a homemaker.
Besides dancing and singing, some women also put together a comic act on the harmless fights between married couples and a quirky qawwali spilling beans on the expectations of the modern pahadi woman.
The women were also treated to a short movie in the local Kumaoni language at a makeshift theatre equipped with a projector and full-fledged sound system.
"If you do the maths, this way, by the end of this programme, we are going to cover almost 7,500 women -- with at least 300 women expected to participate in each of the 25 events," explained Nabiyal.
Launched in 2017, Udhyam works to stem the flow of youth of the region into the plains and to assist and encourage them to set up businesses and enterprises of their own, where they can employ others while earning a living.