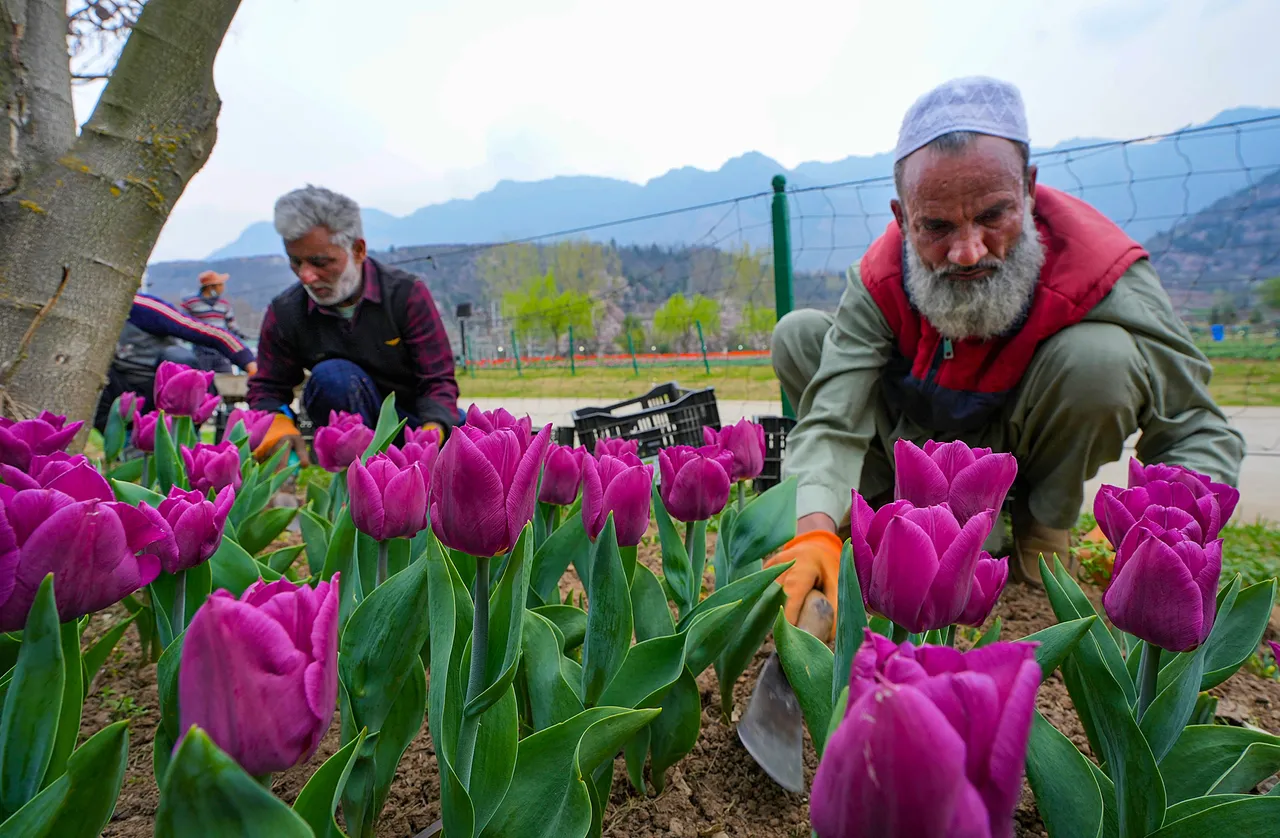 New Delhi: Lt Governor V K Saxena has directed officials to ensure that Delhi is adorned with flowering plants throughout the year and asked the NDMC to plant five lakh tulips, sourced from Jammu and Kashmir or Himachal Pradesh, in the next season, officials said on Thursday.
The Lt Governor chaired a meeting to review the Horticulture divisions of various departments and agencies and their future preparedness with regards to flower plantation and other activities.
"In line with his often professed goal of turning the capital into a 'city of flowers' and in cognizance of the enthusiastic response of Delhi residents to the prevalent, extraordinary spring bloom in the city, Saxena directed officials to come up with a detailed plan of action for the remaining year within the next 15 days," a Raj Niwas official said.
The meeting was attended by the chief secretary, chairman NDMC, VC DDA, Commissioner MCD and Engineer-in-Chief (PWD) and their Horticulture heads.
These are civic agencies and departments that own Delhi's parks, green stretches and roads, and undertake and execute most of the Capital's horticultural activities, that include, planting flowers and flowering trees on roads and parks and maintaining nurseries among others, he said.
This year, about 1.5 lakh tulips were planted across the NDMC area. The LG also issued instructions for five lakh tulips to be sourced and planted during the next season, the official said.
Saxena said he had taken up the matter of sourcing Tulips with the Lt. Governors of Jammu and Kashmir as well as Ladakh, and asked NDMC to source it from these Union Territories or Himachal Pradesh, rather than sourcing them from abroad, the official said.
"This, he said, will apart from encouraging and boosting indigenous suppliers, also ensure cost cutting in procurement," the official said.
Saxena also asked agencies like MCD, DDA and NDMC who own and operate nurseries to try and achieve temperatures between 10-12 degree centigrade, in their set ups, so that tulip saplings and bulbs could be nurtured in Delhi itself. He also asked for the possibility of sourcing and planting daffodils in the forthcoming season.
Reviewing the activities undertaken during the past six months, Saxena directed officials to ensure that the momentum gained during these months is not only maintained, but augmented further.
He asked agencies to ensure that saplings and plants are obtained from their own nurseries or other government nurseries rather than sourcing it from outside.
"He issued specific instructions to officers to ensure that all roads - their central verges, foothpaths and sidewalks and all parks and open green spaces owned by PWD, MCD, NDMC and DDA are perpetually replete with flowers and plants, one season after another. The LG also asked them to ensure proper maintenance by watering and pruning, etc," the official said.
The Lt Governor was informed that 15,226 parks owned by the Municipal Corporation of Delhi spread over 5172 acres of land, were all being readied for self-sustaining and eco-friendly horticultural activities to be undertaken throughout the year.
The MCD was directed to also ensure planting of flowers and aesthetically appealing plants on the sidewalks and kerbs of roads owned by them, the official said.
The PWD was instructed to undertake similar activities on the central verges and sidewalks of 540 kms of roads with RoW above 24 mtrs, owned by it. The DDA was similarly asked to undertake various horticultural activities, over 719 parks spread over 10,385 acres, bio-diversity parks spread over 2123 acres and the Yamuna floodplains spread over 3527.60 acres owned by it, the official said.
The LG also instructed for plantation of flowers and flowering plants all across the 57 kms embankment of the Najafgarh Drain and other major drains like Shahdara, etc.