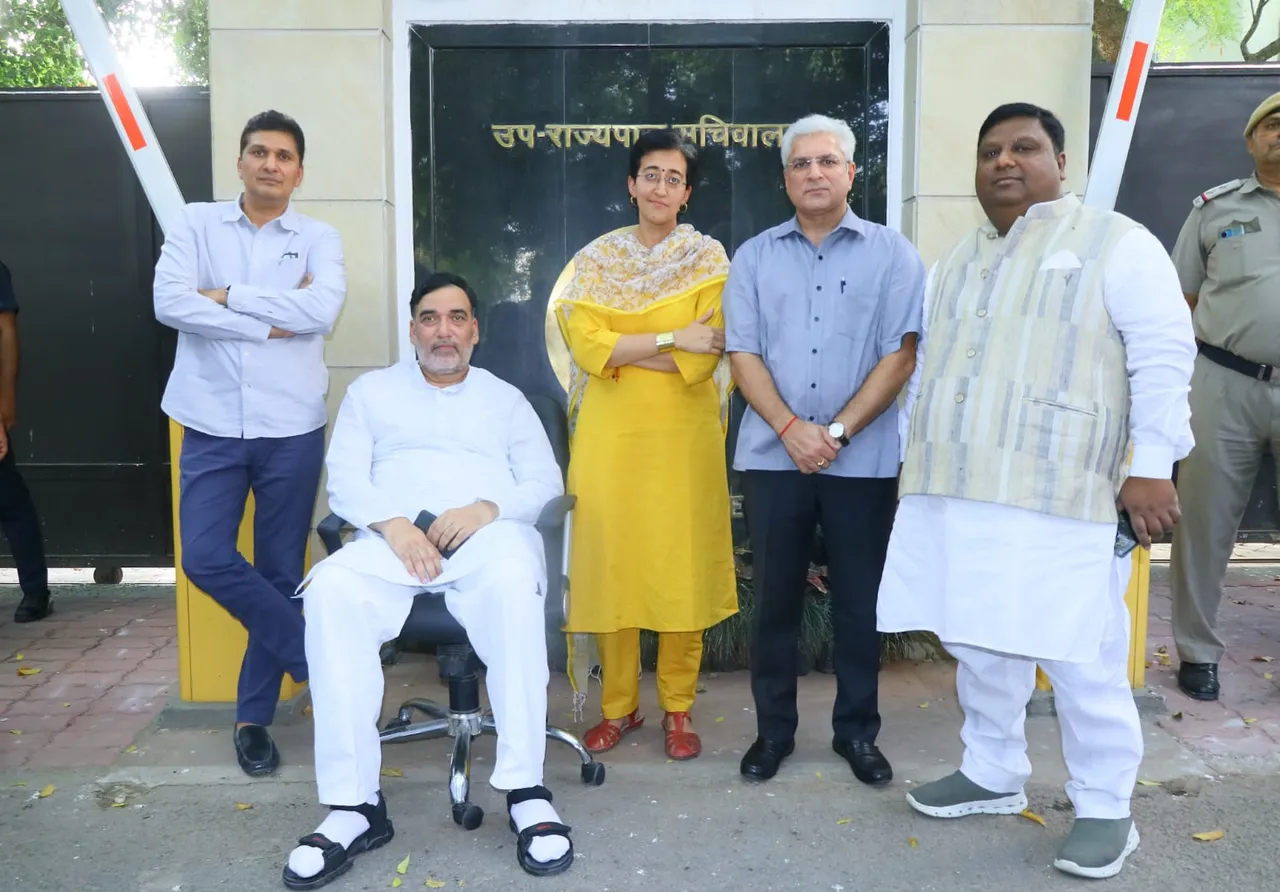 New Delhi: Delhi Cabinet ministers on Friday went to Lieutenant Governor V K Saxena's residence to request him to follow the Supreme Court's verdict on matters pertaining to services.
Raj Niwas officials said the ministers arrived without any prior appointment or information. The LG is in a meeting with Municipal Corporation of Delhi and Delhi Jal Board officials and presidents of 13 Common Effluent Treatment Plants (CETP) on Yamuna pollution, they said.
In a tweet, the AAP said, "Delhi's cabinet ministers waiting outside the office of LG. All the ministers have come to ask the question to LG -- why he is not following the orders of the Supreme Court? Why hasn't the file of the Services Secretary been signed for two days?"
क्या LG साहब ख़ुद को भगवान समझते हैं?

दिल्ली सरकार के 5 कैबिनेट मंत्री उनसे मिलने के लिए बाहर गर्मी में खड़े हैं

लेकिन LG साहब किसी बेशर्म की तरह दिल्ली सरकार और सुप्रीम कोर्ट के फैसले का अपमान करने में लगे हैं। pic.twitter.com/RsmRgEVmdX

— AAP (@AamAadmiParty) May 19, 2023
The party also shared pictures and videos of the ministers, including Saurabh Bharadwaj, Atishi, Gopal Rai and Kailash Gahlot, waiting outside the Raj Niwas.
Earlier in the day, Bharadwaj, the services minister, wrote a letter to the LG and urged him to clear a file related to the transfer of Services Secretary Ashish More, saying several administrative changes were held up due to the delay.
He said the file had been sent two days back.
More was transferred hours after a Supreme Court order on May 11 put the control of bureaucrats working with the Delhi government (excluding those related to police, public order, and land) under the elected government.