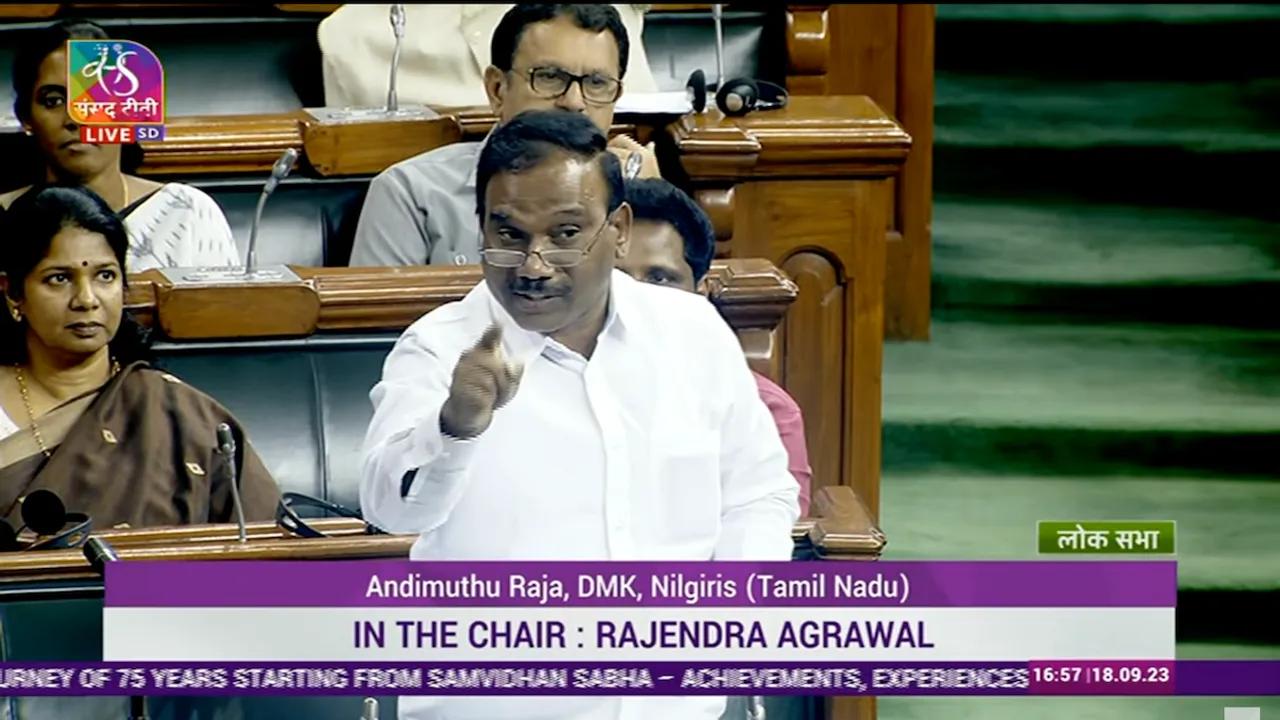 New Delhi: DMK member A Raja's remarks in Lok Sabha on the European Parliament adopting a resolution criticising the Indian government's handling of the situation in Manipur kicked off a row with Union minister Piyush Goyal demanding they be expunged.
Raja, while participating in a discussion on '75 years of Parliament', mentioned the issue of the situation in Manipur which has seen sporadic ethnic violence since May 3.
"The Manipur issue was discussed in the European Union and the European Union passed a resolution condemning the activities of the government," Raja, a former Union Minister, said.
Apart from Union minister Goyal, BJP members Nishikant Dubey and Ravishankar Prasad also objected to Raja raising the Manipur issue in the context of the European Parliament resolution.
"The tone for today's debate on 75 years of parliamentary democracy was set by Prime Minister Modi and followed by almost all parties except some.
"It is unfortunate that some members are indulging in petty politics and are lowering the standard of the discussion to score some brownie points.... I request you to expunge these remarks condemning India from record," Goyal said intervening in the discussion.
Ravishankar Prasad asked if it was fair and just for Raja to raise the issue of the European Parliament condemning India. He sought an apology.
Prasad, a former Union minister, also asked if Raja was ready to apologise for the language he had used to speak about Sanatan Dharma.
Dubey raised a point of order saying a member cannot mention any issue transacted in parliament of a foreign country and demanded an apology from Raja.
Raja also said said that in the past 10 years, the constitutional morality was distorted and social harmony came under threat.
"...the treasury benches have acted in a diabolical way throughout its term," Raja said.
Raja's speech was interrupted by the treasury benches, with the mention of the Sanatan Dharma row.
Participating in the discussion, AIMIM chief Asaduddin Owaisi said that instances of 1984 Sikh riots, Babri Masjid demolition, 26/11 terror attacks, TADA-POTA laws, AFSPA, and Gujarat riots have crushed democracy.
"Muslims representation is so low, we have been reduced to just voters and not lawmakers. I fear for the destruction of representative democracy in India," he said, adding "Hope the new Parliament does not become Hitler's Reichstag." The other members who participated in the discussion were NK Premachandran (RSP), Navneet Kaur Rana (independent), and Arvind Sawant Shiv Sena (Uddhav Balasaheb Thackeray).