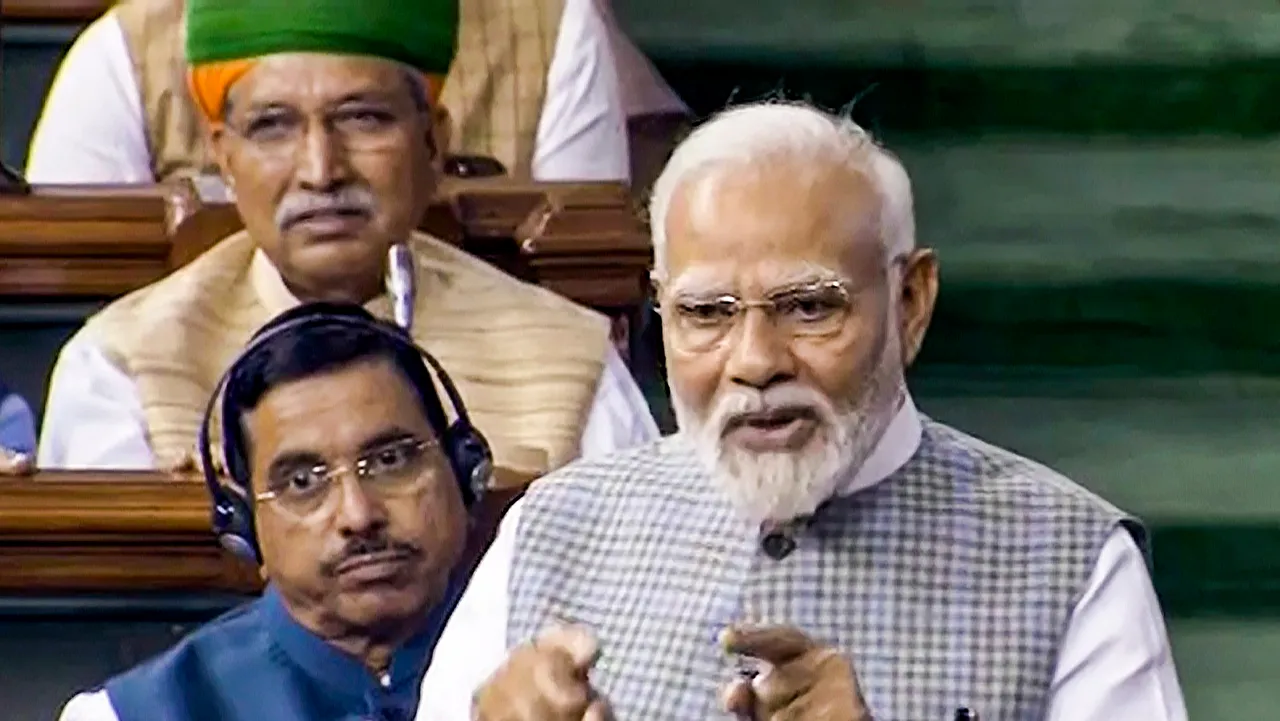 New Delhi: As the old Parliament building hosted a session one last time, Prime Minister Narendra Modi on Monday bid a poignant farewell recalling the country's first PM Jawaharlal Nehru's iconic "tryst with destiny" speech for continuing to inspire everyone and another predecessor Atal Bihari Vajpayee's "governments may come and go" remark.
Reminiscing the country's Parliamentary journey of 75 years, Modi at the same time reminded the Lok Sabha about Emergency as well as the 2008 'cash-for-vote' scam during the first term of the Manmohan Singh government.
As he sang paeans to previous prime ministers including Lal Bahadur Shastri, Indira Gandhi and P V Narasimha Rao, Modi remembered the journey of India's democracy and said the last day in the heritage building should be dedicated to the over 7,500 parliamentarians who served there since Independence in 1947.
"It is a very emotional moment to bid farewell to this building. As we leave this building our mind is filled with many emotions and memories," Modi said, initiating the discussion on "Parliamentary Journey of 75 years starting from Samvidhan Sabha -- Achievements, Experiences, Memories and Learnings".
Modi paid tributes to "every brick" of the old Parliament building and said MPs will enter the new complex with "new hope and confidence".
The Rajya Sabha and the Lok Sabha will meet again on Tuesday afternoon in the newly constructed Parliament building after they were adjourned following a discussion on the country's parliamentary journey on the first day of the five-day session. Parliament will be shifting to the swanky complex on the auspicious occasion of Ganesh Chaturthi.
Outside Parliament, Modi said the session may be short in duration but is big on occasion, and is of "historic decisions".
He said there is an atmosphere of festivity and enthusiasm, and the country has been filled with renewed self-confidence, and asked parliamentarians to give maximum time to the short session.
There will be a lot of time left for "rona dhona" (whining), he said taking a jibe at the opposition which has been criticising the government over the session, which is unusual for its timing.
In his 52-minute speech, Modi said it was in this Parliament that Pandit Nehru delivered his "tryst with destiny" speech "at the stroke of midnight hour" to mark India's independence from colonial rule and his words continue to inspire everyone.
"In the same House, Atalji's words about 'sarkarein aayegi, jayegi; partiyan banegi, bigdegi; lekin yeh desh rehna chahiye' (governments may come and go; parties may be formed or disbanded; but this nation has to live on) continue to echo even today." Modi also said there were celebrations everywhere when three new states of Uttarakhand, Jharkhand and Chhattisgarh were created in 2000 during Vajpayee's tenure but lamented that Telangana being carved out of Andhra Pradesh led to only bitterness and bloodshed in both the states. The UPA government headed by Manmohan Singh had in 2013 cleared the formation of Telangana.
In the Rajya Sabha, Leader of Opposition and Congress president Mallikarjun Kharge used poetry and humour to take a swipe at the government, saying nothing will be accomplished by changing names. He also recalled how Jawaharlal Nehru's "inclusive" approach of involving opposition parties had led to the laying of a strong foundation for the Constitution.
Kharge began his speech with a poem in Hindi.
"Badalna hai to halat badlo, aise naam badalne se kya hota hai? Dena hein to yuva ko rozgar do, sab ko berozgar karke kya hota hai? Dil ko thoda bada karke dekho, logon ko marne se kya hota hai? Kuch kar nahi sakte ho, kursi chor do, baat baat mein darane se kya hota hai? "Apni hukumrani par guroor hai, logon ko darane se dhamkane se kya hota hai? Badalna hai to halat badlo, aise naam badalne se kya hota hai? Yahan se wahan jane mein kya aur honewala hai?" he said.
("If you want to change something, change the situation, what will be accomplished by changing names? If you want to give something, give employment to youngsters, what will be accomplished by making everyone unemployed? Try becoming more magnanimous, what will be accomplished by killing people? If you cannot do anything, leave the chair, what will be accomplished by scaring people?").
In the Lok Sabha, Modi recalled the bravery of Bhagat Singh and Batukeshwar Dutt who hurled bombs in the same Parliament building to wake up the British empire from its slumber.
"The echo of that bomb still gives sleepless nights to those who wish well for this country," he said. Singh and Dutt had hurled bombs in the Delhi Central legislative assembly (the present Parliament House).
The prime minister said the biggest achievement of these 75 years was that the common person's trust in Parliament continues to grow.
"We may as well move to the new building, but this old building will always inspire generations to come." Modi said it is also an occasion to hail everyone who have led this House and shared their vision for India, ranging from Pandit Nehru to Vajpayee.
They have given new direction to the nation under their leadership and today is an occasion to highlight their achievements, the prime minister said He also remembered Sardar Vallabhbhai Patel, Chandrashekhar and Lal Krishna Advani for enriching the House.
The prime minister also recalled the terror attack on Parliament in 2001 and remembered those who took bullets on their chests to save members while fighting terrorists.
"It was not an attack on the building but an attack on the Mother of Democracy itself. It was an attack on the soul of India," he said.
"I also salute those who faced bullets on their chests to save the House and its members while fighting the terrorists. They are not among us, but they have protected us in a great way." The prime minister also lauded the contribution of B R Ambedkar, saying his vision for industrialisation, which was aimed at bringing social justice in the country during the first government of independent India, continues to remain at the heart of every industrial policy even today.
At the same time, there have been sad and emotive moments when Parliament witnessed loss of three serving prime ministers -- Nehru, Shastri and Indira Gandhi -- and rich tributes were paid to them, he noted.
"This House also supported the liberation of Bangladesh under the leadership of Indira Gandhi." At the same time, this House also witnessed an attack on democracy during the Emergency and through this House, the people also asserted their power as we saw the return of democracy, Modi added.
The prime minister said in the post-independence period, many learned people had raised various concerns about India.
"They voiced apprehensions about whether India would be able to thrive, whether it would remain united, whether democracy in India would survive. But it is the power of this Parliament that the world was proven wrong. India thrived, despite all the doubts and darkness." On a personal note, Modi said he had never imagined that a child from a poor family, who was living on a railway platform, would reach Parliament.
"But this is the strength of India's democracy and a reflection of the faith of the common man of India towards democracy that a child from a poor family, living on the railway platform, reached Parliament," he added.