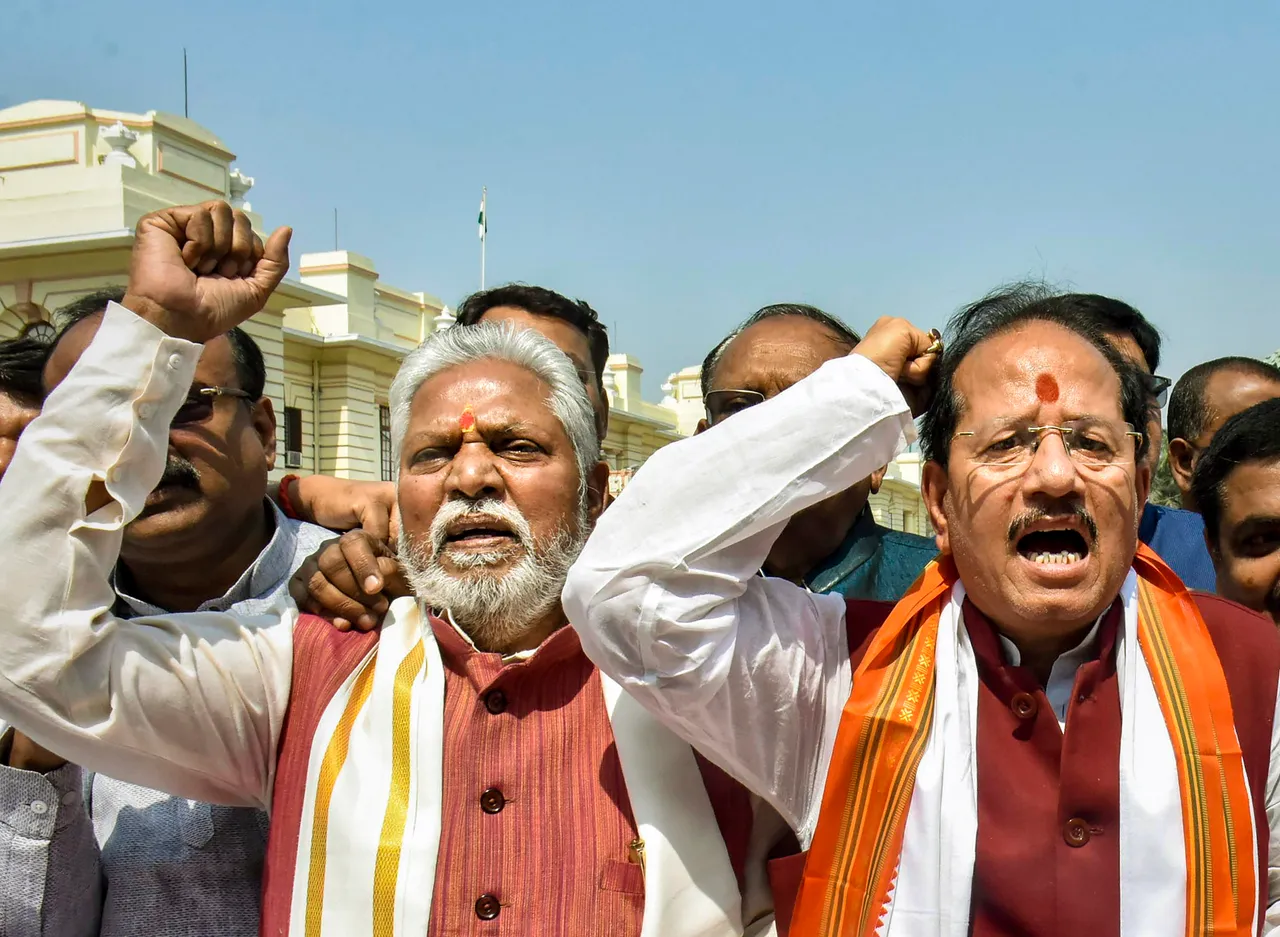 Patna: Members of the opposition BJP in Bihar created a ruckus inside the state Assembly on Wednesday and staged a walkout in protest against the alleged police misbehaviour with family members of a martyred Army jawan. The opposition MLAs staged a demonstration in front of the premises before the commencement of Assembly proceedings condemning the arrest of Vaishali resident Raj Kapoor Singh, whose son Army jawan Jai Kishore Singh had died fighting Chinese troops in Galwan a few years ago.
Some BJP MLAs even tried to disrupt proceedings by placing a chair on the desk of the Vidhan Sabha secretary before the proceedings began at 11 a m.
Speaker Awadh Bihari Chaudhary allowed Leader of Opposition Vijay Kumar Sinha to make a statement on the floor of the House.
In his statement Sinha alleged that denigration of armed forces ever since Mahagathbandhan assumed power in Bihar was deliberate and not coincidental (prayog hai, sanyog nahin).
When the speaker pointed out that the leader of opposition was asking no question to which the government could be asked to furnish a reply, Sinha demanded that a meeting of the Business Advisory Committee be convened to discuss the issue of the Galwan martyr.
"The Chair must not be dictated by the government," he said.
At this the state Parliamentary Affairs minister Vijay Kumar Chaudhary rose to his feet and asserted "the Chair must not take a wrong decision under pressure from the opposition either".
As the din continued, Deputy Chief Minister Tejashwi Yadav rose to state that he had met the family of Jai Kishor Singh shortly after the jawan attained martyrdom.
"He belonged to a village(Chakfatah under Jandaha police station) that is not far from the assembly seat (Raghopur) I represent," said Yadav.
He said the demand of the deceased jawan's father that a memorial be constructed in the memory of the martyr will be considered in accordance with law.
The jawan's father was arrested on Saturday and booked under the SC/ST Act after a skirmish with a fellow villager who objected to "illegal" construction of a memorial by the family.
The Vaishali administration has also denied reports in a section of the media that the jawan's father was dragged by policemen.
Nonetheless, BJP MLAs kept shouting slogans for a while before staging a walk out.
Chaudhary said the BJP has its roots in RSS and "those who have no respect for people who sacrificed their lives in the freedom struggle have no moral right to talk about martyrs".
Meanwhile, a statement by police headquarters said Director General of Police R S Bhatti has taken a serious note of reports in the media about the Vaishali incident and directed the additional director general of CID and weaker sections for a thorough probe.
Accordingly, a special team will be set up to investigate the whole episode. Based on its report action may be taken against any police personnel found guilty, it added.