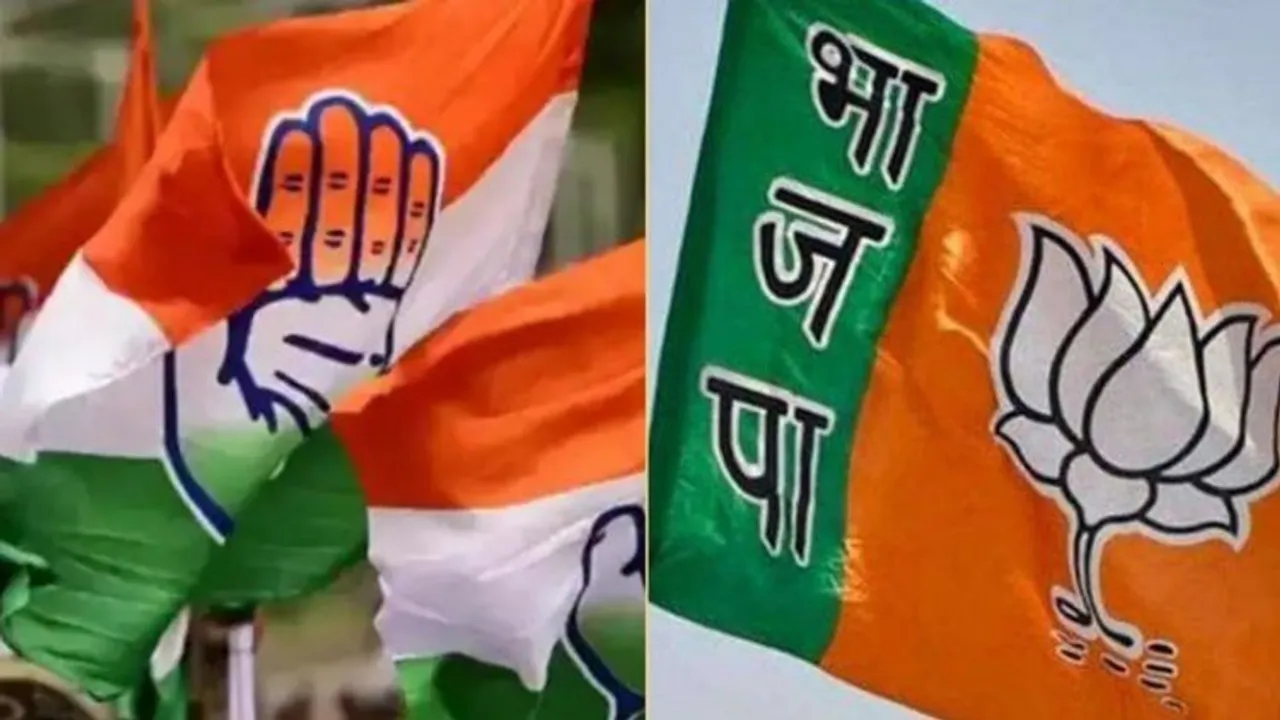 Chandigarh: It is official now. BJP official candidates will face party rebel candidates in as many as 12 out of 68 assembly constituencies in November 12 assembly polls in Himachal Pradesh.
BJP's senior leaders including national president JP Nadda and chief minister Jai Ram Thakur tried their level best to reach out to them.
But barring three - Maheshwar Singh from Kullu, Yuvraj Kapoor from Karsog and former Dharamshala block president Anil Chaudhary - they did not withdraw their nominations as independent candidates, increasing worries for the party ahead of November 12 polls.
The chances of suspension of these 12 rebels from the party can't be ruled out in the coming days.
BJP state chief Suresh Kashyap has already hinted a few days ago that those fighting as independent candidates against the party nominees would face a six-year suspension.
On the other hand, Congress did well by convincing at least eight of its rebels to withdraw their nominations as independent candidates and reducing its worries to six constituencies.
Notable faces to withdraw papers were former MLA and state Congress president Kuldeep Kumar from Chintpurni, former MLA Tilak Raj Sharma in Bilaspur, former MLA Biru Ram Kishor from Jhandutta, former Congress candidate Kamal Kishor in Indora, Vijay Kumar, Ishan Kumar and Rakesh from Dehra, Visheshwar Lal from Rohru.
Apart from that, Shamsher Ali Kasmi from Paonta Sahib, Hem Chander from Nachan and Karan Parmar from Shahpur also withdrew in favour of the party's official candidate.
Later in the day on Saturday, Rajeev Shukla, Congress' in-charge for Himachal affairs, claimed that the party had won the semi-finals and now the victory in finals is not far away.
He also slammed BJP for failing to put its house in order, while claiming unity in his party.
On the other hand, BJP spokesperson Sanjay Sharma said that the party was likely to take action against the rebel candidates.
BJP in a tight spot
Most of the BJP rebels are in Kangra and Kullu districts.
Of the 15 seats in Kangra district, all five rebels stayed including Vipin Nehria in Dharamshala, Kirpal Parmar (former RS MP) in Fatehpur, Kulbush Chaudhary in Kangra town, Manohar Dhiman  (former MLA ) in Indora and Hoshiyar Singh (sitting MLA) in Dehra.
In the Kullu district, BJP got some sigh of relief after it persuaded Maheshwar Singh, a scion of the Kullu royal family, to withdraw his nomination as an Independent candidate from Kullu Sadar in favour of party candidate Narotam Singh.
But other rebels did not relent. Out of four seats in Kullu, the party has rebels on three seats now.
For instance, Kullu Sadar will witness a triangular contest between Congress candidate Sunder Singh Thakur, BJP candidate Narotam Singh and BJP rebel-turned-Independent candidate Ram Singh.
In Banjar, Maheshwar Singh's son Hiteshwar Singh did not withdraw as an independent candidate. He will now be contesting against BJP candidate and Banjar MLA Surender Shourie and Congress candidate Khimi Ram Sharma. 
In Anni, BJP sitting MLA-turned-rebel Kishori Lal too refused to withdraw his papers and is now in the contest with BJP's Lokender Kumar, who was a CPI candidate in the 2017 elections and later joined the party.
On the other hand, former BJP MLA KL Thakur from Nalagarh did not oblige senior party leaders.
Other notable rebels who did not withdraw nominations were Praveen Sharma from Mandi, Abhishek Thakur from Sundernagar and Subhash Sharma from Bilaspur.
BJP rebel Rajkumar Kondal also refused the party's high command request and was firm on contesting as independent from Jhanduta (Hamirpur district).
Congress rebels stayed in six seats
There are six seats where Congress rebels too refused to withdraw.
One such seat is the Pachhad segment of the Sirmaur district where seven-time Congress MLA GR Musafir may mar the poll prospects of former BJP leader turned Congress nominee Dyal Pyari.
Vijay Pal Khachi, son of Congress stalwart JBL Khachi, is contesting as an independent from Theog, while former MLAs Subhash Manglet and Jagjiwan Paul are in the fray from Chopal and Sulah, respectively.
Indu Verma, wife of former BJP MLA Rakesh Verma, who had recently joined Congress but lost the race for a ticket to former HPCC president Kuldeep Rathore has also refused to back off and is contesting from Theog.
Besides, Paras Ram from Anni also decided to stay in the contest.