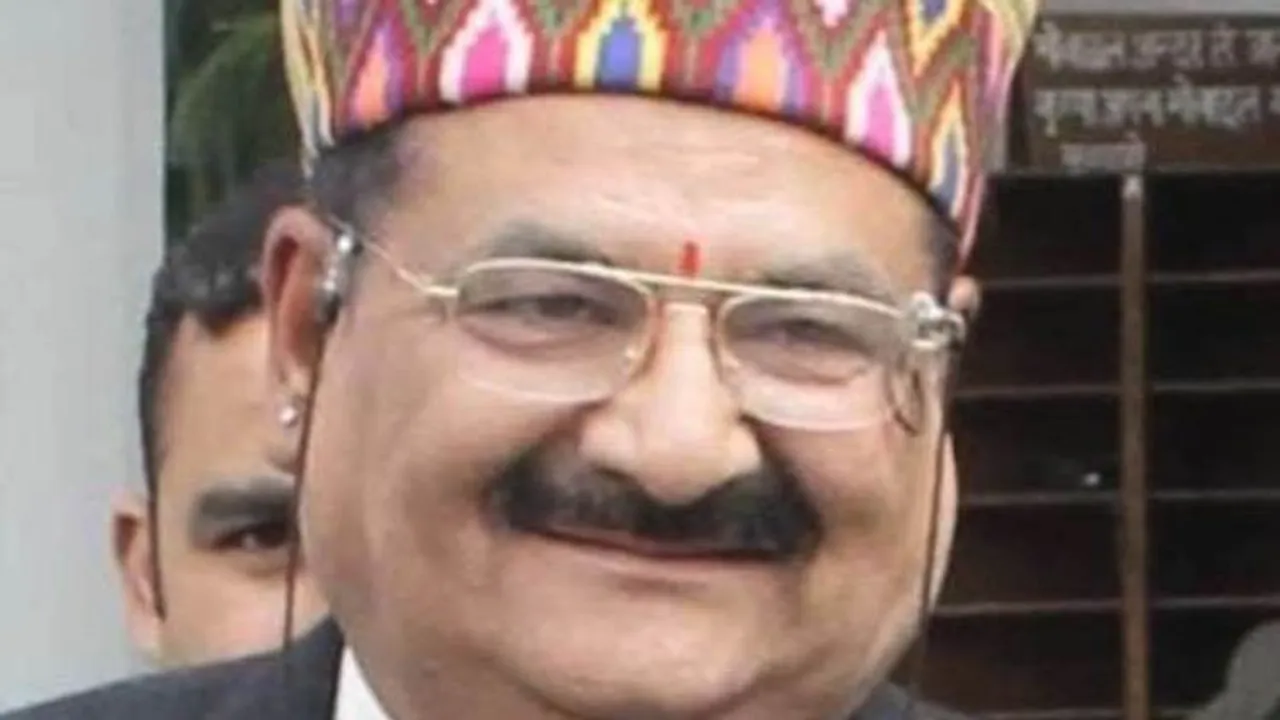 Chandigarh: Bharatiya Janata Party (BJP) on Tuesday dropped Maheshwar Singh, scion of the Kullu royal family, from Kullu Sadar after he failed to convince his son, Hiteshwar Singh, to withdraw his candidature as an independent from an adjoining Banjar constituency.
The decision came just a few hours before the nomination ended for November 12 Himachal assembly polls.
Soon after the party dumped him, Maheshwar Singh himself filed his nomination as an independent candidate in an open revolt against the party that he served in several capacities including state president.
Now both father-son duo will be competing against the official nominees of the BJP, which may mount more trouble for the party, which is already facing rebellion in several other constituencies.
As per the latest information, BJP rebels are now fighting as independents in at least 12 out of 68 assembly constituencies. October 28 is the last date to withdraw the nomination.   
In the Kullu district alone, there is rebellion in three out of four seats.
Apart from Kullu Sadar and Banjar where the father-son duo is fighting as independent, Kishori Lal, sitting BJP MLA from Anni assembly seat of Kullu district also filed nomination as an independent candidate on Tuesday.
He did so after the party had denied him a ticket for this election. He won the 2017 polls by 6,000 votes.
In the Mandi district, which has 10 seats, two BJP rebels have already filed nominations as independent candidates. They are Praveen Sharma from Mandi Sadar and Abhishek Thakur from Sundar Nagar.
In Kangra district which is the largest district in terms of assembly seats, BJP is facing rebellion in four out of 15 seats.
Party rebels are fighting independents in Fatehpur, Dharamshala, Kangra and Dehra.
Of those who filed nominations as Independents are former RS MP Kirpal Parmar from Fatehpur, Vipin Neharia from Dharamshala, Hoshiar Singh, sitting MLA from Dehra and Kulbash Chaudhary from Kangra.
Other places where BJP leaders have filed independent nominations are Kinnaur (Tejwant Negi), Nalagarh (KL Thakur) and Hamirpur (Naresh Darji).
Apart from these seats, there are at least six other constituencies where party leaders were upset over the denial of tickets. This time, BJP changed as many as 11 sitting MLAs and changed the constituencies of two ministers.
Prominent among these seats were  Nachan, Dharampur, Karsog, Jogindernagar, Darang (all five in Mandi district) and Bilaspur. 
Timely intervention by senior leaders forced many disgruntled leaders not to file nominations as independents. 
It included the sitting MLA of Darang Jawahar Thakur and the sitting MLA from Bilaspur Suresh Thakur, who both were denied tickets this time. 
Sources within the party said that senior leaders including BJP national president JP Nadda, chief minister Jai Ram Thakur and state president Suresh Kashyap met disgruntled and upset leaders to quell the dissent.
Nonetheless, it remains to be seen how many of them seriously work for the victory of the party's official nominees in disputed constituencies.
On the other hand, cracks have appeared in the Congress camp too but the scale is not as big as in BJP.
Among congress dissenters, former Himachal Congress president Kuldeep Kumar filed nomination as independent from Una district's Chintpurni seat. 
On the other hand, seven times Congress MLA GR Muzafir filed the nomination as an independent candidate from Pachhad in Solan district as he was upset over the denial of a ticket.