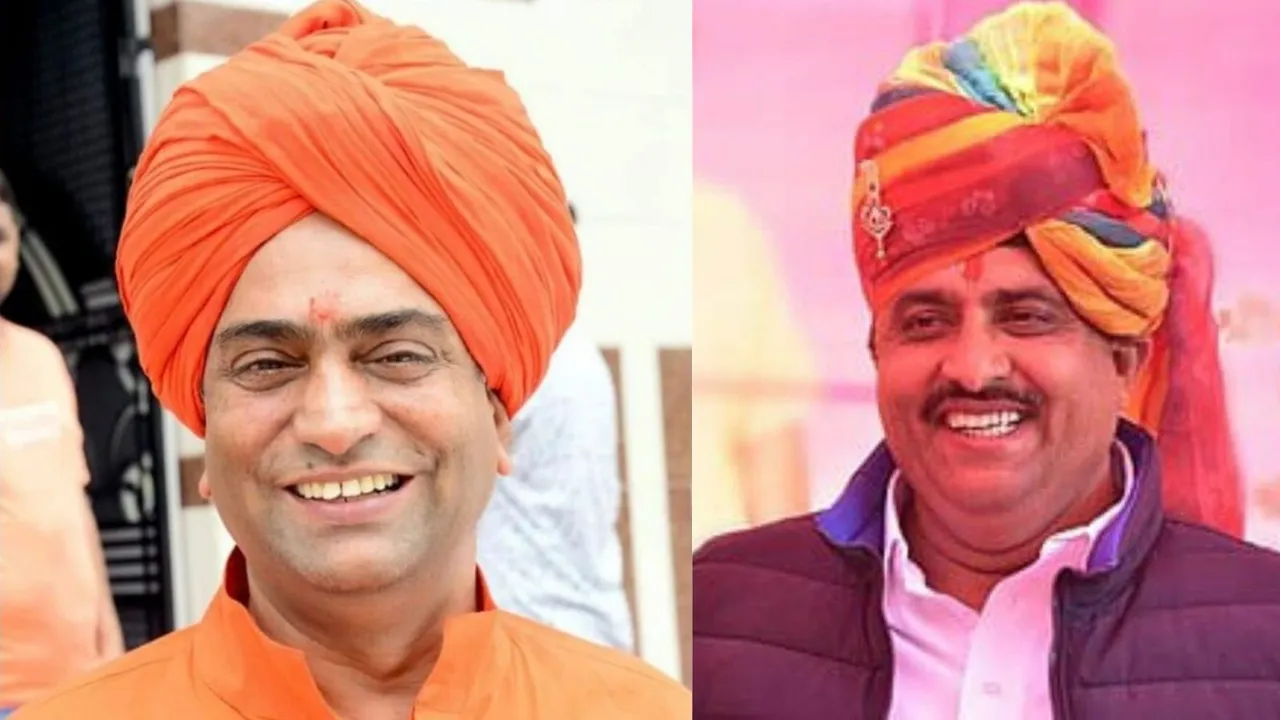 Pokaran (Rajasthan): Last year, just 872 votes separated the winner from the loser in Pokaran assembly constituency, where a Hindu seer is now pitted against the son of a Muslim religious leader.
Congress sitting MLA Saleh Mohammad, is hoping to buck the trend of anti-incumbency in the seat, and believes people will vote for his development work and not along religious lines.
"This time, the election is about development. The Congress government has done historic development work, and religion is not an issue. Hindu-Muslim is not a factor in the elections," Mohammad told PTI.
The Congress leader added that there is no anti-incumbency against him or the government. Top BJP leaders will come for campaigning in the constituency and deliver speeches on religious lines, but it no longer affects people, Mohammad, also the minority affairs minister said.
His rival, BJP's Swami Pratap Puri, insists Congress party's claims on development work are just announcements made before the elections to tempt voters.
"I have remained connected to the people for the last five years. Congress is talking about its work but most of them are limited only to announcements. And announcements made just before the election are only an attempt to tempt the people," Puri told PTI.
The BJP leader said that the "meagre" work done by the Congress government in Rajasthan can not be compared with that of the Centre.
"Congress government starts work but there is no guarantee that it will complete the work," he said.
Both Puri and Mohammad hold sway over their communities, with the former being a Rajput community leader and a religious head of Taratara Math in Barmer district, while the latter has a large number of supporters both in India – and across the border in Pakistan.
Following the death of his father Gazi Fakeer, Mohammad is now the representative of Peer Pagaro, a religious head of Sindhi Muslims in Pakistan.
Pokaran constituency, in Rajastahn's border district Jaisalmer, is estimated to have about 2.22 lakh voters – most of them Muslims or Rajputs. There are about 60,000 Muslim, 40,000 Rajput, 35,000 SC/ST, 10,000 Jat, 6,000 Bishnoi, 5,000 Mali and 3,000 Brahmin voters.
While both leaders will count on their religious vote banks, support from other communities could decide the fate of the race. Local issues and the leaders' personal connection with the people in the last five years could also play a crucial role.
"Undoubtedly, development work has happened in the last five years in the constituency. But there were instances when the MLA did not pay attention to people of his community but did work for others," said Zakir Khan, a resident of Pokaran.
Another resident Akbar Khan said, "People do vote on religious lines but it is not always about religion. Addressing community issues, connect with the people is also equally important when it comes to voting." Other residents, however, said religion reigns supreme in deciding people's vote.
"It is a clear fight between the majority and minority community. Hindus will vote for the BJP whereas Muslims will vote for the Congress. Other communities will play an important role in deciding the outcome," Manohar Singh, a tea stall vendor.
"We will vote for the candidate who has a better connect with the people," said Geetu Devi, another resident.
She said the Gehlot government's tenure as "historic", lauding it for its welfare schemes.
Manohar Joshi, a local political analyst, said that elections in the region are usually not just about the performance of the candidates.
Pokaran has got colleges, improved road connectivity to villages, a better district hospital, a transport registration office among other things, he said.
"People here vote based on their religion and everything else takes a back seat," he said.
He added that unlike past years, however, there is no anti-incumbency against the government. But since both candidates are religious leaders, votes will be divided along those lines.
Two out of the previous three elections in Pokaran have had a close race. In 2008, Mohammad won by 339 votes by defeating BJP's Shaitan Singh. The seat came into existence 2008 after a delimitation exercise.
In 2013, Singh defeated Mohammad by a whopping margin of 34,444. In 2018, when BJP fielded Puri, he lost to Mohammad by a mere 872 votes.
Polling for assembly elections in the state will be held on November 25, while votes will be counted on December 3.