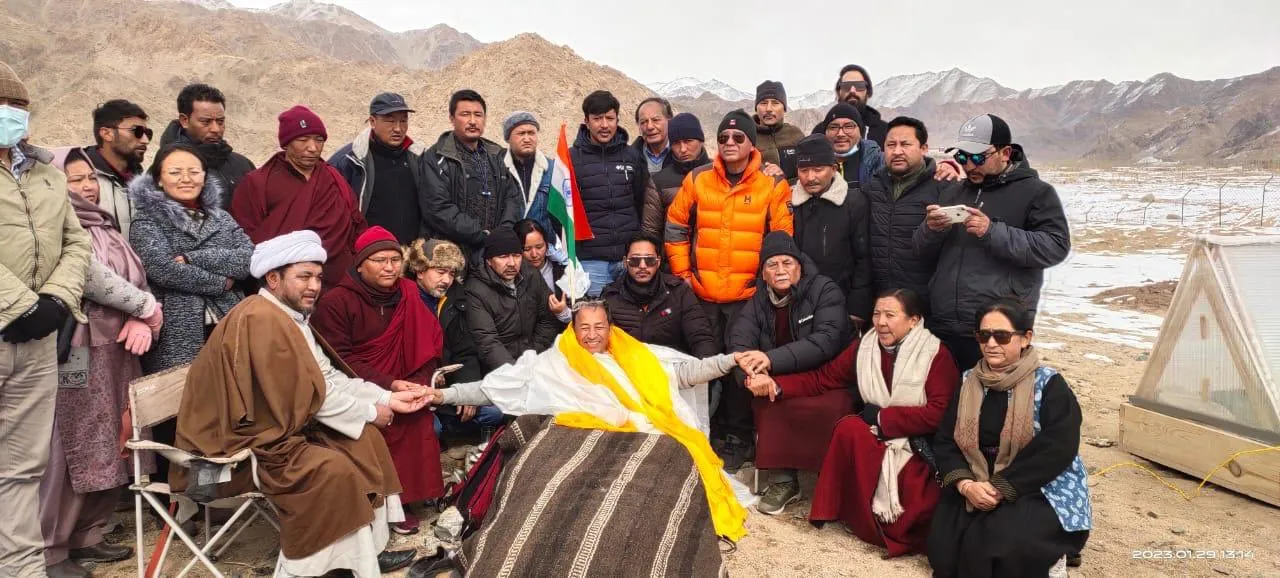 Leh: Hundreds of people on Monday joined education reformist Sonam Wangchuk on the final day of his five-day hunger strike here in support of the demand for various safeguards for Ladakh, including extension of the Sixth Schedule of the Constitution to the Union territory.
Prominent among those who joined Wangchuk, an engineer whose life inspired a character in Bollywood blockbuster "3 Idiots", were leaders of the Leh Apex Body of Peoples Movement for Sixth Schedule and the Kargil Democratic Alliance (KDA).
The apex body and KDA, a separate amalgam of socio-religious, political and youth organisations, are jointly spearheading a campaign to press for their four-point demands which include full statehood and safeguards under the Sixth Schedule to the region.
"Today is the last day of my symbolic carbon neutral climate fast and I am thankful to the people for joining me. The fast was an attempt to invite the attention of Prime Minister (Narendra Modi) so that our leaders can brief him about their concerns and demands," Wangchuk told reporters at Himalayan Institute of Alternatives Ladakh (HIAL) campus.
Wangchuk said safeguarding the Himalayas, including its glaciers, should be more important than making some "corporators happy" as it is having a direct bearing on the people of the sub-continent.
"The government needs to have a futuristic plan for safeguarding the environment of the Himalayas. It should also keep its promise of extending the Sixth Schedule of the Constitution to Ladakh," he said.
Wangchuk threatened to intensify his protest in case there was no response from the government. "This was just a symbolic protest and if there was no response, I will go on a hunger strike for 10 days, later 15 days and so on till my last breath." Former MP and Chairman of the Leh Apex Body of Peoples Movement for Sixth Schedule Thupstan Chhewang announced a grand rally on January 31 against the "failure of the government to protect the identity and culture of Ladakh".
On January 15, the Apex Body and the KDA jointly staged a protest in Jammu in support of their demands, including protection of land and jobs, and announced a similar protest at Jantar Mantar in Delhi in the third week of February.