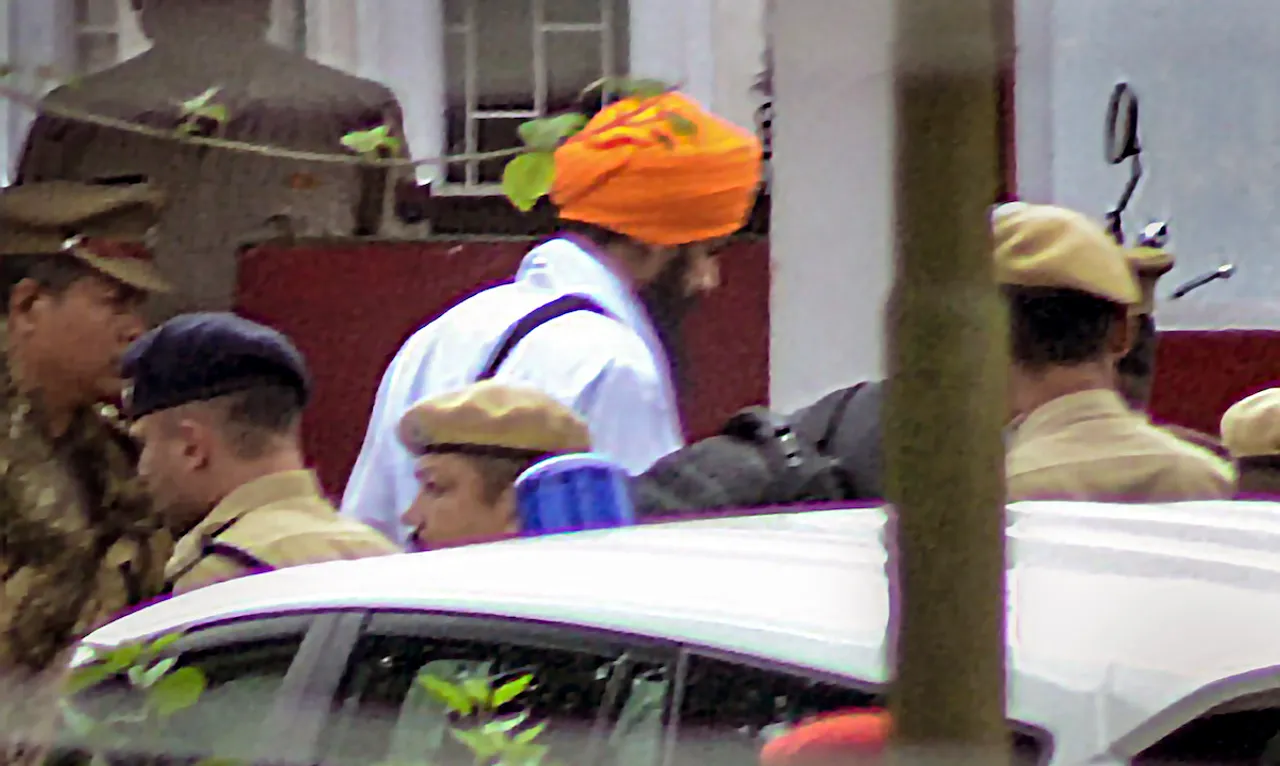 Dibrugarh: Radical preacher and 'Waris Punjab De' chief Amritpal Singh, who is lodged at the Dibrugarh Central Jail along with his associates following their arrest in Punjab, has said he is in 'chardi kala' (high spirits) in prison, according to his lawyer Bhagwant Singh Siyalka.
Siyalka accompanied family members of arrested 'Waris Punjab De' activists, including Amritpal Singh, who arrived here earlier in the day and met them at the jail. The radical preacher handed over a letter written in Gurmukhi to Siyalka inside the prison, in which he said: "With the blessing of the Almighty, I am in 'chardi kala' here." Referring to the cases registered against members of his outfit, Amritpal Singh accused the Punjab government of unleashing excesses and registering "several fake cases" against Sikhs.
"This whole matter is of 'Khalsa Panth' and I appeal to the 'Panth' that a panel of capable advocates be set up, which will pursue all these cases," he said in the letter.
Siyalka, who is also an executive member of the Shiromani Gurudwara Prabandhak Committee (SGPC), told reporters in Dibrugarh that a special panel of lawyers will be formed, and its members will be solely responsible for conducting their judicial process.
Besides Amritpal Singh, nine other activists of 'Waris Punjab De' have been brought to the Dibrugarh Central Jail since March 19, after they were arrested from Punjab, following a crackdown on the outfit.
He and his associates have been booked under several criminal cases related to spreading disharmony among classes, attempt to murder, attack on police personnel and creating obstructions in the lawful discharge of duty by public servants.
Another lawyer, Simranjeet Singh, also travelled to Dibrugarh along with Siyalka and the family members.
They made their way to the northeastern state, after the Punjab and Haryana High Court allowed one family member of those arrested to meet them, an official said.
Simranjeet Singh later told reporters that the arrested persons have been booked under the National Security Act (NSA), with the same allegations against all of them.
He said even the annexures attached to their cases are the same and this seems to be 'improbable'.
"There is no criminal background of those arrested. It is definitely a conspiracy as there is no reason for them to be booked under the NSA. Amritpal was campaigning against drug abuse and was also engaged in preaching the tenets of Sikhism.
"We have appealed in the high court to quash the charges under the NSA against them and the next date of hearing has been fixed for May 1'," he said.
Sialka added the arrested members of 'Waris Punjab De' were doing fine in jail.
"The Punjab government has put them in jail due to their frustration. They have not committed any crime," he claimed.
The family members checked into a local hotel, from where they went to a gurdwara before going to the jail in the afternoon, the official said.
A joint team of the Intelligence Bureau and Punjab Police had arrived in Dibrugarh on Tuesday to interrogate radical preacher Amritpal Singh, who has been kept in solitary confinement in the jail since he was brought here on April 23 following his arrest in Punjab.
The team questioned him about the sources of funds received and his links with foreign agencies, a senior police officer said.