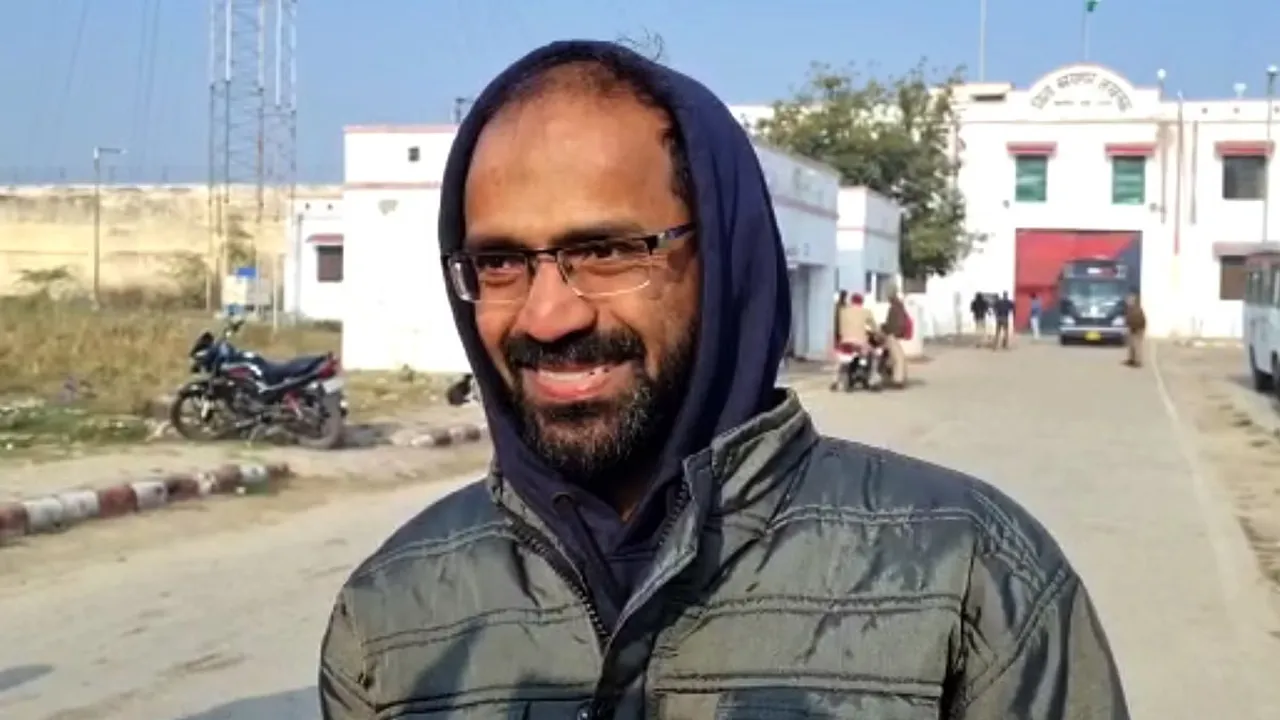 Lucknow: "I struggled," Kerala journalist Siddique Kappan said minutes after he walked out of jail on Thursday to camera crews, a small curious crowd -- and to his wife and teen son, waiting patiently, just as they had for the more than two years since he was imprisoned on his way to Hathras.
The relief was writ large on their faces but so was the pain. Kappan and three others were arrested in October 2020 while they were going to the Uttar Pradesh town where a Dalit woman died allegedly after being raped. They were accused of trying to instigate violence over the death of the Hathras woman.
"I am coming to Delhi. I have to stay there for six weeks," Kappan told PTI.
"I struggled more," he laughed when asked how life had been in jail without saying anything more. In his two and a half years in jail, his mother died.
"Her name was Kadijah. She is not there to see Kappan coming home," Kappan's wife Raihana said.
"The Supreme Court granted bail in the UAPA case and his innocence was revealed. Two and a half years is not a short time. We have experienced a lot of pain and suffering. But I am happy that justice, though belated, has been served," she told PTI.
"I repeat that Kappan is a media person," Raihana stressed.
The couple has three children -- Muzammil (19), Zidhan (14) and Mehnaz (nine).
"Our children are waiting to welcome him home. Their happiness was taken away. Can they forget their father? They are proud to say that Sidhique Kappan, a journalist, is their father." Waiting outside with his mother was their eldest Muzammil, who also reiterated that his father was a journalist.
"What is the cause of my father's severe suffering for two and half years? Now we are waiting for his freedom. We are very happy. We thanks all those who have been with us." According to Kappan's lawyer Mohamed Dhanish KS, the journalist had been lodged in the Mathura and Lucknow district jails and had been out twice -- once when he got Covid and was admitted at AIIMS, Delhi, and the second time to meet his ailing mother.
Police alleged that Kappan had links with the now-banned Popular Front of India (PFI), and charged him under the Unlawful Activities (Prevention) Act and sections of the Indian Penal Code.
In September last year, the Supreme Court granted him bail in connection with that case. A bench headed by then Chief Justice Uday Umesh Lalit directed Kappan to remain in Delhi for six weeks after his release from an Uttar Pradesh prison.
However, he continued to be in jail because of a money laundering case filed by the Enforcement Directorate.