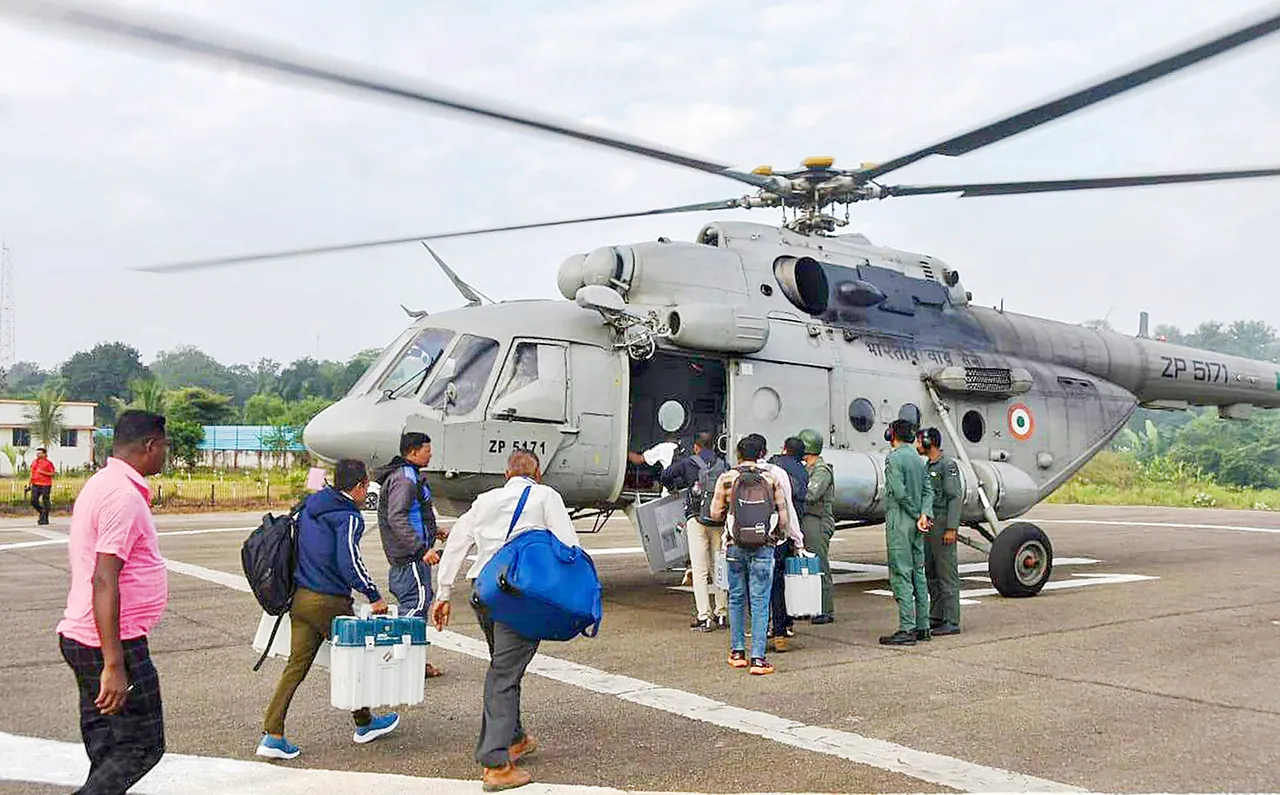 Raipur: The Indian Air Force conducted 404 sorties with eight MI-17 choppers for six days, ferrying polling parties along with voting machines in Naxal-affected Bastar division during the recently held first phase of Chhattisgarh polls, a senior election official said on Friday.
Twelve constituencies of Bastar division were among 20 assembly segments in Chhattisgarh that went to the polls in the first phase on November 7. A high voter turnout of 78 per cent was recorded in these 20 seats.
The Chhattisgarh Chief Electoral Officer wrote on X on Friday, "Defying all challenges, the Indian Air Force (IAF) conducted 404 sorties with Eight MI 17s, securely ferrying 853 polling team members to and from 43 locations, enabling a successful electoral process in a tough LWE-affected region. Salute to the India Air Force." More than 860 polling party members were sent through MI-17 helicopters to 156 polling stations in five districts of Bastar division – Sukma, Bijapur, Kanker, Dantewada and Narayanpur – from November 4 to 6 for voting on November 7, Inspector General of Police Sundarraj P told PTI.
After the voting, all the presiding officers along with electronic voting machines (EVMs) and members of the polling teams were brought back to the respective district headquarters in a phased manner over the next three days. The evacuation exercise was completed by November 9 evening, he said.
As per the pre-determined action plan, arrangements were made by the local administration or police or security forces to accommodate the polling personnel in nearby security camps and other appropriate places during polls, he said.
The IG expressed his gratitude to the IAF for its 6-day-long effort to ensure the smooth conduct of the polls.
There have been several instances of Naxalites firing on helicopters in Bastar, Dantewada and Sukma districts of the region in the past.
In the 2008 assembly elections, Naxalites fired on an IAF chopper soon after it took off from Pedia village in Bijapur with voting machines and personnel. Flight engineer sergeant Mustafa Ali was killed in the cockpit in the attack. The aircraft's captain, squadron leader T K Choudhary, managed to take off despite bullets partially damaging the chopper's rotorcraft and landed in Jagdalpur.
The remaining 70 of the total 90 assembly seats in the state will go to polls in the second phase on November 17.