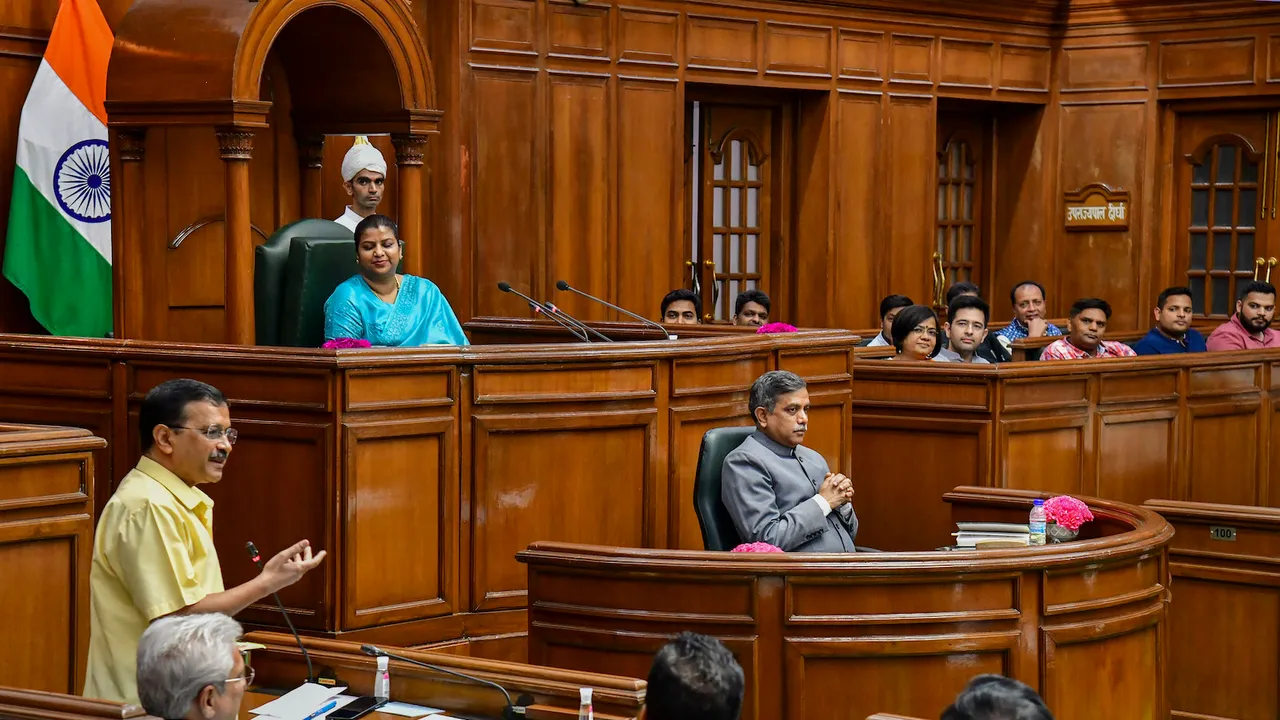 New Delhi: A day after he was questioned by the CBI in the excise policy case, Delhi Chief Minister Arvind Kejriwal on Monday accused the Centre of targeting him and his government for providing several welfare schemes, including free electricity and good health facilities, to the people of the capital.
Speaking at the one-day session of the Assembly, Kejriwal again questioned the education qualification of the prime minister without naming him.
The session passed a resolution attacking the prime minister and the BJP.
"Prime Minister Narendra Modi and the BJP have long tried to contain the fast rise and expansion of the Aam Aadmi Party and growing popularity of its national convener Arvind Kejriwal," the resolution stated.
Delhi Lt Governor V K Saxena had earlier flagged "procedural lapses" in calling of the session in a note to the chief minister and suggested against doing so.
During his speech, Kejriwal alleged that demonetisation was implemented to end corruption and terrorism, but the "country was destroyed".
The resolution that was passed by the Delhi Assembly also invoked a quote of French poet Victor Hugo --- "No force on earth can stop an idea whose time has come".
The resolution also stated: "Prime Minister Narendra Modi with all his might and agencies will never be able to stop this idea."
"This House observes that people across India are joining Arvind Kejriwal and becoming a part of this silent revolution to Make India No 1," it added.
The Delhi chief minister also raised issues like inflation, rising fuel prices, unemployment and corruption faced by the country and asked the people that if such problems plagued the country, they "needed to check whether their ruler was properly educated".
Narrating a tale in the Assembly, Kejriwal also said, "There was a small state in the country where there was a chief minister. The chief minister was educated and took good care of his people. He provided free electricity to the people."
Indicating there is a need for a change of guard in the country, Kejriwal said: "Moral of the story is that if there are problems like inflation then you need to check if the ruler is educated or not and replace him with someone educated."
Kejriwal later in a tweet reacted to arrest of his party leader Gopal Italia in Gujarat and claimed that the BJP was so rattled by AAP's "grand performance" in the western state that it had only one goal -- to finish the party and send its leaders to jail.
On Sunday, Kejriwal was questioned for nearly nine hours by the CBI in the excise policy case, amid protests by his party as the AAP chief claimed that the allegations of scam were false and the agency was acting at the BJP's behest.