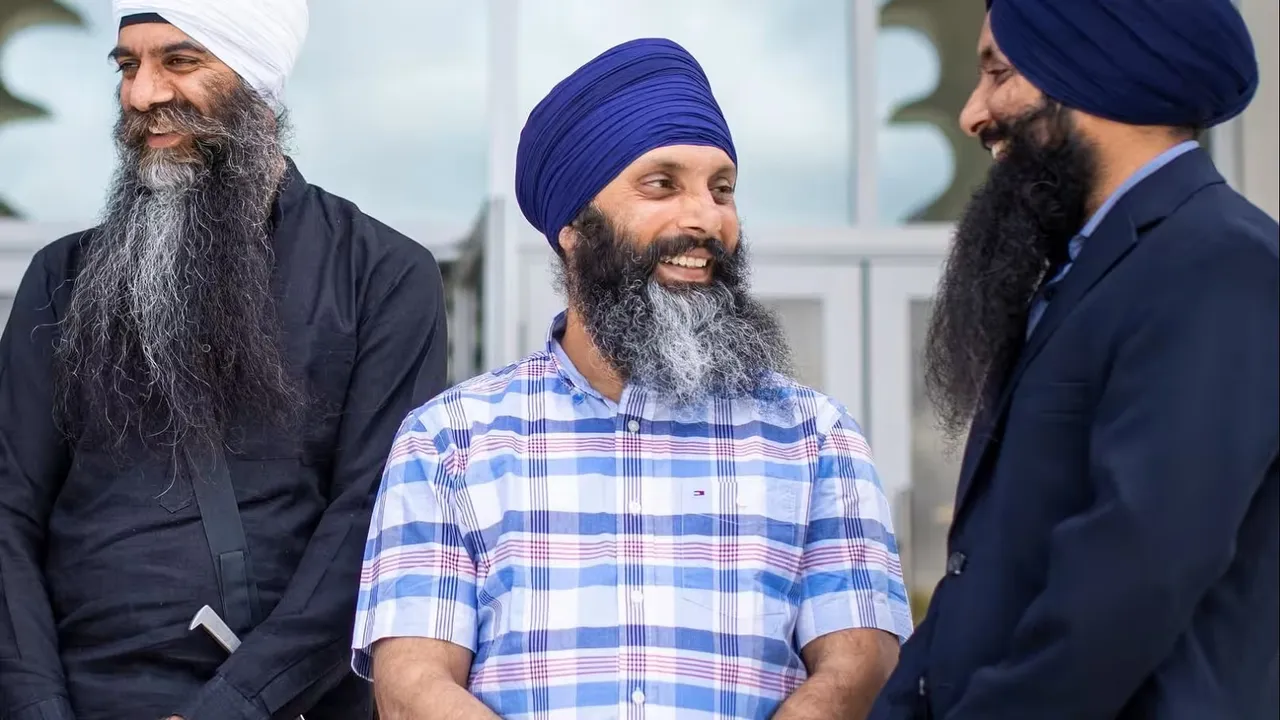 New Delhi: India on Tuesday rejected as "absurd" and "motivated" Canadian Prime Minister Justin Trudeau's allegations of a "potential" Indian link to the killing of Khalistani separatist Hardeep Singh Nijjar, and expelled a senior Canadian diplomat in a tit-for-tat action after Ottawa's expulsion of an Indian official over the case, marking fresh tensions to the already frayed bilateral ties.
Canadian High Commissioner to India Cameron MacKay was summoned and he was informed about the decision to expel the senior diplomat with the Ministry of External Affairs (MEA) saying the move reflects New Delhi's growing concern at the "interference of Canadian diplomats in our internal matters and their involvement in anti-India activities".
In a strongly-worded statement, the MEA also trashed comments by Trudeau and Foreign Minister Melanie Joly, asserting that "such unsubstantiated allegations seek to shift the focus from Khalistani terrorists and extremists, who have been provided shelter in Canada and continue to threaten India's sovereignty and territorial integrity".
Though New Delhi did not divulge the name of the Canadian diplomat who has been asked to leave India within five days, people familiar with the matter said it is Canadian intelligence agency's station chief in New Delhi Olivier Sylvestere.
The Indian action to expel the Canadian diplomat came hours after Joly announced that a "top Indian diplomat" has been expelled from Canada. Nijjar, a Canadian Khalistani terrorist, was shot dead by two gunmen in Surrey on June 18.
Joly's office said the diplomat, who has been ordered to leave Canada, is Pavan Kumar Rai, the head of the Research and Analysis Wing (RAW), according to Canadian broadcaster CBC news.
Canada's public announcement of expulsion of the Indian intelligence operative is seen as "rare" as such issues are generally handled in a discreet manner.
The chain reactions followed after Trudeau said in the House of Commons that Canada was looking at "credible allegations potentially linking" Indian agents to Nijjar's killing.
Nijjar, 45, was one of India's most-wanted terrorists who carried a cash reward of Rs 10 lakh on his head.
"The high commissioner of Canada to India was summoned today and informed about the decision of the Government of India to expel a senior Canadian diplomat based in India. The concerned diplomat has been asked to leave India within the next five days," the MEA said in a statement.
The ties between India and Canada have been reeling under strain in view of New Delhi's increasing concerns over increasing activities of pro-Khalistani elements in that country. Last week, the talks on a bilateral free trade agreement were frozen apparently in view of the deteriorating ties.
India also described as "absurd and motivated" Trudeau's claim of a "potential link" between Indian government agents and the killing of Nijjar.
"We have seen and reject the statement of the Canadian prime minister in their Parliament, as also the statement by their foreign minister. Allegations of the Government of India's involvement in any act of violence in Canada are absurd and motivated," the MEA said before announcing the expulsion of the Canadian diplomat.
The MEA said the "inaction" of the Canadian government on this matter has been "long-standing" and of continuing concern.
"That Canadian political figures have openly expressed sympathy for such elements remains a matter of deep concern. The space given in Canada to a range of illegal activities including murders, human trafficking and organised crime is not new," it said.
"We reject any attempts to connect the Government of India to such developments. We urge the Government of Canada to take prompt and effective legal action against all anti-India elements operating from their soil," it added.
The MEA said similar allegations were made by Trudeau to Prime Minister Narendra Modi, and were "completely rejected". Modi and Trudeau had a bilateral meeting on September 10 on the sidelines of the G20 Summit in Delhi.
"We are a democratic polity with a strong commitment to rule of law," it said.
In a statement in the House of Commons on Monday, Trudeau said Canadian security agencies have been "actively pursuing credible allegations of a potential link between agents of the Government of India and the killing of a Canadian citizen, Hardeep Singh Nijjar".  "Any involvement of a foreign government in the killing of a Canadian citizen on Canadian soil is an unacceptable violation of our sovereignty. It is contrary to the fundamental roles by which free, open and democratic societies conduct themselves," he said.
"As one would expect, we have been working closely and coordinating with our allies on this very serious matter. In the strongest possible terms I continue to urge the Government of India to co-operate with Canada to get to the bottom of this matter," he said.
The CBC news, quoting an unnamed Canadian government source, said Trudeau has briefed the leaders of some of Canada's closest allies about the case, including British Prime Minister Rishi Sunak, French President Emmanuel Macron and US President Joe Biden.
In his talks with Trudeau' on September 10, Modi conveyed India's strong concerns about continuing anti-India activities of extremist elements in Canada as they are promoting secessionism and inciting violence against Indian diplomats and threatening the Indian community there.
In July, India summoned the Canadian envoy and issued a demarche over the increasing activities by pro-Khalistani elements in Canada, days after posters featuring names of India's senior diplomats serving in Canada surfaced in certain areas in that country.
In June, a video emerged on social media that showed a float depicting the assassination of Indira Gandhi. It was reportedly part of a parade that was organised by some Khalistani elements in Brampton.