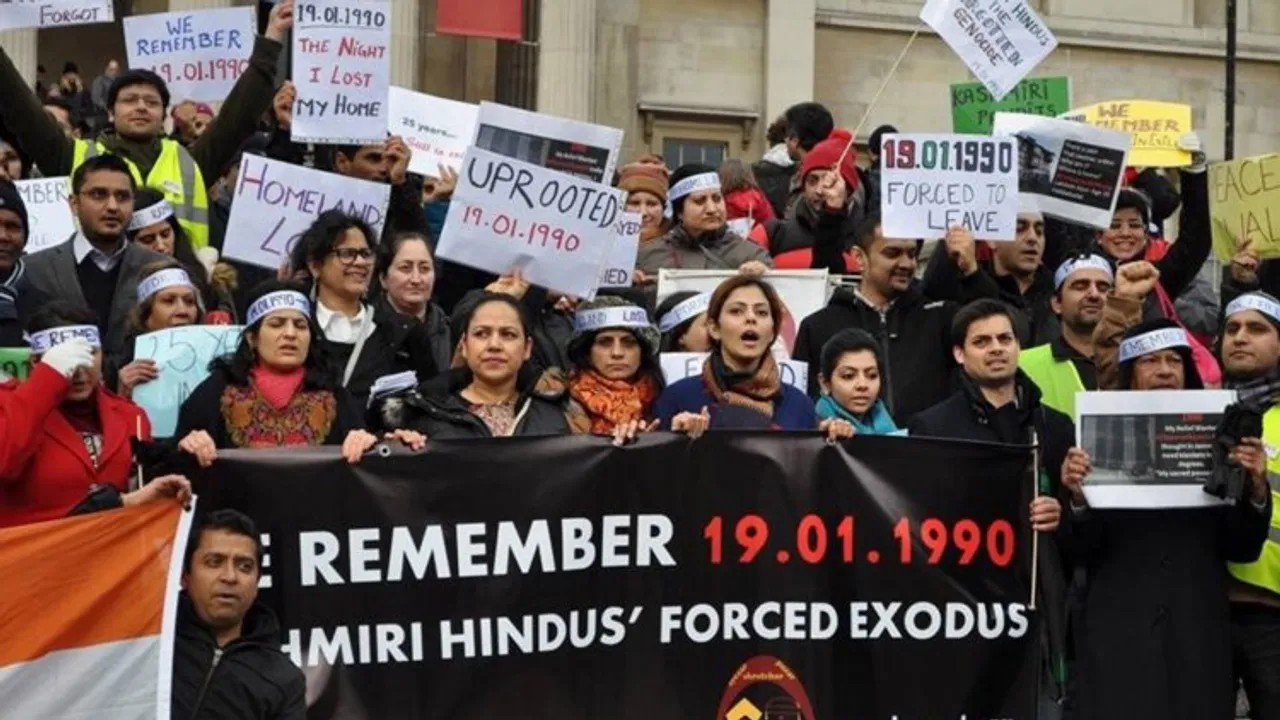 Pune (Maharashtra, India): At least 64,827 migrants left the erstwhile state of Jammu and Kashmir during the 1990s exodus, mainly due to the increasing militancy in the region, the Ministry of Home Affairs (MH) has divulged. 
Pune-based activist Prafful Sarda had filed an RTI with the ministry seeking specific details on the welfare of Kashmiri Pandits, especially the number of Kashmiri Pandits who left the state after 1990, reasons behind migration, places where they may have shifted and steps taken by the government for rehabilitation of pandits to name a few.
Anandi Venkateswaran Deputy Secretary (JK) & CPIO said in a reply, "As per the information furnished by the Government of Jammu and Kashmir, a total of 64,827 migrants families left the erstwhile state due to the onset of militancy in the 1990s.''
Replying to another RTI query the MHA further revealed that 44,837 registered migrants have settled in Jammu, 19,338 are currently in Delhi-NCR, while 1,995 of them are in other states and union territories of the country.
On the steps being taken to provide relief and rehabilitation to the Kashmir Pandits, the ministry said, "At present, monthly cash relief of Rs 3,250 per head with the ceiling of Rs 13,000 per family and monthly dry ration of 9 kg of rice, 2 kg wheat per head and 1 kg sugar per family are provided to the Kashmiri migrants."
The RTI reply also stated that under the Prime Minister's relief package 2008, approval was given to the Jammu and Kashmir government for the creation of 3,000 state government jobs for Kashmiri migrants, out of which 2,905 posts have been filled. Prime Minister's development package 2015 also had approved the creation of 3,000 additional jobs to Kashmir migrants for Rs 1,080 crore.
In this reply, Prafful Sarda said, "Its surprising to know that RTI revert from the government said due to the onset of militancy people left Kashmir valley in 1990.''  
"Why is the government not openly accepting that genocide happened with our Kashmiri pandits and they are still treated as refugees in their own country?" Sarda further questioned.   
"It's more than three decades since the people who were forced to leave the Valley are waiting for justice and their legitimate rights," Sarda said.
It should be noted that this vital information has come into light at a time when the Bollywood movie 'The Kashmir Files' has once again opened the wounds of the Pandits. 
Opposition parties have blamed the BJP on the theory of 'movie conspiracy' for their propaganda politics. However, Prime Minister Narendra Modi attacked those criticising the film and said that the people who always raise the flag of freedom of expression are restless. 
"The entire Jamaat (gang) that raised the flag of freedom of expression has been furious for 5-6 days. Instead of reviewing the film based on facts and art, there's a conspiracy to discredit it," he said.