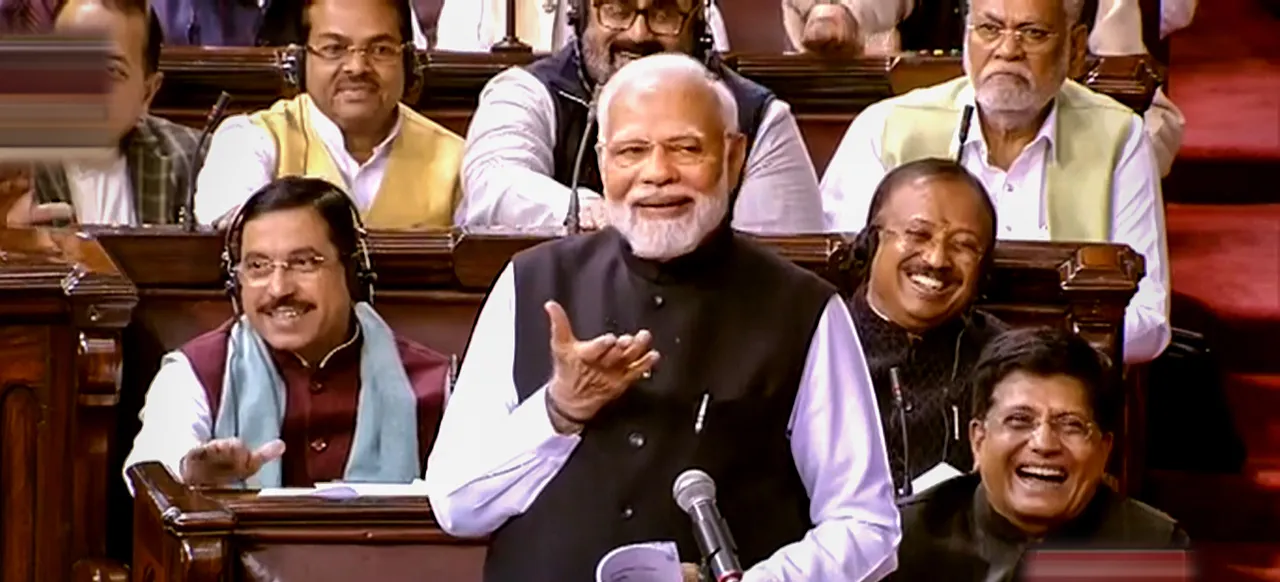 New Delhi: Prime Minister Narendra Modi launched a fresh broadside against the Opposition in Rajya Sabha on Thursday, saying the more "keechad" (dirt) they will fling, the bigger "kamal" (lotus) will bloom.
Amid slogan shouting by MPs from TMC, Congress and other opposition parties from the Well of the House, Modi began replying to the debate on the motion thanking the President for her address to the joint sitting of Lok Sabha and Rajya Sabha at the start of the Budget Session, and accused the Congress of adopting only "tokenism" to solving problems the country faced.
"Keechad unke pass tha, mere pass gulal. Jo jis ke pass tha, usne diya uchal," Modi quoted Manik Verma's poem in response to the allegations opposition parties levelled on him and his government.
Roughly translated, it means they had dirt and I had 'gulal', whosoever had whatever they flung in the air.
"Jitna keechad uchaloge, kamal utna hee zyada khilega (the more dirt you fling, the bigger kamal - the election symbol of BJP - will bloom)," he said as opposition MPs shouted slogans linking the prime minister to billionaire tycoon Gautam Adani and seeking a joint parliamentary committee probe into allegations levelled by the US short-seller Hindenburg Research.
Opposition parties used the debate on the motion to attack Modi and the government for aiding Adani's phenomenal rise during the last few years.
In his reply, Modi recounted achievements of his governments - from eliminating waiting for getting cooking gas to opening bank accounts for everyone and providing electricity connections.
The effort was to create a brighter future and not look at political gains, he said.
"Some people's behaviour and language are disappointing not just for the House but for the country," he said in oblique reference to the allegations opposition parties levelled on him.