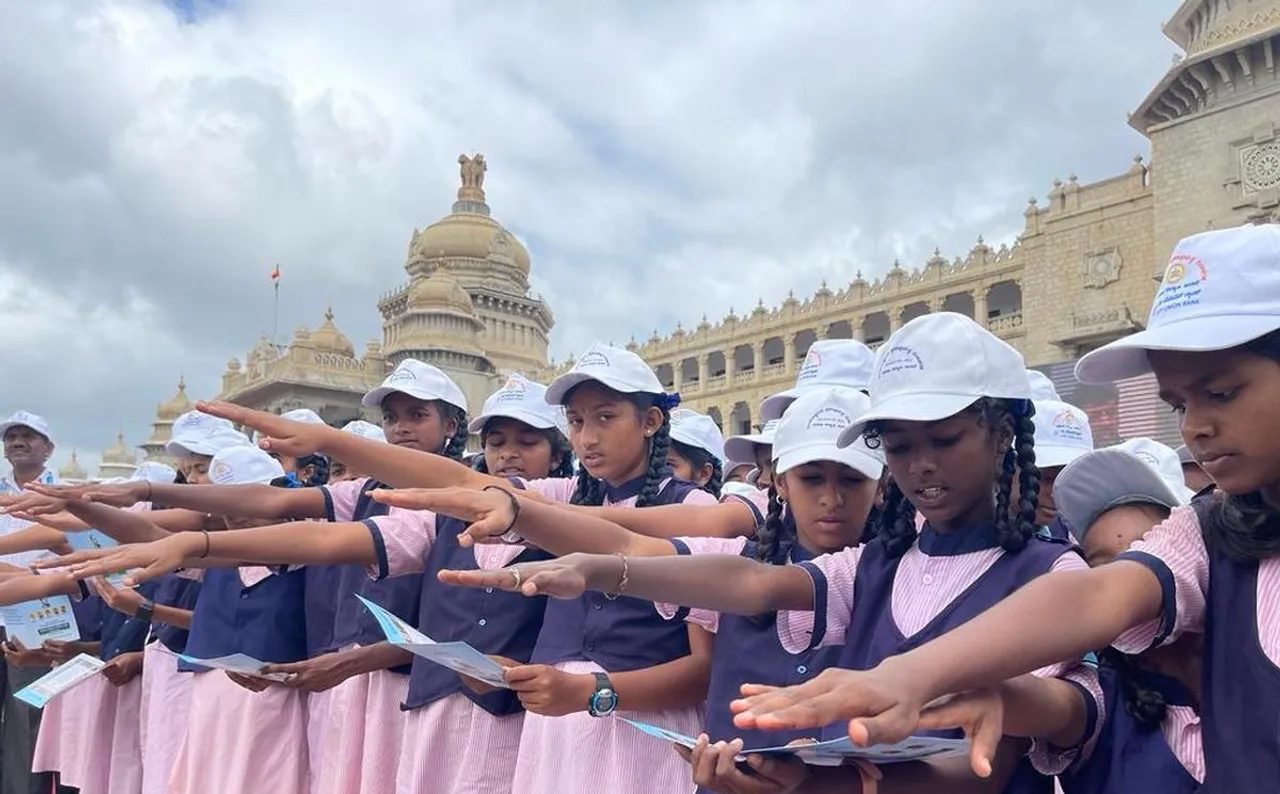 Bengaluru: The Karnataka government on Friday organised a mega event of reading the Constitution's preamble as part of the 'International Day of Democracy' celebrations with tens of lakhs of people participating in the programme from India and abroad at the same time.
Chief Minister Siddaramaiah led the celebrations, along with Deputy Chief Minister D K Shivakumar and several other guests, by reading the preamble from the grand steps of 'Vidhan Soudha' here with a large number of children and others in front of them joining in unison.
Addressing the gathering, Siddaramaiah said the Congress government has fulfilled four of the five 'guarantees' (pre-poll promises) and "walked the talk".
"Protection of the Constitution is the duty of every citizen", the chief minister said.
Karnataka Social Welfare Minister H C Mahadevappa had said on Wednesday that nearly 2.28 crore people from all walks of life within the country and abroad, have registered to read the Constitution's preamble.
"From within the country and abroad, 2,27,81,894 people have made online registration. We had expected 5 or 10 lakh people to register, but this has become a movement," he had said.
Those from corporate, private, government and banking sectors, people from industries and NRIs from several countries have come forward to participate, and have registered, he added.
"The intention is to make people, especially the youth understand the idea of the democracy and the Constitution, and thereby they know the main purpose of the preamble, to lead a life with dignity, freedom and equality," Mahadevappa said.
The Social Welfare department had said that anyone who wants to read the Constitution on the same day (September 15) and at the same time of the main event, and get a participation certificate issued by the Government of Karnataka, needs to register.
On September 15, they can upload a video or picture of them reading the preamble, upon which they will be approved to download participation certificates from the same website, it said.
The minister spoke about the importance of making it mandatory to read the preamble at all formal functions of the state government, besides all schools, colleges and educational institutions.
Meanwhile, in view of the mega event, Bengaluru Traffic Police also issued an advisory suggesting diversions of vehicles to ensure smooth flow of traffic.