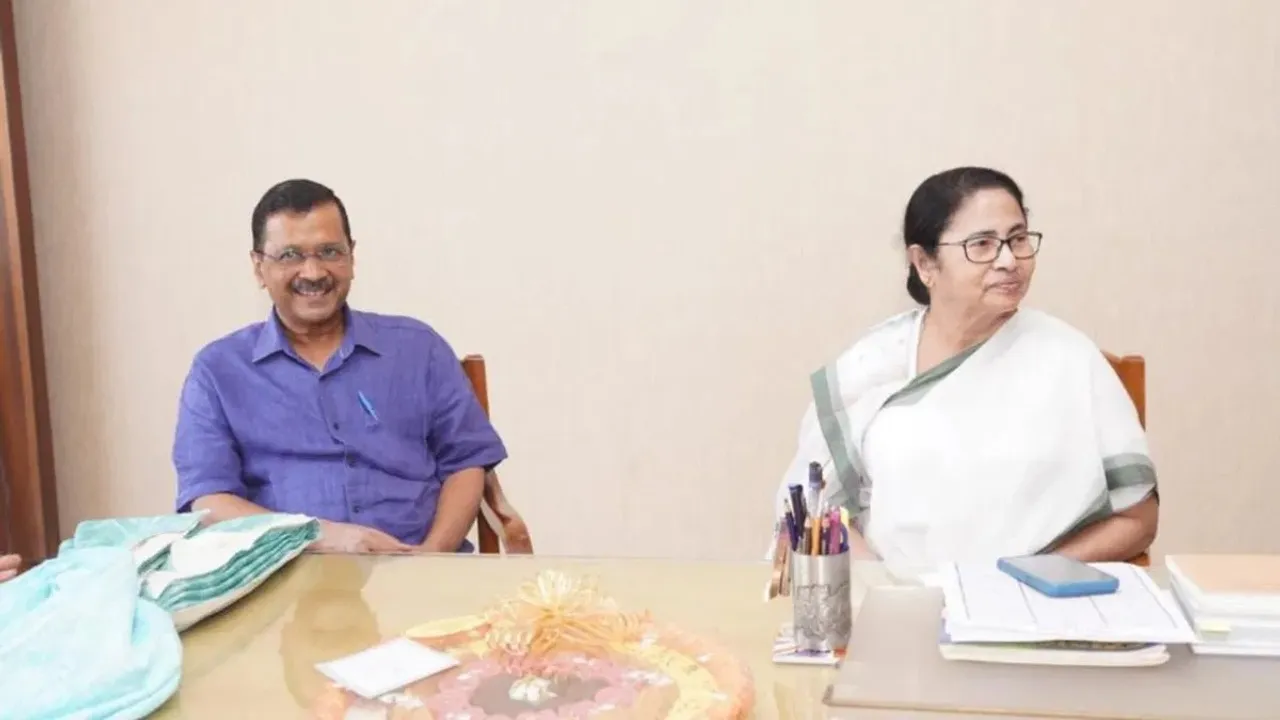 Kolkata: As part of a nationwide tour to garner support for his fight against the Centre's ordinance on control of services in Delhi, Chief Minister Arvind Kejriwal along with his party's CM for Punjab Bhagwant Mann met their West Bengal counterpart Mamata Banerjee in Kolkata on Tuesday.
Also Read: Will Nitish Kumar succeed in bringing all warring opposition parties on one platform?
They were accompanied by AAP leaders Raghav Chadha and Atishi Singh. The off-camera meeting is expected to last several hours.
The meeting between the leaders is expected to discuss the central ordinance setting up a National Capital Civil Service Authority which essentially overturns a Supreme Court order last week giving control of services, excluding those related to police, public order and land, to the elected government in Delhi.
Sources in the chief minister's secretariat here also said the two sides are expected to discuss the 2024 Lok Sabha elections and the possibility of forging opposition unity.
Before starting on the journey for Kolkata, Kejriwal had tweeted, "Today, I am starting my journey around the country for the rights of the people of Delhi. The Supreme Court had passed a judgement giving justice to the people of Delhi. The Centre snatched away those rights by bringing the ordinance."
आज से देश भर में निकल रहा हूँ। दिल्ली के लोगों के हक़ के लिए। SC ने बरसों बाद आदेश पारित करके दिल्ली के लोगों के साथ न्याय किया, उन्हें उनके हक़ दिये। केंद्र सरकार ने अध्यादेश लाकर वो सारे हक़ वापिस छीन लिये

जब ये क़ानून राज्य सभा में आएगा तो इसे किसी हालत में पास नहीं होने…

— Arvind Kejriwal (@ArvindKejriwal) May 23, 2023
"When this comes in the Rajya Sabha, it has to be ensured that it not passed. I will meet the leaders of all political parties and ask for support," he added.
The National Capital Civil Service Authority will handle the transfer of IAS and DANICS cadre officers and also matters of disciplinary proceedings against them.
The AAP has already sought support of all non-BJP parties saying this is a "time for agni pariksha" for opposition parties, and that they should come together if they want to save the country's democracy and Constitution.