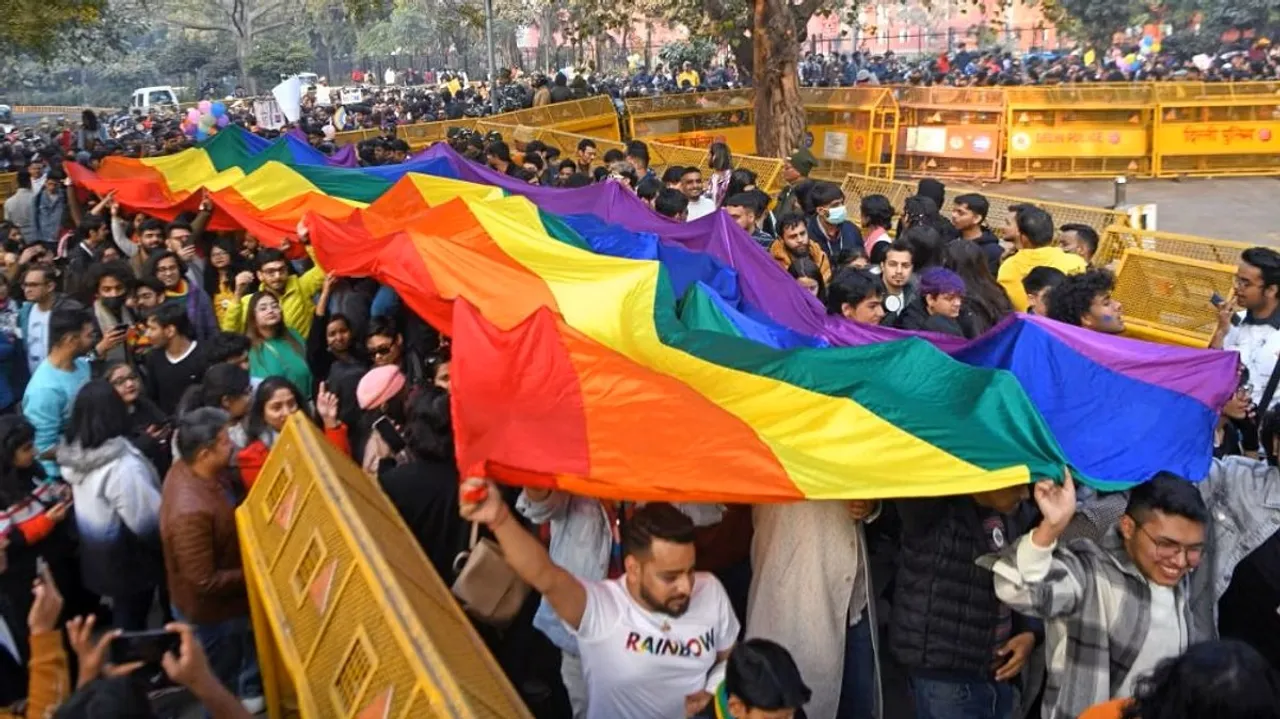 New Delhi: Legalising same-sex marriage will defeat the very objective of the Hindu Marriage Act and depict how liberal thoughts of other religions and western countries are "overpowering" India and affecting the "nature of Hinduism", an RSS-affiliate has said in a letter to the Supreme Court.
Seeking to draw the apex court's attention towards the "devastating effects" of same-sex marriage if legalised, Samwardhini Nyas, an affiliate of the women's wing of the Rashtriya Swayamsevak Sangh (RSS) has said such a decision will shake the "cultural roots" of India and the Indian society, and turn "everything upside down".
Giving legal validation to same-sex marriage will also impact the growth and personality of the children to be raised by such parents as well as affect youngsters "to a great extent", the Rashtra Sevika Samiti affiliate has said, raising a host of other issues in its letter.
"Legalising same-sex marriage will vanish the very meaning, motive or belief of the Hindu Marriage Act, clearly depicting how liberal thoughts of other religions or western countries are overpowering our country and affecting the nature of Hinduism," Shweta Sharma, the legal advisor to Samvardhini Nyas, wrote in the letter addressed to the Supreme Court's registrar.
"Bringing any such change or even accepting such relationships will shake the cultural roots of India and the Indian society," she added.
A five-judge Constitution bench of the apex court, headed by Chief Justice D Y Chandrachud, is hearing arguments on a batch of pleas seeking legal sanction for same-sex marriage.
Noting that marriage and its rights have evolved with time, Sharma argued that changing the traditional definition of marriage would go against the "fundamental principles of our beliefs and values".
"Legalising same-sex marriage is against our religious and cultural beliefs as marriage is a relation between a man and a woman and not of the same sex," she said.
Sharma claimed that various international studies and articles have shown that the children "growing up in same-sex families have a higher probability of suffering from mental and psychological issues".
It is also pertinent to mention that children are the replicas of their parents and that is why, while raising a child, parents are always cautious of their acts so that those do not affect the child's mental health, she said.
"Thus, watching the parents accepting same-sex marriage will affect the mind of the children and they will not consider it as a taboo. In fact, they themselves will go for same-sex marriage, normalising it, and lose the difference and importance of opposite-sex marriage," Sharma added.
The children raised by same-sex parents will have a "limited exposure" to "traditional gender roles", she claimed, adding that it will also impact their understanding of "gender roles and gender identity".
It will limit the overall growth and personality of the children to be raised by same-sex couples and also "affect the country's youth to a great extent", Sharma said, urging the court to consider the points raised by her.
Several LGBTQ rights activists have described a survey conducted by Samwardhini Nyas on same-sex marriage as "dangerous and misleading", and accused the RSS-affiliate of "spreading disinformation".
According to the survey, several doctors and allied medical professionals believe that homosexuality is a "disorder" and instances of it will increase further in the society if same-sex marriage is legalised.
"Such a study is dangerous and misleading for a society that is unaware. It goes against basic dignity and amounts to defamation. Who are these doctors covered by the survey? Their licences should be cancelled.
"Be it the Yoga Institute, which was founded in 1918, or the Indian Psychiatric Society -- both have maintained that homosexuality is legitimate and normal. It is natural, in-born and choiceless," said Sharif Rangnekar, author and advocate for equal rights, who also pointed out that Hinduism is replete with references to homosexuality.
Activist Harish Iyer said psychiatric bodies from across the world and India have maintained that homosexuality is not an "aberration, but a variation". It is beyond any reasonable doubt, he said.
"No religion that claims to be a protector of humanity can also support this labelling of LGBTQIA+ individuals as deviants. It is against the ethos of our nation and also against the very grain of the belief of every religion that is based on the principle of love and acceptance.
"If you believe that your god has created all of humankind, then god has made me too. And standing up against LGBTQIA+ individuals is akin to working against the intent of your god. God has made me this way," Iyer said.
Activist and Communist Party of India (Marxist) leader Subhashini Ali has also slammed the survey by calling it "idiotic", "unscientific" and "inhuman".