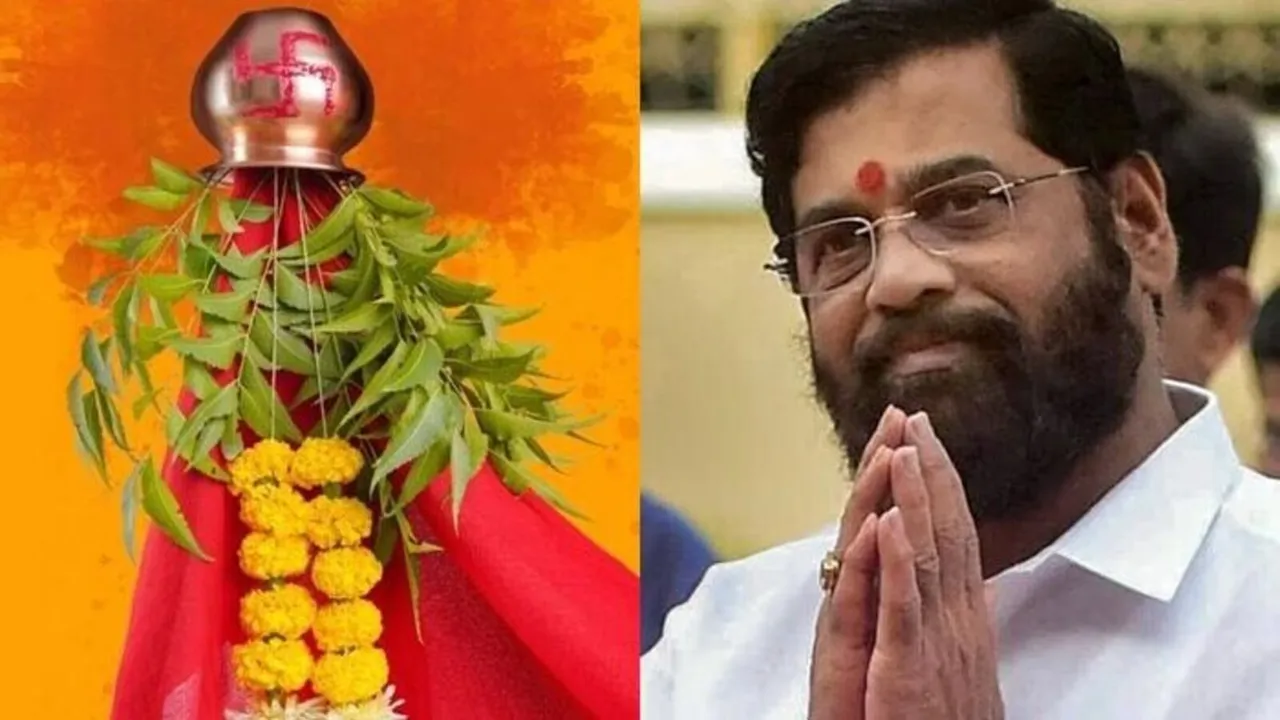 Thane/Mumbai: Maharashtra Chief Minister Eknath Shinde on Wednesday joined the Gudi Padwa celebrations in Thane city to welcome the beginning of the traditional Marathi new year.
The festival is being celebrated with enthusiasm and pomp in Mumbai and other parts of the state with people hoisting "gudis" at their houses which is considered auspicious and believed to bring good luck and fortune.
The word 'Gudi' or 'Gudhi' means a flag and 'Padwa' is Pratipada is the first day of the new moon phase. Farmers celebrate the festival to mark the beginning of the new harvest season.
In Thane city, neighbouring Mumbai, chief minister Shinde carried a palanquin of the presiding deity of Kopineshwar temple on his shoulders along with others for some distance. He also showered flowers on the participants and the performers in gymnastics at Chintamani chowk.
Renowned violinist N Rajam, a Padmabushan-awardee, was also present.
Shinde later participated in a Gudi Padwa procession at Dombivali township in Thane district. "All the restrictions on festivals are lifted. It is nice to see that people from all walks of life are celebrating Gudi Padwa," Shinde said.
"Our government has lifted all restrictions on celebrating festivals because of which we could celebrate Dahihandi, Ganesh Chaturthi, Diwali, Dussehra and other festivals. It is good to see the culture is being protected and preserved in the true spirit," he said.
The Gudi Padwa day is marked by people cleaning their houses and decorating them with colourful rangolis and hoisting gudis- bamboo sticks decorated with a colourful cloth tied to a 'kalash' at the top and a garland of flowers attached to it along with mango leaves and neem leaves.
In Mumbai and elsewhere, colourful processions are being taken out joined by men, women, and children in traditional attire. Music performances, playing of traditional dhols and lezim dances are the major attractions of these processions or shobhayatras.
In the Maharashtra capital, women dressed in traditional 'navvari' or nine-yard sarees rode bikes, while horses took part in the processions taken out at Girgaum, Dadar, Vile Parle and other areas.
Women performed the traditional lezim dance and played dhols in the processions which were taken out in Thane, Dombivali and other satellite towns in the Mumbai Metropolitan Region (MMR) in the morning.
Notably, all COVID-19 restrictions were lifted by the state government on the day of Gudi Padwa in 2022. However, citizens were advised to wear masks and keep a safe distance.
In Thane, a procession to welcome the Maharashtrian new year was taken out from Kopineshwar temple along with the palanquin of the presiding deity. As many as 75 floats of different associations and organisations joined this shobhayatra.
Dignitaries including senior BJP leader and ICCR president Vinay Sahashrabuddhe, Thane city BJP chief Niranjan Davkhare, and MLA Sanjay Kelkar were present at the palanquin procession.