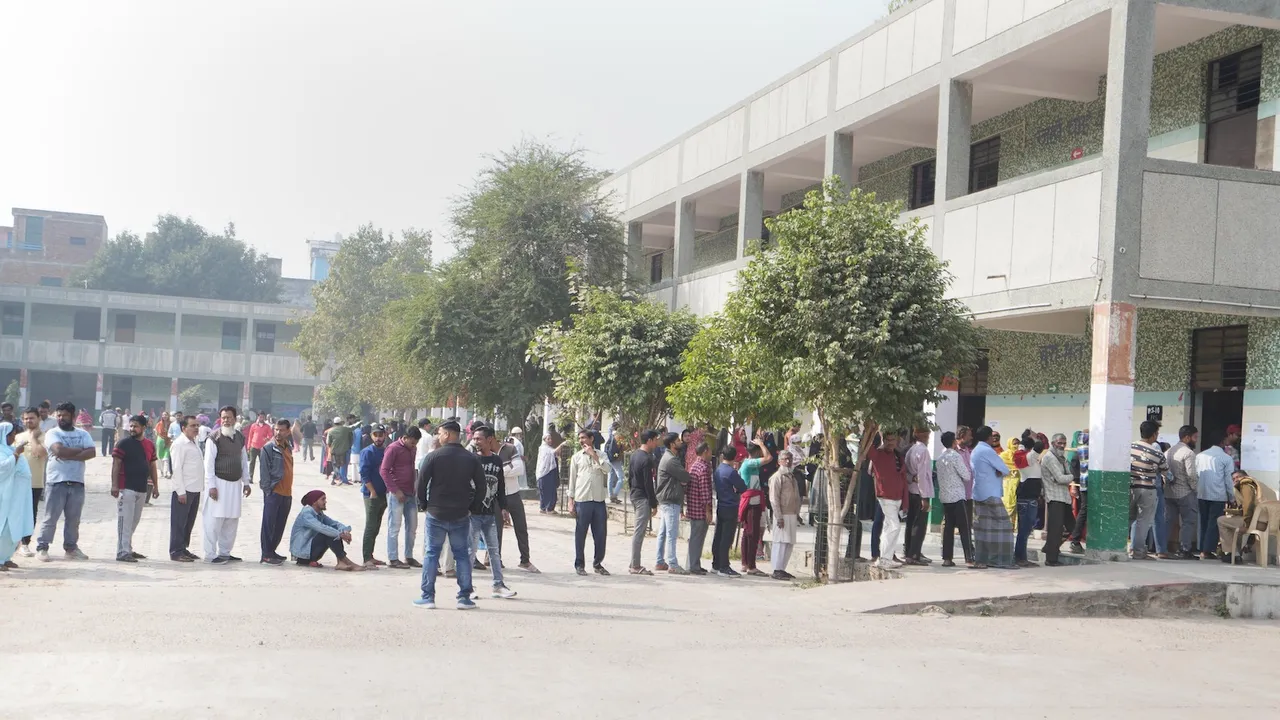 New Delhi: Around 50.47 per cent voter turnout was recorded till 5.30 pm in the high-stakes election to the Municipal Corporation of Delhi on Sunday.
The State Election Commission, in a statement on Sunday said, however polling continued at some polling stations after 5.30 pm where voters had queued up inside polling premises before the scheduled time for close of polls.
Polling had begun amid tight security arrangements at 8 am. The voting time ended at 5.30 pm.
"The voting for 250 wards of MCD elections was conducted on December 4, and the tentative voting percentage at 5.30 pm was around 50.47 per cent," the statement said.
While the highest polling (65.74 per cent) was recorded in ward no. 5 (Bakhtawarpur), the lowest voting percentage (33.74 per cent) was recorded in ward no.145 (Andrews Ganj), it added.
Barring a few stray incidents of MCC (model code of conduct) violations and "a couple of other scattered incidents of impersonation", the polling remained peaceful throughout the day and no untoward incident of any kind was reported from anywhere, the SEC said.
"Around 230 calls were received in the central control room of Delhi Police on election-related issues. The police also seized about 280 litres of IMFL (Indian-made foreign liquor) and 566 litres of country liquor on polling day.
"Three FIRs were registered and three people were arrested in this regard. The police also registered 10 cases under preventive action," the statement said.
No votes were cast by voters at three polling stations (no. 17, 18, 19) in ward no. 31 (Nangal Thakran) due to "reported boycott" by voters of these polling stations on ground of non-development activities in their areas by political parties, it said.
Few instances were reported in media regarding deletion of names of some people from the electoral roll, the SEC statement said.
"In this regard a clarification was provided by the State Election commission to the media that preparation of electoral rolls and additions or deletions thereof are done by Election Commission of India only, whose representative in Delhi is the Chief Electoral Officer, Delhi. State Election Commission only adopts the electoral roll of ECI on 'as is where is' basis and the State Election Commission has no role in any additions or deletions of the names of the electors in the roll," it said.
Main rivals BJP and AAP, both have claimed that they will emerge victorious in the contest.
Voting was sluggish in the initial few hours, and the turnout till 12.30 pm was 18 per cent, rising to 30 per cent by 2.30 PM. Over 45 per cent voter turnout was recorded till 4 pm.
The previous MCD polls in 2017 had recorded 53 per cent voting.
Counting of the votes polled on Sunday will take place on December 7.
Fate of 1,349 candidates have now been sealed in EVMs, and over 1.45 crore electors were eligible to exercise their franchise in the elections.
According to data shared by SEC officials, Delhi has 1,45,05,358 voters, of which 78,93,418 are men, 66,10,879 women and 1,061 are transgender people.
The SEC statement shared on Sunday said 51.02 per cent male voters exercised their franchise, while the figure for female voters stood at 49.82 per cent, and 20.17 per cent for transgender voters.
Authorities had set up 13,638 polling stations across Delhi. According to the data, 3,360 booths in 493 locations were identified as "critical" or "sensitive".
Sixty-eight model polling stations and as many pink booths covering all assembly segments in the city were established, poll officials said.
According to official figures, there are 229 voters aged 100 and above, and 2,04,301 people aged above 80 but less than 100 years.