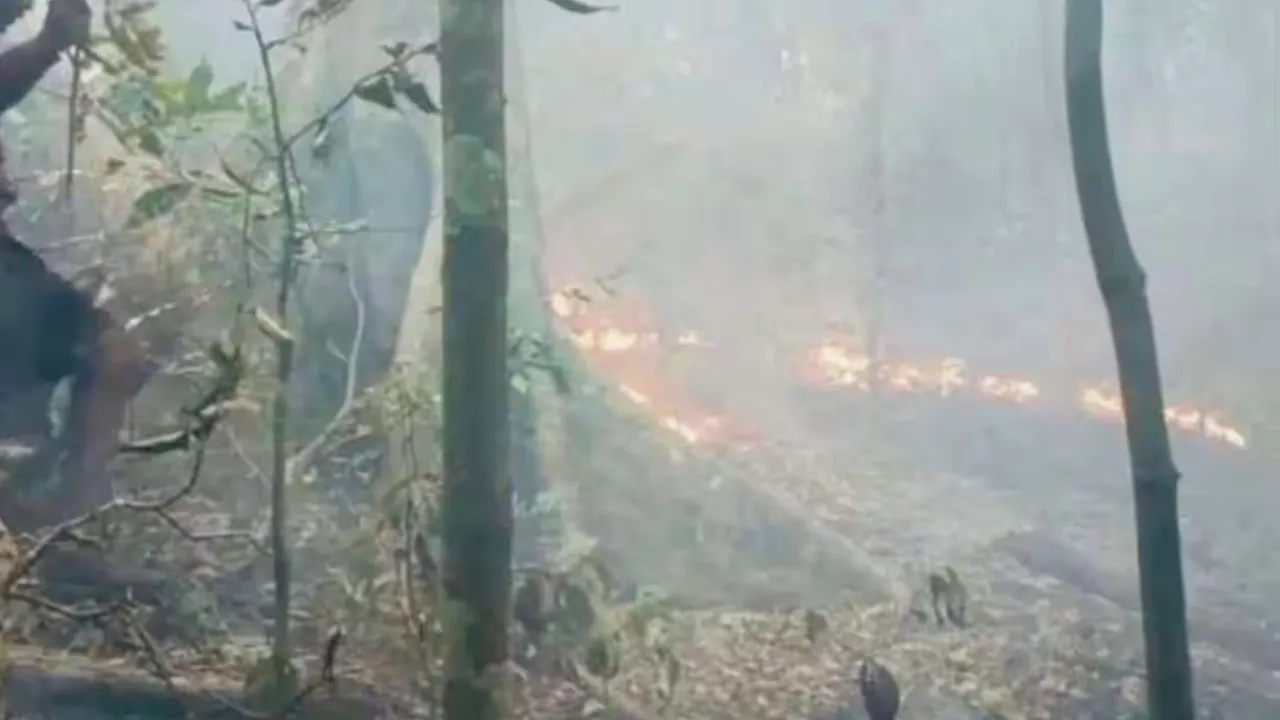 Panaji: As multiple fires continued to rage inside the Mhadei Wildlife Sanctuary, known for rich bio-diversity, in North Goa, Chief Minister Pramod Sawant has said action would be taken against forest guards if the inquiry finds them guilty of dereliction of duty and the people responsible for the fire.
Sawant on Tuesday night chaired a meeting of the Disaster Management Authority (DMA) given the infernos raging inside the sanctuary for the last four days, where Indian Navy helicopters were deployed to survey the affected areas.
Fire and Emergency Services and forest department personnel have so far failed to control the blaze which continued to spread to more areas.
Goa Forest Minister Vishwajeet Rane told reporters after the meeting on Tuesday night, "At dawn, the Navy will launch sorties to douse the fire. The Chief Minister has also given instructions to all agencies to collaborate. We are working very hard to prevent further harm to the forest and to immediately extinguish the fire". Sawant said all efforts are being made to control the fire.
He said that there is a possibility that some people set the fire as a part of their cashew plantation management, which is illegal.
The chief minister said an inquiry has been ordered to investigate the cause of the fire and also the role, if any, of forest guards concerned.
"If any forest guard is found to have failed in his duty, he would be immediately suspended," Sawant added.
After chairing the meeting, the chief minister visited the fire-ravaged sites along with Vishwajit Rane and MLA Deviya Rane.
Rane said Forest officials have been given the necessary instructions and strict vigilance will be maintained.
All DCFs (Deputy Conservators of Forest) will be posted at various ranges (in the sanctuary), he said.
Rane also said an inquiry will be launched by the Forest department to ascertain the cause of the fire, and if any forest official is found to have not done his job properly strict action will be taken. "If necessary, dismissal will be ordered".
The Mhadei Wildlife Sanctuary is a protected area known for its high biodiversity situated in the Western Ghats.