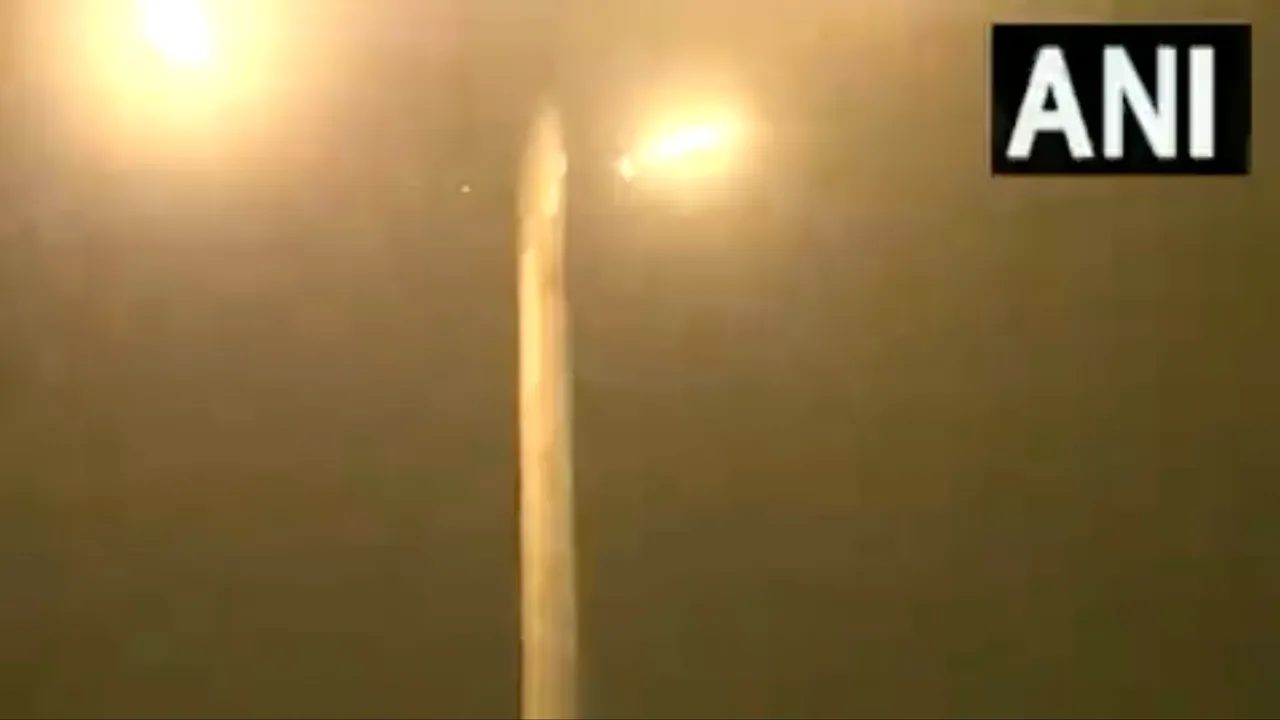 New Delhi: Overnight rain led to a visible improvement in Delhi's air quality on Friday morning after more than a week of hazardous pollution.
The improvement is expected to be reflected in the air quality index as the day progresses -- the AQI at any given time is the average of readings taken in the last 24 hours.
At 7 am, Delhi's AQI stood at 408, improving from 437 at 4 pm on Thursday.
The India Meteorological Department (IMD) had earlier predicted a marginal improvement in air quality just ahead of Diwali owing to favourable meteorological conditions, including light rain.
IMD officials had also said a change in the wind direction from northwest to southeast due to a fresh western disturbance affecting northwest India will help reduce the contribution of smoke from stubble burning.
Once the western disturbance passes, the wind speed will increase from around five to six kilometres per hour at present to around 15 kilometres per hour on November 11, which will help disperse pollutants ahead of Diwali (November 12), an IMD official said.
According to data from the Decision Support System, a numerical model-based framework capable of identifying the sources of particulate matter pollution in Delhi, stubble burning in the neighbouring states, particularly Punjab and Haryana, accounted for 38 per cent of the air pollution in Delhi on Wednesday. It was 33 per cent on Thursday and is likely to be 16 per cent on Friday.
The data also shows that transport is another major factor, contributing 12 to 14 per cent to Delhi's foul air.
In view of the worsening air pollution, the city government is planning to induce artificial rain on November 20-21 through cloud seeding.
A proposal in this regard will be submitted to the Supreme Court, which is hearing a clutch of petitions on the air pollution issue, on Friday.
The government on Wednesday rescheduled the December winter break of all schools. The winter break in the schools will now be from November 9 to November 18.
Delhi Environment Minister Gopal Rai said the entry of app-based taxis into the national capital has been banned in accordance with the Supreme Court's orders.
He also said the odd-even car-rationing scheme will be implemented in the city after the top court reviews its effectiveness and issues an order. The matter will be heard on Friday.
On Tuesday, the apex court questioned the effectiveness of the Delhi government's car-rationing scheme, aimed at curbing vehicular pollution, and referred to it as "all optics".
Anticipating further deterioration of the air quality post-Diwali, Rai had on Monday announced that the flagship scheme, which permits cars to operate on alternate days based on the odd or even last digit of their registration numbers, would be enforced between November 13 and November 20.
Doctors say breathing in the polluted air of Delhi is equivalent to the harmful effects of smoking approximately 10 cigarettes a day.
Prolonged exposure to high levels of pollution can cause or exacerbate respiratory problems such as asthma, bronchitis and chronic obstructive pulmonary disease (COPD) and dramatically raise the risk of cardiovascular disease, they said.
Stringent restrictions mandated under the final stage of the Centre's air pollution control plan for Delhi-NCR -- Graded Response Action Plan (GRAP) -- have also been implemented in the national capital.
The restrictions under stage IV of the GRAP, including a ban on all kinds of construction work and the entry of polluting trucks into Delhi, took effect on Sunday after the air quality in the city dropped to "severe plus" (AQI above 450) levels.
The GRAP categorises actions into four stages: Stage I -- Poor (AQI 201-300); Stage II -- Very Poor (AQI 301-400); Stage III -- Severe (AQI 401-450) and Stage IV -- Severe Plus (AQI above 450).
Unfavourable meteorological conditions, combined with vehicular emissions, paddy-straw burning, firecrackers and other local pollution sources, contribute to hazardous air quality levels in Delhi-NCR during winter.
According to a Delhi Pollution Control Committee (DPCC) analysis, the capital experiences peak pollution from November 1 to November 15, when the number of stubble-burning incidents in Punjab and Haryana increases.
The air quality in Delhi-NCR has declined over the last two weeks due to a gradual drop in temperatures, calm winds that trap pollutants and a surge in paddy-straw burning across Punjab and Haryana.
Delhi's air quality ranks among the worst in the world's capital cities.
According to a report compiled by the Energy Policy Institute at the University of Chicago (EPIC) in August, air pollution is shortening lives by almost 12 years in Delhi.