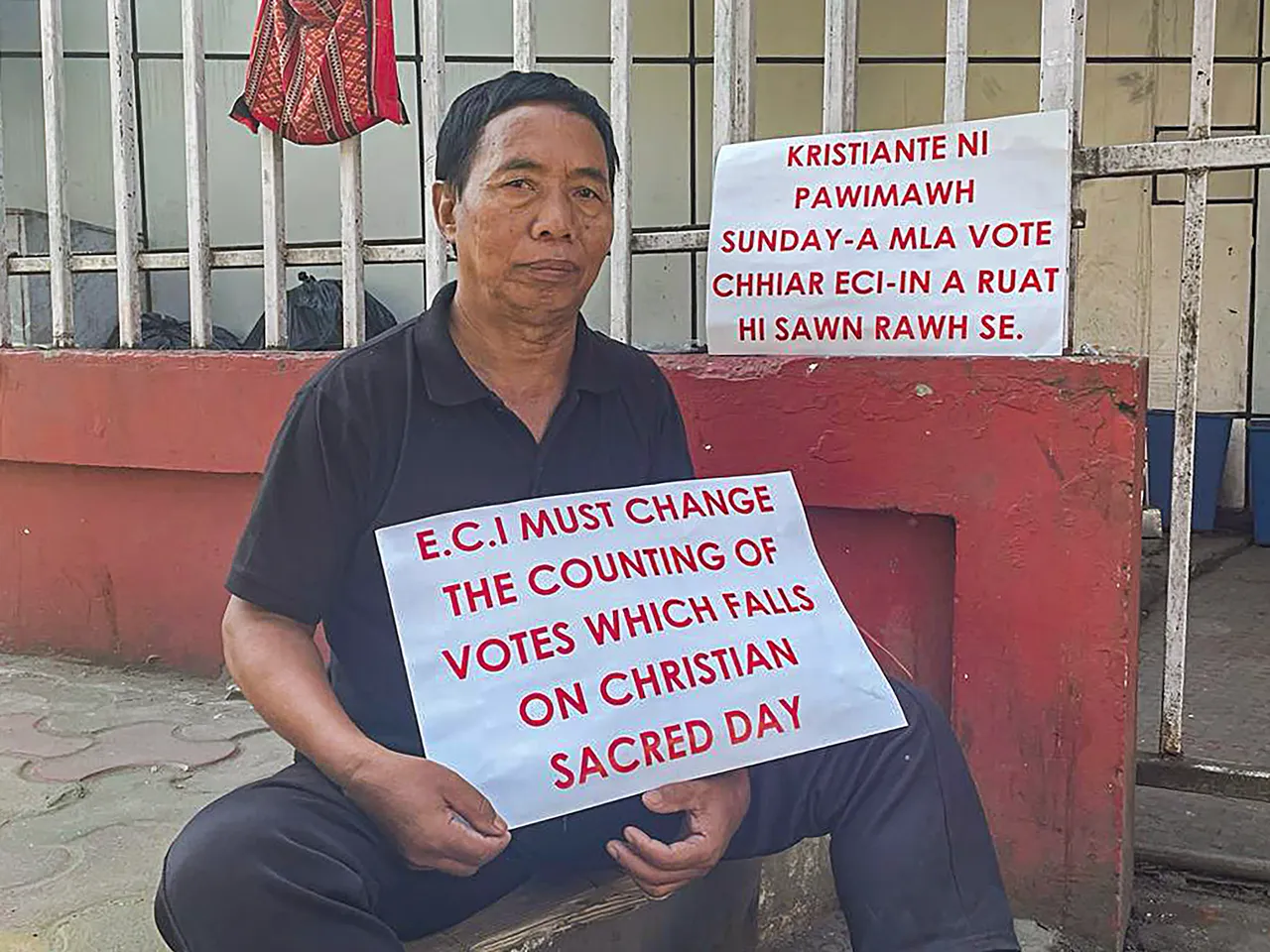 Aizawl: A 65-year-old social activist of Mizoram on Tuesday staged a hunger strike against the Election Commission's "silence" over the demand for rescheduling the day of the counting of votes, as polling for the 40-member assembly continued across the state.
The EC has fixed December 3, which is a Sunday, as the day of counting. All major political parties of the Christian-majority state have urged the poll panel to change the day as it will clash with church programmes.
Lalbiakthanga, who has also written to the EC making the same demand, chose the polling day to stage his protest with a hunger strike, as he sat in front of 'Vanapa Hall', a state government-owned auditorium in the heart of Aizawl.
"The hunger strike began at 7 am and it will continue till 4 pm when the voting will come to an end," said Lalbiakthanga, known as the "walkathon man" as he had travelled on foot hundreds of kilometres several times to raise awareness on various social issues.
The sexagenarian said he would not cast his vote to register the protest.
"Although I wish very much to cast my vote, it is unfortunate that I can't do so as the EC failed to take any action on our pleas to change the counting date," he told PTI.
Political parties, including the ruling Mizo National Front (MNF) and the BJP, church and student bodies had written to the EC urging the poll panel to reschedule the counting date.
The "walkathon man" had on October 25 written to the ECI urging it to change the date of counting to a day other than Saturday and Sunday.
Lalbiakthanga walked for 10 days to reach from Aizawl to Manipur's Churachandpur, a distance of more than 300 km, in May this year to promote peace and harmony in the ethnic strife-affected state.
Last year, he had covered 1,212 kms in 40 days visiting 118 villages across all the 11 districts of Mizoram in a mission to spread awareness in view of 75 years of India's independence.
In March 2021, he had also walked more than 200 km from Aizawl to Zokhawthar village on the Indo-Myanmar border to extend solidarity to the people of the neighbouring country where a military junta had taken over power in a coup.
In 1997, he had travelled to at least 50 villages in the state and spread awareness on environmental and wildlife protection among students.