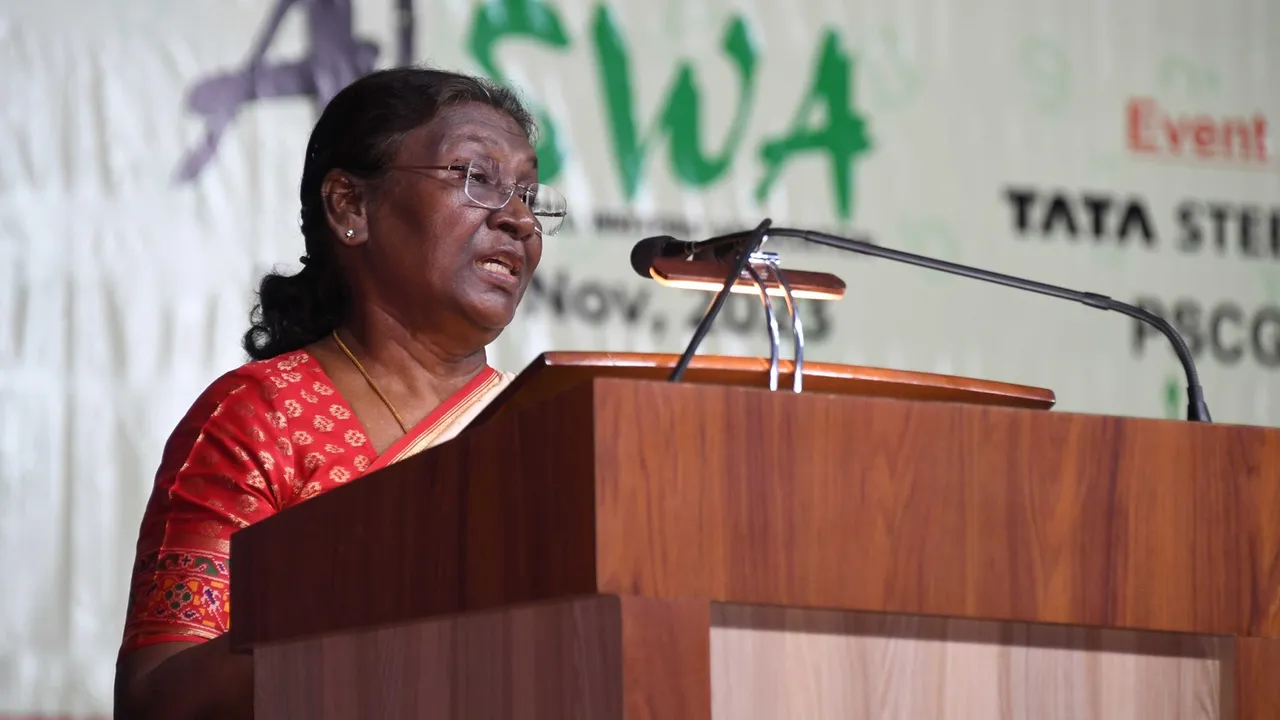 Baripada (Odisha): President Droupadi Murmu Monday urged Santali writers to focus on children to spread Ol Chiki by publishing magazines in the language for them and regularly interacting with them.
Writers play a big role in popularising any language, Murmu, who spoke in Ol Chiki through out the programme, said addressing the 36th Annual Conference and Literary Festival of All India Santali Writers' Association.
Ol Chiki has the potential to expand as an Indian language, the president said and called upon Santali writers to carry forward their writing for the overall development of the language. "First we should ourselves give importance to our Ol Chiki language before expecting others to recognize it. Santali children should be encouraged to interact in the language among themselves," Murmu said while paying rich tribute to Pandit Raghunath Murmu who popularised the Ol Chiki script.
Santali children should be provided with the facility to read small stories in Ol Chiki script so that they can develop the language in future, she said.
Ol Chiki was included in the 8th Schedule of Constitution in December, 2003 and the government of India has recognized the language.
Odisha Governor Raghubar Das, many prominent Santali academia from Odisha, Jharkhand, West Bengal, Bihar, Madhya Pradesh, Chhattisgarh and Assam attended the conference. Odisha ministers Sudam Marndi and Jagannath Saraka were also present. Earlier in the day, Murmu reached the Police Lines in Baripada in an Indian Air Force helicopter. She was received by Governor Raghubar Das, Union Minister of State for Tribal Affairs Bishweswar Tudu, who is also the local MP, and state ST and SC Development Minister Jagannath Saraka.
She will inaugurate an Eklavya Model Residential School at Kuliana during the day, officials said.
Murmu is on a three-day visit to Odisha.
The Eklavya Model Residential Schools are set up by the government to impart quality education to ST children in remote areas in order to enable them to avail of opportunities in high and professional educational courses and get employment in various sectors.