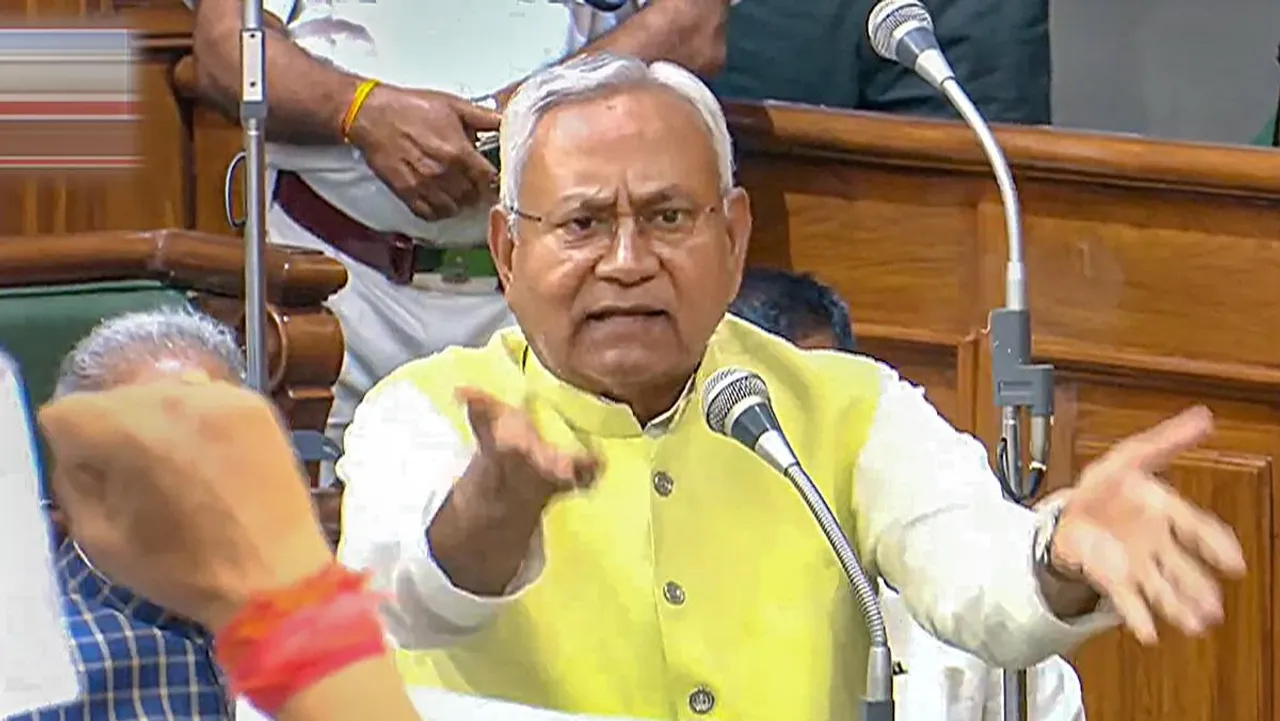 Patna/New Delhi: Bihar Chief Minister Nitish Kumar on Wednesday apologised in both Houses of the legislature, as well as outside, for remarks made a day before on the importance of women's education to control population growth.
The septuagenarian leader, upon his arrival on the Vidhan Sabha premises, was greeted by a posse of MLAs, all belonging to the opposition BJP, carrying placards denouncing his utterances and demanding his resignation.
Kumar, the longest serving chief minister of the state, stood frozen at the entrance gate for a few minutes, before marching towards a make-shift podium erected nearby, where leaders address journalists while the House is in session.
"I have come to know today that something I had said yesterday has not gone down well with many people. My intent was to highlight my government's thrust on women's empowerment and the role improved literacy among women plays in population control. Though if anybody's sentiments have been hurt, I seek an apology and take back my words," said Kumar.
However, when the assembly session began at 11 am, BJP members led by the Leader of the Opposition Vijay Kumar Sinha trooped into the well, some of them even picking up chairs, meant for the reporting staff, to express their outrage.
The opposition members were raising slogans alleging that the CM had become "a mental case" and was hence unfit to govern Bihar.
Kumar rose in his seat and said, "I have told journalists outside that I am ready to apologise if my words were deemed to be offensive, even if I meant no offence. I condemn myself (hum apni ninda karte hain)."
However, the opposition members continued to create a ruckus, demanding the CM's resignation, to which Speaker Awadh Bihari Chaudhary took exception, pointing out, "You have no right to ask a leader, who enjoys the confidence of the people, to put in his papers. We will look into the records and if any of the words are found to be unparliamentary, those will be expunged."
However, as the bedlam continued, notwithstanding repeated pleas by Parliamentary Affairs Minister Vijay Kumar Chaudhary that "the government has no problems even if any remarks of the CM are expunged", the assembly was adjourned till 2 pm.
The chief minister thereafter went to the legislative council, where proceedings began at noon. BJP MLC Nivedita Singh, who had on the previous day voiced her outrage before journalists amid sobs, rose in her chair demanding the resignation of Kumar.
The chief minister said, "I offer my apology as I did earlier in front of journalists and on the floor of the assembly." The opposition, however, got infuriated when Kumar said sarcastically, "These people are making noise because they must have received instructions from above."
As the pandemonium continued, Chairman Devesh Chandra Thakur adjourned proceedings till 12.50 pm. When the House reassembled, uproar continued and the proceedings were adjourned till the post-lunch session.
Outside the council, state BJP president Samrat Choudhary, who is also an MLC, said, "I had begged with the CM yesterday not to speak irresponsibly since he was the guardian of the House. But he went on. My worst fears were confirmed when he told journalists this morning that he came to know only now that his words had created a furore."
"Now it is beyond doubt that the CM is suffering from dementia and needs medical intervention. And he must step down since a mentally unfit person cannot govern a state," alleged Choudhary.
Former chief minister Rabri Devi, an MLC from the RJD, told PTI Video that she agreed what Nitish Kumar had said was not proper "but we should let bygones be bygones since he has apologised".
"Let the BJP members not act too self-righteous. Their party rules Manipur where women were paraded naked. The state continues to be on fire and their leadership has been unconcerned," she said.
The bedlam continued in the state assembly in the post-lunch session leading to adjournment till 4.50 pm within minutes of commencement at 2 pm.
The Speaker ordered the expunction of remarks made by Vijay Kumar Sinha who stepped up his attack saying Deputy CM Tejashwi Yadav should also resign since he had "supported" the chief minister.
Meanwhile, the National Commission for Women has shot off a letter to the Speaker demanding "strong action against the chief minister" for using "derogatory and cheap language".
NCW chairperson Rekha Sharma has also come out with a strongly worded statement on X, urging opposition leaders like Priyanka Gandhi Vadra to condemn Kumar, a key leader of the INDIA coalition.
It will be good if the champions of the women's cause @priyankac19 @priyankagandhi @BDUTT @AtishiAAP and their friend join in to condemn and demand apology from @NitishKumar https://t.co/TDDUuywNET

— Rekha Sharma (@sharmarekha) November 7, 2023
Shiv Sena leader Priyanka Chaturvedi hit back at Sharma, accusing her of being "biased and politically motivated".
On Tuesday, Kumar had put forward a vivid description in the assembly of how an educated woman can restrain her husband during sexual intercourse.
"The husband's acts led to more births. However, with education, a woman knows how to restrain him... this is the reason the numbers (of births) are coming down," he had said in a rustic style.
Kumar had pointed out that with education the fertility rate which was "earlier 4.3, has now come down to 2.9".
The opposition BJP charged Kumar with "bringing shame" to the state's women by speaking of the procreation process in detail.