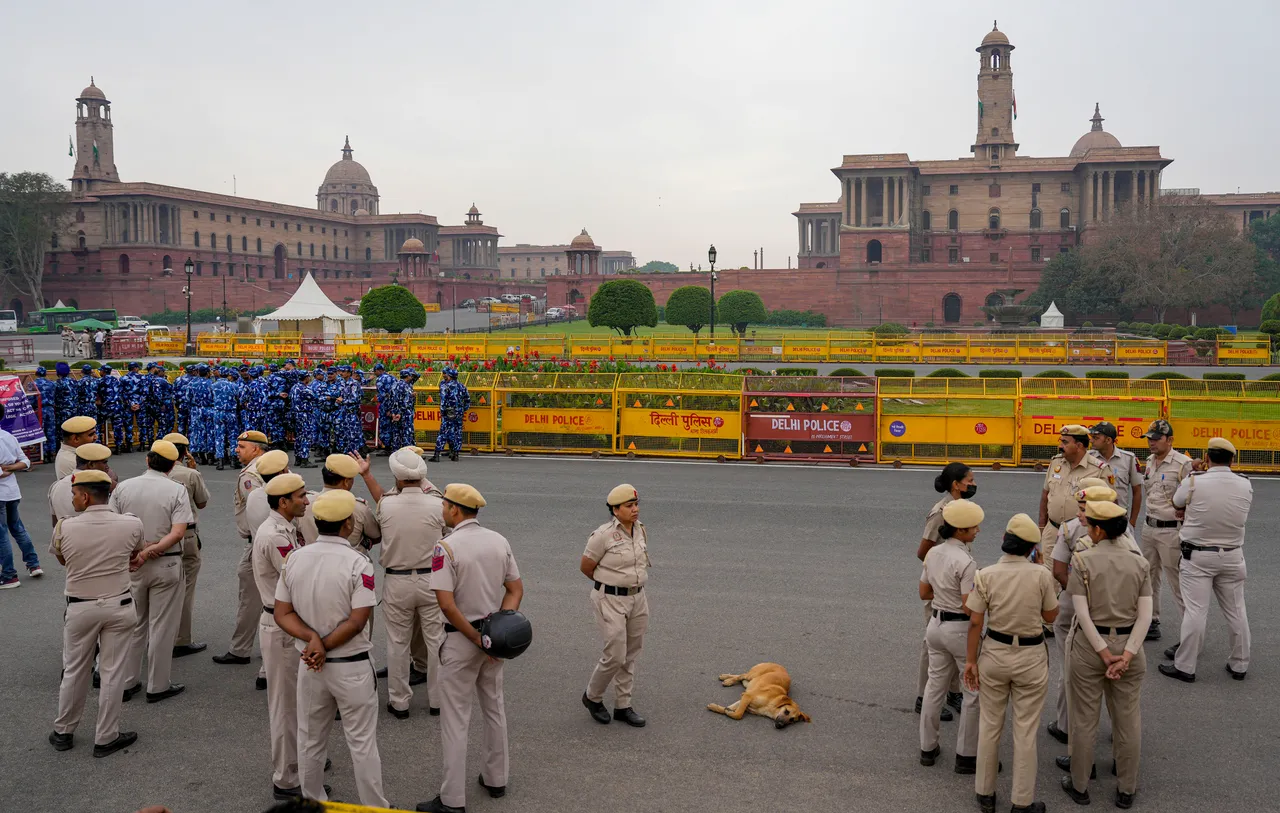 New Delhi: Over 30 opposition MPs, including those from the Congress, were detained on Friday as they took out a protest march from Parliament House, alleging that democracy is in "danger" and demanding a JPC probe into the Adani issue.
Prominent leaders, including K C Venugopal, Adhir Chowdhury, K Suresh, Manickam Tagore, Imran Pratapgarhi and Mohammed Javed, were stopped by the police and detained at Vijay Chowk here for violating prohibitory orders, the opposition said.
"Over 30 MPs from opposition parties had to be detained for violation of Section 144 (prohibitory orders)," a senior Delhi Police officer said. The Delhi Police said those detained have been taken to a nearby police station.
Earlier addressing the media at Vijay Chowk, several leaders, including Congress president Mallikarjun Kharge, also raised the issue of Rahul Gandhi's conviction in a 2019 criminal defamation case by a Surat court and alleged that the government was targeting the opposition with cases to suppress their voices.
After a protest inside the Parliament House complex, a host of Opposition leaders from parties such as the CPI, CPI(M), Shiv Sena (Uddhav Thackeray), JD(U) and Aam Aadmi Party, marched to Vijay Chowk, holding placards like 'We demand JPC' and 'Save LIC' and a huge banner in front of them with 'Democracy in Danger' written on it.
"We're fighting for JPC into Adani issue for months. They have a majority but the BJP is scared as there's something fishy. We'll keep fighting unitedly for it," Kharge said.
He also hit out at BJP chief J P Nadda over his allegation that Rahul Gandhi compared OBC communities to thieves and accused the BJP of indulging in "caste politics".
AAP's Sanjay Singh said Gandhi's conviction shows that the government wants to finish off the opposition by slapping cases on them.
Security was stepped up around Parliament House and Vijay Chowk area to ensure that no untoward incident takes place, a senior police officer said.