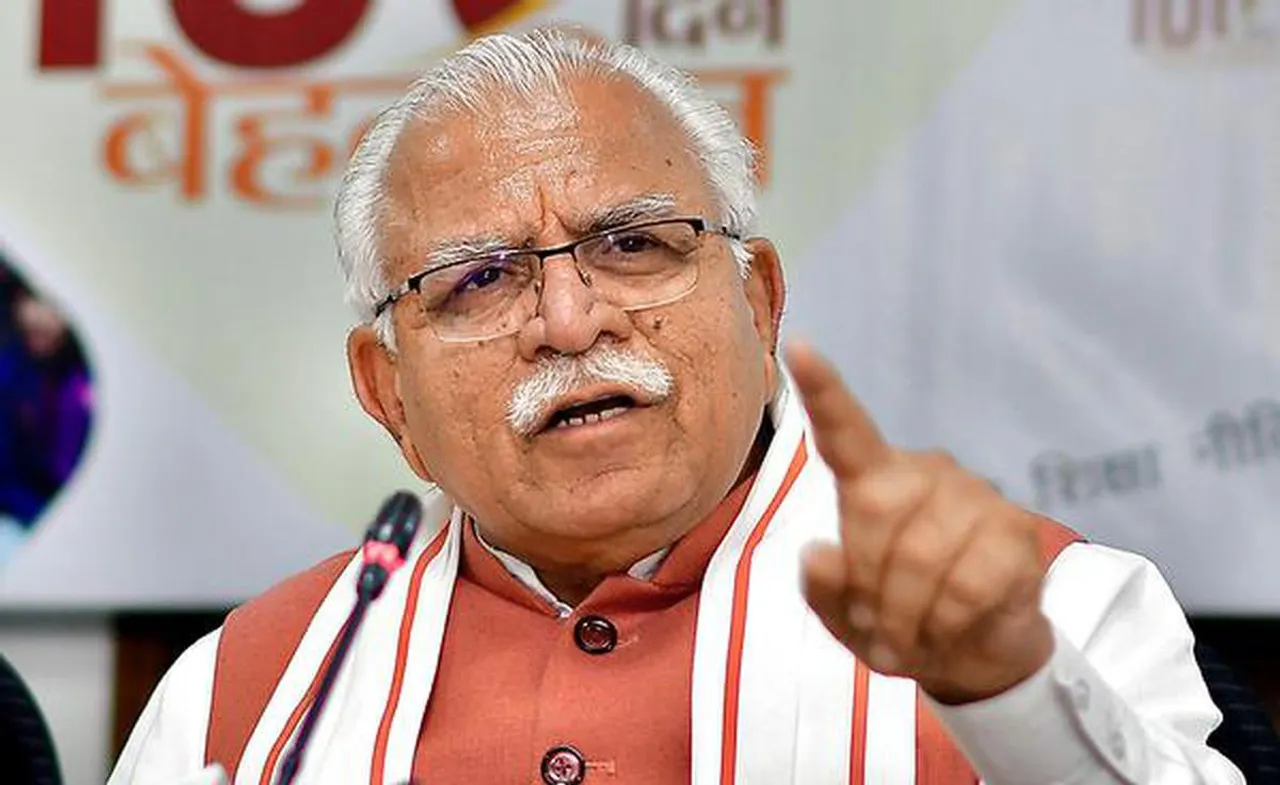 Chandigarh: Polluted air is not restricted by borders, Haryana Chief Minister Manohar Lal Khattar said on Wednesday and claimed that people in his state as well as in Delhi were suffering with Punjab reporting several cases of crop-residue burning.
He, however, stressed there should not be politics over the issue and that it is the collective responsibility of everyone to keep the environment clean.
The air quality in Delhi and its adjoining areas in the National Capital Region (NCR) worsened on Wednesday morning, with smoke from post-harvest paddy straw burning in neighbouring states accounting for one-third of the air pollution in the national capital.
"There should be no politics. Unfortunately, a few people are doing politics over it, but they are not getting any benefit...," the chief minister said when asked by reporters in Pinjore on a Supreme Court bench on Tuesday taking a stern view of states trying to shift the blame on one another, and observing there cannot be a "political battle" all the time.
Khattar said that "as you are saying we have controlled the situation in Haryana to a large extent and whatever is remaining (stubble burning cases being reported) we will control those".
Punjab is reporting several cases of stubble burning, but the people of Haryana and Delhi are also suffering, he said and added that "polluted air is not restricted by boundaries".
"When there are stubble burning cases in Punjab, its impact is suffered by people of Haryana and Delhi too," Khattar said after inaugurating a hot air balloon nature safari in Pinjore.
"I appeal to all, be it Arvind Kejriwal (Delhi chief minister) or Bhagwant Mann (Punjab chief minister), if there is need for any assistance, we are ready to help. This is not a political issue. We have to keep our environment clean, which is necessary for everyone's health...," he said. The Aam Aadmi Party is in power in Delhi as well as Punjab.
Delhi's air quality index stood at 421, worsening from 395 at 4 pm on Tuesday.
Several cities across the Indo-Gangetic plains reported hazardous air quality. Neighbouring Ghaziabad (382), Noida (348), Greater Noida (474) in Uttar Pradesh and Gurugram (370) and Faridabad (396) in Haryana also reported hazardous air quality.
Data from the Decision Support System, a numerical model-based framework capable of identifying sources of particulate matter pollution in Delhi, stubble burning in neighbouring states, especially Punjab and Haryana, accounted for 37 per cent of the air pollution in Delhi on Tuesday. It is likely to be 33 per cent on Wednesday.
Chief Minister Khattar said that farmers should be given facilities and equipment as today there is commercial use of crop stubble in industries, in energy projects, in making ethanol, in thermal plants, all of which needs to be further explored.
He said that the Haryana government has taken several steps to bring down incidents of stubble burning and has been incentivising farmers to prevent them from burning crop residue.
Many works are affected due to bad air quality, and normal life gets affected as schools have to be shut at some places, work-from-home has to be implemented in some offices, and the odd-even system issue is going on, he said.
Delhi's odd-even car rationing scheme, introduced in 2016, allows cars to operate on alternate days based on their odd or even number plates. Its enforcement next week will mark the fourth time that the Delhi government has used this scheme to address pollution caused by vehicles.
To prevent further deterioration of air quality, the Commission for Air Quality Management (CAQM),  a statutory body responsible for formulating strategies to combat pollution in the region, had on Sunday decided to invoke Stage IV of the Graded Response Action Plan, in the entire National Capital Region with immediate effect.
During the past few days, air quality index in some of the Haryana NCR districts has been recorded under 'severe', 'very poor' categories.
The Supreme Court on Tuesday had also directed Punjab, Haryana, Uttar Pradesh and Rajasthan to ensure crop residue burning was stopped "forthwith", saying it cannot let "people die" due to pollution.
While hearing a matter pertaining to the debilitating air pollution in Delhi-NCR, the bench flagged issues like crop residue burning, vehicular pollution and burning of waste in the open were the major contributors to pollution during this time of the year.