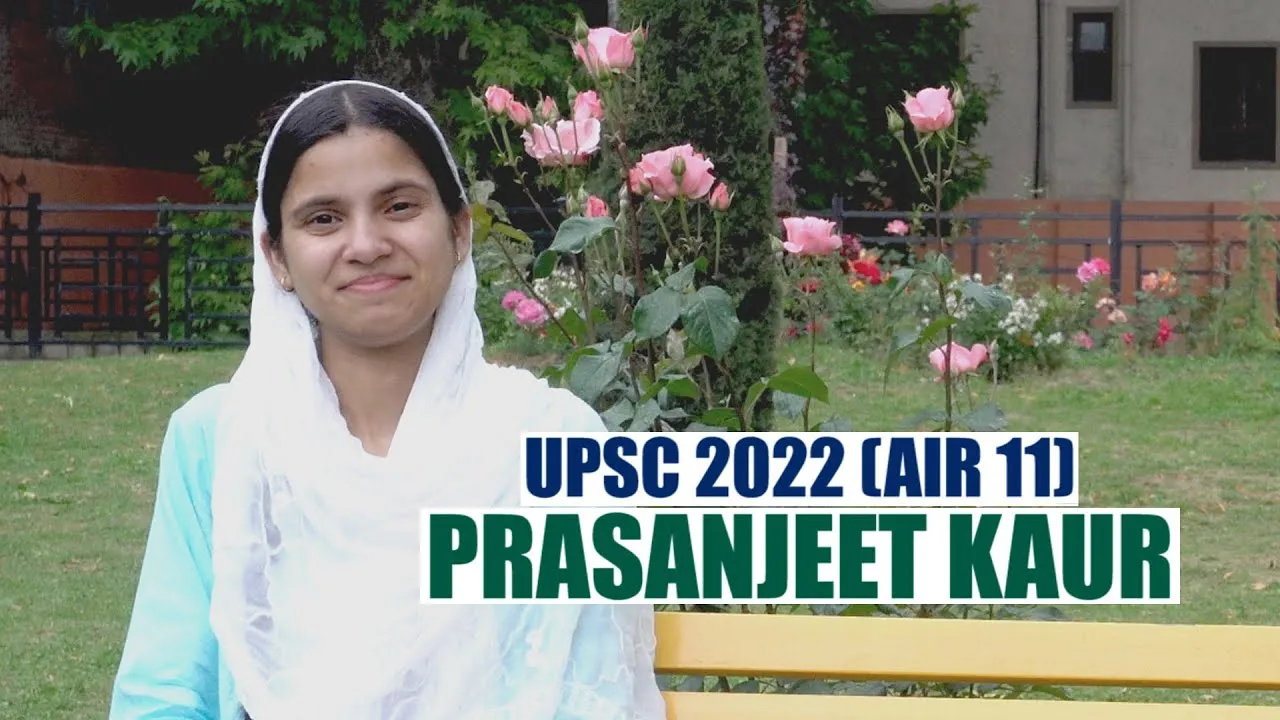 Poonch: The border town of Poonch is often in the news for wrong reasons -- it cops terror attacks, witnesses intense security operations against militants and is no stranger to sounds of gunshots and bullets.
But Poonch is very happy today. One of its residents, Parsanjeet Kour, has secured the 11th rank in the Indian Administrative Service (IAS) examination conducted by the Union Public Service Commission (UPSC).
As the news of her success spread, the town burst into jubilation.
"We knew she would qualify, but to score such a good rank is amazing," her uncle Uncle Prathipal Singh said. "Poonch is very happy."
Kour, a daughter of pharmacist Nirmal Singh and Darshan Kour, expressed her desire to serve the people of Jammu and Kashmir with a particular focus on the healthcare and education sectors.
"I will choose to become an IAS officer and work for the betterment of the people in Jammu and Kashmir. There are numerous challenges in the healthcare and education sectors in Poonch, and I am determined to address them," she said.
She expressed immense happiness about her success. "We are all overjoyed. There are no bounds to our happiness. My family is extremely proud as well."
Kour completed her education up to graduation in Poonch and obtained her Masters from Jammu University. She attributed her success to self-study.
"I relied on self-study and joined a test series. Hard work, consistency, and patience were crucial factors in my journey," she added.
Acknowledging the support of her family throughout her preparation, Kour said, "I had hoped to clear the examination, but I didn't expect to secure such a high rank. Examinations are unpredictable."
Previously, Kour cracked the Jammu and Kashmir Administrative Service (JKAS) examination in 2021 and is currently undergoing training in the summer capital, Srinagar.
Kour emphasised the importance of dedicating 7 to 8 hours per day for studying. "My teachers are pleased with my dedication," she shared.
Kour cleared the Jammu and Kashmir Administrative service (JKAS) examination in 2021 and is undergoing training in Srinagar.
As the UPSC declared the results this afternoon, hundreds of people including her neighbours and kin thronged to her house in the radio station area to greet the family.
Her father still can't believe what her daughter has achieved. "We never expected her to score the 11th rank in the civil examination, although we were confident she would crack this examination. I can't say how happy we all are," he told reporters here.
"We are all proud of her." He said she was always dedicated to her studies and cracked the examination without any coaching.
Uncle Prathipal Singh said Kour used to dedicate most of her time to studies. "Our daughter is very simple. Her aim to achieve something big in life has been fulfilled today. She cracked KAS and IAS without any coaching." He said she completed her M.Sc this year.
"She got 32 rank in KAS but was unhappy and appeared in the examination again. Result of which is still awaited," he said.
She had told the family that she did well in the UPSC examination as well. "We knew that she would qualify. but to score such a good rank is amazing," the uncle said.
Political parties, including the National Conference (NC) and Apni Party, too congratulated her.
"We extend our heartfelt congratulations to Waseem Ahmad Bhat from Anantnag district for securing the 7th rank, and to Prasanjeet Kour from Poonch district for securing the 11th rank in the UPSC CSE 2022 Final Result," the party said on Twitter.
It also wished luck to those who could not make it to the final list.
"To those who were unable to achieve their desired outcome, we wish them the best of luck in their future endeavour's and trust that they will find success in whatever path life unfolds before them," the NC said.
Poonch and its neighbouring Rajouri district have witnessed an increasing number of terror attacks orchestrated from across the border, with officials saying 26 Army personnel, including three officers and five paratroopers, and seven civilians have been killed in eight terror attacks since October 11, 2021 in the twin districts.
Security experts have called for a change in strategy, including the bolstering of intelligence and deployment, in the border districts of Poonch and Rajouri in Jammu and Kashmir to combat terrorism.