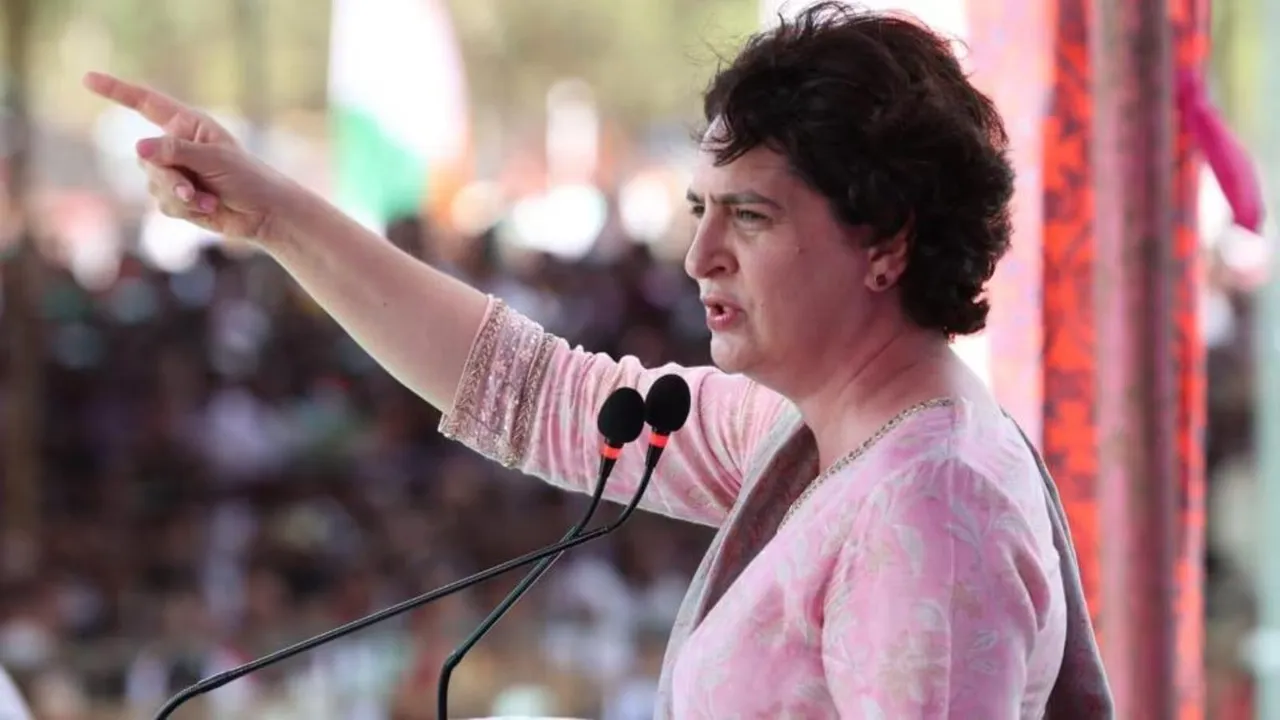 Hyderabad: Congress leader Priyanka Gandhi Vadra will arrive in the city on Monday to address a public meeting to highlight the issue of unemployment in Telangana, her first ever rally in the state after assuming charge as the AICC General Secretary.
She will also release the 'Hyderabad Youth Declaration' at the 'Yuva Sangharshana Sabha' scheduled to be held at Saroor Nagar stadium here on Monday evening, the party has said.
The Youth Declaration is expected to be on the lines of Farmers' Declaration released by Congress leader Rahul Gandhi in Warangal.
The meeting, being attended by Priyanka Gandhi Vadra, would instill "confidence" in lakhs of unemployed youth and students in the state, senior vice president of Telangana Congress and former MP Mallu Ravi told PTI.
The unemployed youth and students are "frustrated" in the wake of alleged leak of question papers of recruitment tests conducted by the state public service commission (TSPSC), he said.
The 'youth declaration' would contain party's promises to the youth and students about employment generation on a large scale, unemployment dole among others, he said.
The Congress, led by its state unit president and MP A Revanth Reddy, has already staged demonstrations against the TSPSC paper leak issue at different places in Telangana in April.
"We are sure she (Priyanka Gandhi Vadra) will inspire youth, women, farmers, for that matter all sections of society," Ravi said.
Congress is hopeful that the party would get a fillip after Priyanka Vadra's public meeting as it seeks to revive its fortunes in the state.
Aiming to resurrect its prospects in the state, the Congress has been reaching out to people in various forms.
While Revanth Reddy has held a 'padayatra' earlier after the conclusion of Rahul Gandhi's 'Bharat Jodo Yatra', Congress Legislature Party (CLP) leader Mallu Bhatti Vikramarka has been conducting a 'padayatra' since the last 50 days.
The Congress has suffered setbacks in Telangana despite the UPA government headed by Manmohan Singh realising the statehood demand in 2014.
In addition to losing the Legislative Assembly elections in 2014 and 2018, Congress has also fared badly in Assembly bypolls and the Greater Hyderabad Municipal Corporation (GHMC) election held during the last few years.
This apart, the party has yielded ground to the BJP which won two assembly bypolls and the GHMC election impressively.
Buoyed by its performance, the BJP is aiming to emerge as the alternative to the ruling BRS.