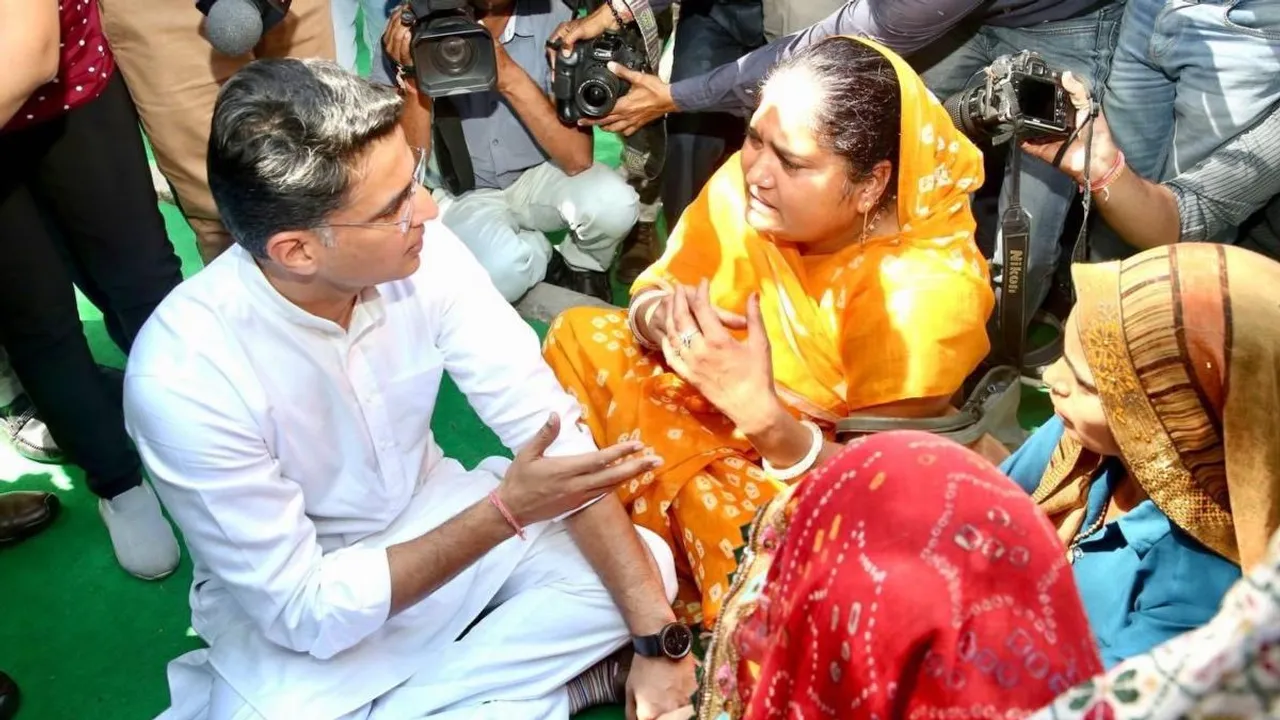 Jaipur: Rajasthan police early Friday removed the widows of the three CRPF jawans killed in the 2019 Pulwama terror attack from the protest site outside Congress leader Sachin Pilot's house here and shifted them to hospitals near their respective residential areas.
Jaipur Commissioner Anand Srivastava said their supporters were taken to SEZ police station.
The police action happened around 3 am when BJP MP Kirodi Lal Meena, who was supporting the protest by the widows, had gone to his residence, one of his close aides said.
The widows have been protesting since February 28 and launched an indefinite hunger strike six days ago, demanding a change in rules so that their relatives and not just children can get government jobs on compassionate grounds. Their other demands include construction of roads and installation of statues of the martyrs in their villages.
On Thursday, Chief Minister Ashok Gehlot responded to the demands, asking on Twitter whether it would be "appropriate" to give jobs to other relatives of the martyred jawans instead of their children.
"What will happen to the children of the martyr when they grow up? Is it appropriate to trample upon their rights?" he asked.
How can we justify giving job to any other relative by trampling upon the rights of the children of the martyr?

What will happen to the children of the martyr when they grow up?

Is it appropriate to trample upon their rights? pic.twitter.com/49Kio82KlX

— Ashok Gehlot (@ashokgehlot51) March 9, 2023
On Friday morning, Meena went to SEZ police station and said the government will not be able to suppress voice of the widows.
"Why is the government so afraid of 3 women warriors that the police picked them up overnight. Don't know where they have been taken? The women are only pleading to meet the Chief Minister Ashok Gehlot ji. Why is the chief minister so nervous to hear them?" Meena told reporters.
He added in a tweet, "Sitting on a dharna outside the SEZ police station. The government will not be able to suppress the voice of the martyrs wives on the strength of the police. An autocratic and dictatorial government will be resisted with more force." Later, Meena left to meet the wives of the martyrs, but was stopped by Samod police falling under Chomu town in Jaipur district.
"I was going to visit Samod Balaji with my supporters, but Samod police stopped me and abused and manhandled me. Is standing with the wives of martyrs such a big crime that the @ashokgehlot51 government is behaving like this with a people's representative?" Meena tweeted.