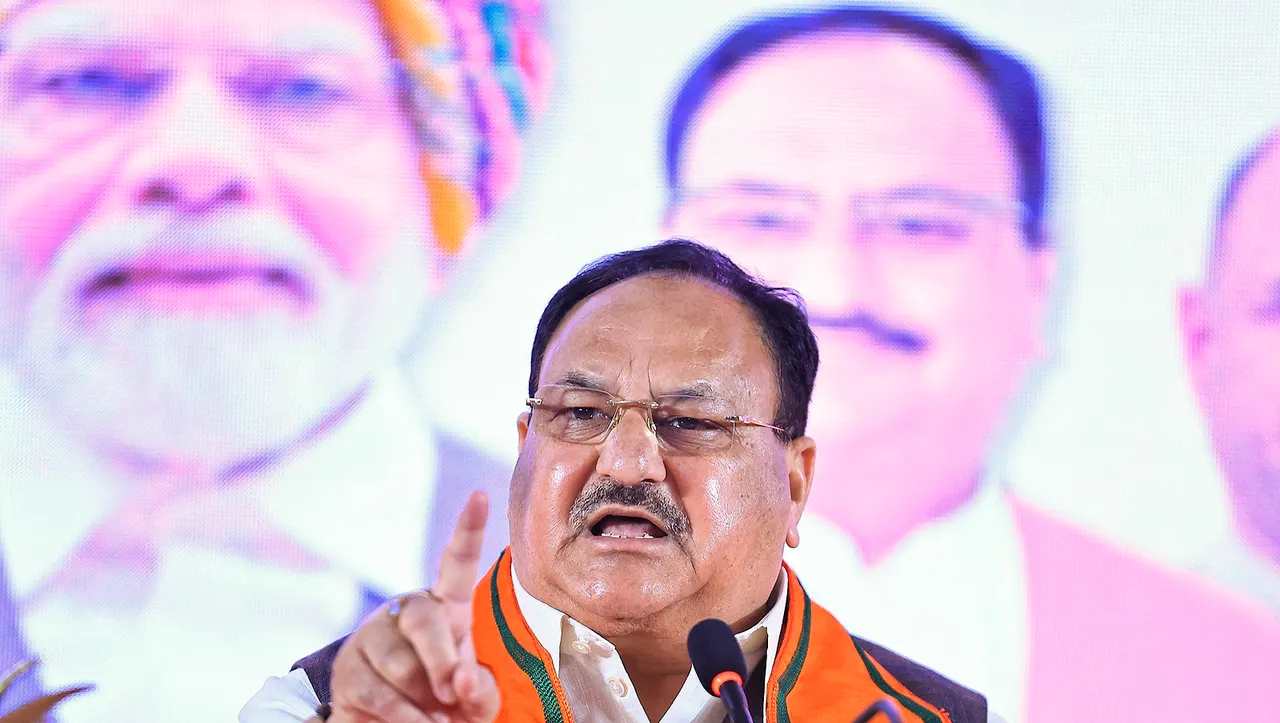 Jaipur: The BJP on Thursday released its manifesto for the Rajasthan assembly polls, promising to provide LPG cylinder for Rs 450 each to Ujjawala scheme beneficiaries, 2.5 lakh government jobs in five years and increasing the financial assistance to farmers under the PM-Kisan scheme.
Releasing the 'sankalp patra' here, party chief J P Nadda also said that if the BJP forms the government in the state, a Special Investigation Team will be formed to probe paper leaks and other alleged scams in the Congress government.
The manifesto said an arrangement to procure wheat at Rs 2,700 per quintal, including bonus above MSP, will be made and financial assistance under PM Kisan Samman Nidhi will be increased to Rs 12,000 per year.
Under the Pradhan Mantri Kisan Samman Nidhi (PM-Kisan), which aims to support farmers in meeting their agricultural and other incidental needs, a financial assistance of Rs 6,000 per year is at present transferred to bank accounts of farmers in three equal installment.
The manifesto also promises completion of the Eastern Rajasthan Canal Project (ERCP) in a time bound manner in collaboration with the Centre.
The Congress has been demanding national project status to the ERCP which was envisaged by the former BJP government to address irrigation and drinking water problems in a 13 eastern Rajasthan districts.
Nadda said a compensation policy for farmers whose land was auctioned will be brought and noted that land of 19,400 farmers was auctioned.
Pledging a slew of schemes for girls and women, he said a 'mahila thana' will be set up in every district and 'mahila desk' in every police station besides an anti-romeo squad in every city.
He also announced a savings bond of Rs 2 lakh on birth of girl child under Lado Protsahan Yojna, skill training to nearly six lakh rural women under Lakhpati Didi scheme, scooty to meritorious girls on clearing class 12 exam, free education from KG to PG to girls of poor families, three Mahila Police Battalions and increase in financial assistance under the PM Matru Vandan scheme from Rs 5,000 to Rs 8,000 For the youth, the party announced 2.5 lakh government jobs in five years, annual assistance of Rs 12,000 for students of poor families to purchase school bags, books and uniform and setting up of Rajasthan Institute of Technology and Rajasthan Institute of Medical Sciences in every division, In the health sector, the party pledged an investment of Rs 40,000 crore through the Bhamashah Health Infrastructure Mission and appointment of 15,000 doctors and 20,000 paramedical staff.
Besides a white paper on corruption cases of the Congress government and strict action, the party promised round-the-clock electricity supply in domestic sector, expansion of Jaipur Metro, transparent transfer policy, free ration to poor families under PM Garib Kalyan Yojna for five years, increase in old age pension and pension of Rs 1500 per month for the disabled.
The party said in the manifesto that it is committed to make Rajasthan a 350 billion dollar economy.
In the manifesto, the party also promised to set up the Rajasthan Economic Revival Task Force for the revival of the state economy.
"We will make Jaipur, Udaipur, Kota, Ajmer, Bharatpur, Jodhpur and Bikaner smart cities in collaboration with the central government," the manifesto said.
A special police cell for investigating sleeper cells of anti-national forces and anti-gangster task force to stop gang wars was also among the promises made.
For minority welfare, the party announced land allotment for 'Chaturmas' related events of Jain monks and adequate police protection, conservation and development of historical Sikh religious places, CM Sharnarthi Kalyan Yojna for Hindu migrants, colonies for Hindu migrants in Jodhpur whose houses were demolished by the Congress government and subsidised loans to start business, scholarship for school and college students.
For OBC welfare, the party promised distribution of OBC certificates in a time bound manner, collateral free education loan up to Rs 15 lakh and a welfare board to redress problems.
Various other announcements for tribal welfare, street hawkers and gig workers, auto drivers, SC and ST welfare, were also made.
Before releasing the manifesto, Nadda attacked the Congress, charging it was known for corruption, crime against women, insult to farmers, paper leaks and scams and said the precious time of Rajasthan has beeen wasted.
Nadda also alleged that in the name of "pseudo-secularism", bulldozers were run on religious places of some people.
He claimed that those who raised slogans like 'sar tan se juda' - threatening beheading - were encouraged. The apparent reference was to the murder of an Udaipur tailor Kanhaiya Lal for allegedly insulting Islam.
The BJP chief charged that the Congress made new records in corruption and scams and that the family of Chief Minister Ashok Gehlot got contracts.
Convener of the manifesto committee and union minister Arjun Ram Meghwal said suggestions from individuals across all 200 constituencies in digital and physical mode were taken and discussions with various groups, professionals were also held in order to make a comprehensive manifesto.
BJP's election in-charge for Rajasthan and union minister Pralhad Joshi, BJP in charge for Rajasthan Arun Singh, state president CP Joshi, former chief minister Vasundhara Raje and other leaders were present during the release of the manifesto.
Rajasthan goes to polls on November 25 and the results will be declared on December 3.