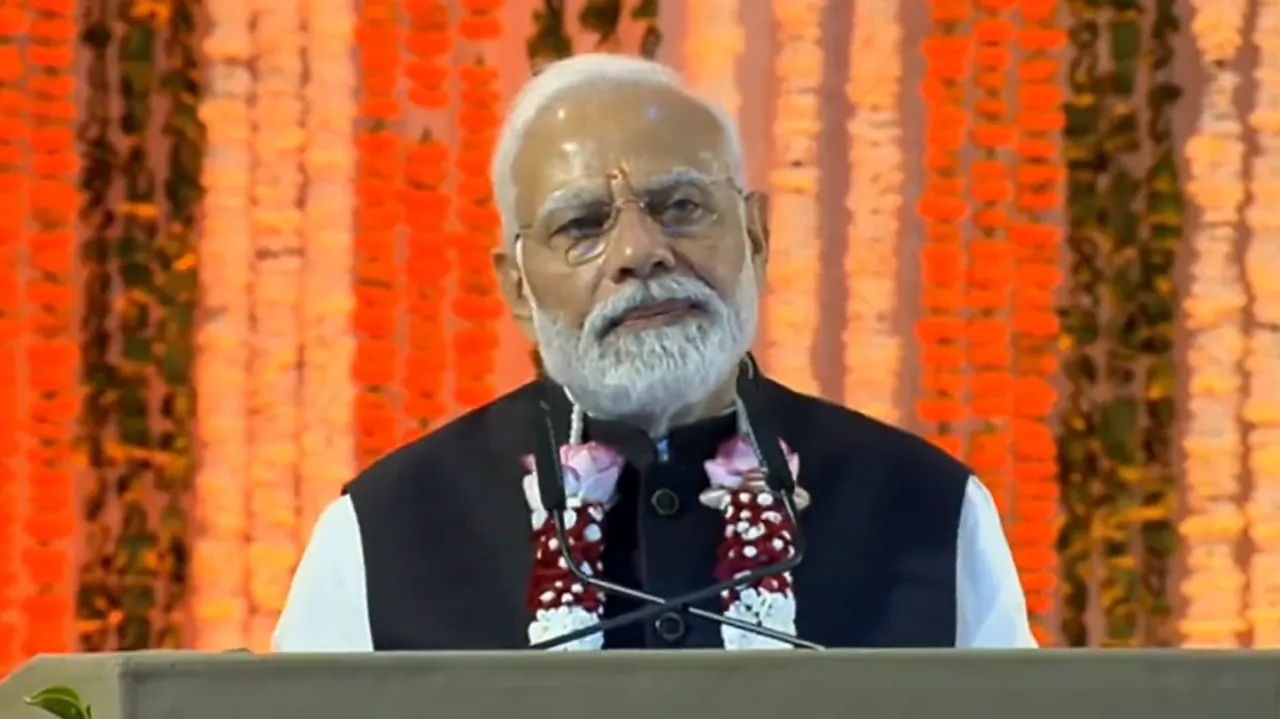 Chitrakoot: Prime Minister Narendra Modi on Friday said the Ram temple in Ayodhya will soon be ready, and hailed the contribution of Hindu spiritual leader Jagadguru Rambhadracharya in its making.
Speaking at a public function at Tulsi Peeth of Jagadguru Rambhadracharya at Chitrakoot in Madhya Pradesh, the PM also said that Sanskrit is not only the language of traditions, but also of our progress and identity.
"...Jagadguru Rambhadracharya ji has played a big role in fulfilling one of the dreams of every countrymen - the Ram temple, for which you have contributed so much, in and outside the court, is also going to be ready," the prime minister said as Hindu leaders present at the gathering cheered.
He also mentioned the invitation given to him by the Shri Ram Janmabhoomi Teerth Kshetra for the consecration ceremony of the Ram temple, which is expected to take place on January 22.
Praising Jagadguru Rambhadracharya for his wisdom, the prime minister said, "This level of wisdom is never personal, this wisdom is a national treasure."
The PM also remembered his contribution in the Swachh Bharat Mission as one of the nine key ambassadors.
On the occasion, he released three books 'Ashtadhyayi Bhashya', 'Ramanandacharya Charitam' and 'Bhagwan Shri Krishna ki Rashtraleela' written by Jagadguru Rambhadracharya.
PM Modi said national goals like cleanliness, health and Clean Ganga are being realised now.
Talking about Sanskrit language, he said efforts were made to uproot the culture and heritage of India during the thousand year old era of slavery.
"The slave mentality which was carried forward by certain individuals resulted in a feeling of enmity towards Sanskrit...Sanskrit is not only the language of traditions, it is also the language of our progress and identity," he said, and highlighted his government's efforts in the past nine years to promote Sanskrit in the country.
The PM also expressed confidence that Chitrakoot will scale new heights of development.
Tulsi Peeth, an important religious and social service institution in Chitrakoot, was established by Jagadguru Rambhadracharya in 1987 and is one of the leading publishers of Hindu religious literature.
After his arrival in Chitrakoot earlier in the day, PM Modi offered prayers at the famous Raghubir temple and addressed a function to mark the birth centenary celebrations of industrialist late Arvind Bhai Mafatlal.