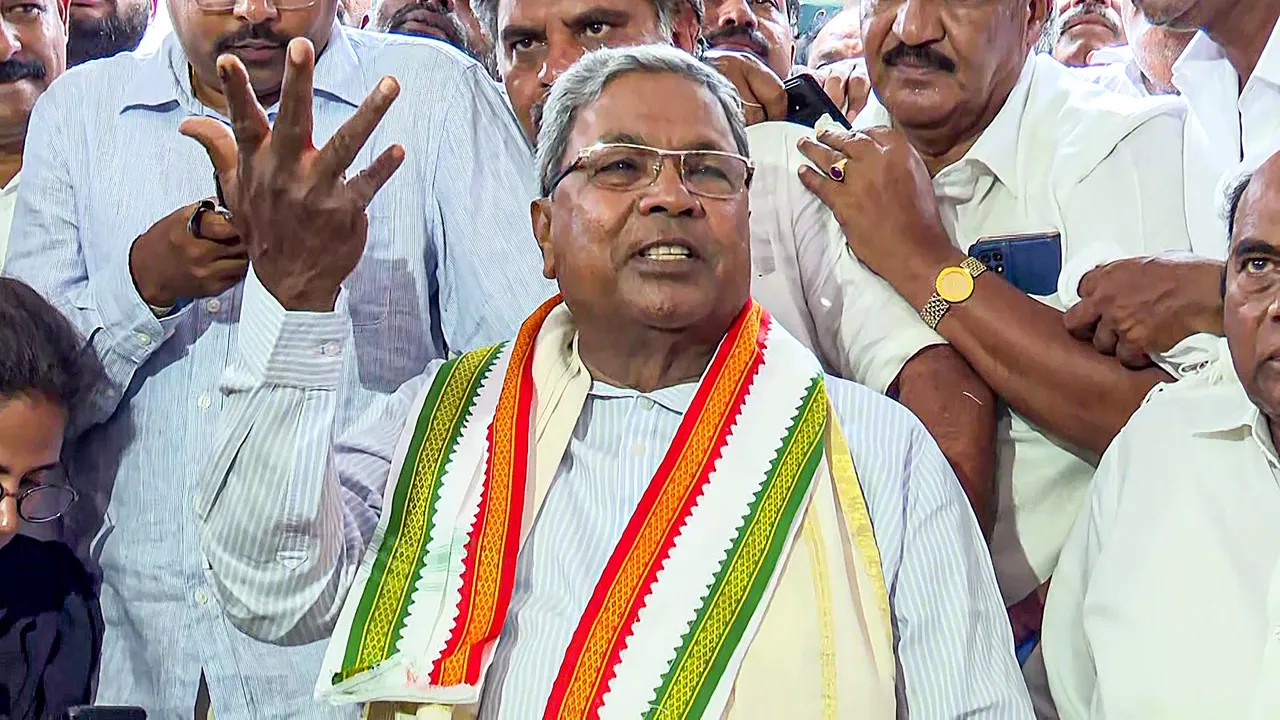 Bengaluru: A resurgent Congress appeared headed for a comfortable majority in Karnataka on Saturday and on course to wrest power from the BJP in its lone southern citadel which seems to have been hit by anti-incumbency, as the morale-boosting show came ahead of next year's Lok Sabha elections.
According to latest Election Commission statistics, the M Mallikarjun Kharge-led party won 10 seats and was leading in another 126 segments, well above the 113-mark needed for a simple majority in the 224-member House.
Elections were held on May 10 and counting of polled votes was taken up on Saturday.
The BJP, which won 104 seats in the previous Assembly elections, was ahead in 60 seats after winning 4, and the JD(S) led by former Chief Minister H D Deve Gowda, which was expected to play a key role in the event of a hung verdict, came out victorious in one seat and was leading in 19 other segments. Others were leading in four segments.
The BJP could not make a mark inspite of efforts from the party's brass, outgoing Chief Minister Basavaraj Bommai acknowledged.
"We have not been able to make the mark, inspite of a lot of effort put in by everyone, including the Prime Minister (Narendra Modi) and the workers of the party," he said.
"We will do a detailed analysis as the results conclude. We will take these results in our stride and try to reorganise the party for next year's Lok Sabha elections," he said.
AICC President Mallikarjun Kharge, who hails from Karnataka, termed Congress' good show as the 'victory' of "Janata Janardhana", as people have voted "furiously" against BJP's "bad administration" in the state.
He said all the newly elected Congress legislators have been asked reach Bengaluru by Saturday evening and the due process of the government formation will be followed.
"We have sent a message to everyone (newly elected persons)...they all will come here by this evening and once they come, they will be instructed on the due course. After that, the high command will send observers (and) after that the due processes (for government formation) will follow," he told reporters here Senior Congress leader and former chief minister Siddaramaiah said the visits of Modi, Home Minister Amit Shah and BJP chief J P Nadda have had no impact on the voters of Karnataka.
His colleague DK Shivakumar, who like Siddaramaiah is said to be nursing chief ministerial ambitions broke down while reacting to the Assembly elections results and gave credit to the Gandhi family for reposing their faith in his leadership in the State.
The KPCC chief said he had told the party high command that he will ensure the party's victory in the Karnataka Assembly elections Congress leaders said putting up a united front, making corruption a central campaign theme and promise of free rice, power and unemployment dole are among the factors that contributed to its performance.
In addition, the Muslim vote, which accounted for nearly 13 per cent of the electorate, consolidated in favour of the party, Congress sources said.
"We have put up a united front", a senior Congress leader said. "We were one step ahead in the narratives".
Congress had been attacking the Basavaraj Bommai-led administration months before the elections on corruption issues, and charged it with being a "40 per cent commission" government.
The Congress had announced five key pre-poll guarantees and said it would give them a stamp of approval in the maiden Cabinet meeting, if voted to power.
They are: 200 units of free power to all households (Gruha Jyoti), Rs 2,000 monthly assistance to the woman head of every family (Gruha Lakshmi), 10 kg of rice free to every member of a BPL household (Anna Bhagya), Rs 3,000 every month for unemployed graduate youth and Rs 1,500 for unemployed diploma holders (both in the age group of 18-25) for two years (Yuva Nidhi), and free travel for women in public transport buses (Shakti).
"Women voters seemed to have found fancy for our guarantees", a Congress party functionary said. "The BJP themselves had a lot of bickering. They were not happy with the government and governance. High corruption and price rise were other factors that led to our performance".
The performance of the Congress, which put up an aggressive campaign, has come as a boost to Kharge, who hails from Karnataka.
"Karnataka happens to be his home State. Naturally, there was a bit of pressure on him", a senior Congress leader said.
In the 2018 Assembly elections, the BJP emerged as the single largest party by winning 104 seats, followed by Congress with 80 seats and JD(S) 37.
In the outgoing Assembly, the ruling BJP has 116 MLAs, followed by the Congress at 69, JD(S) 29, BSP one, independents two, speaker one and vacant six (following deaths and resignations to join other parties ahead of the polls).