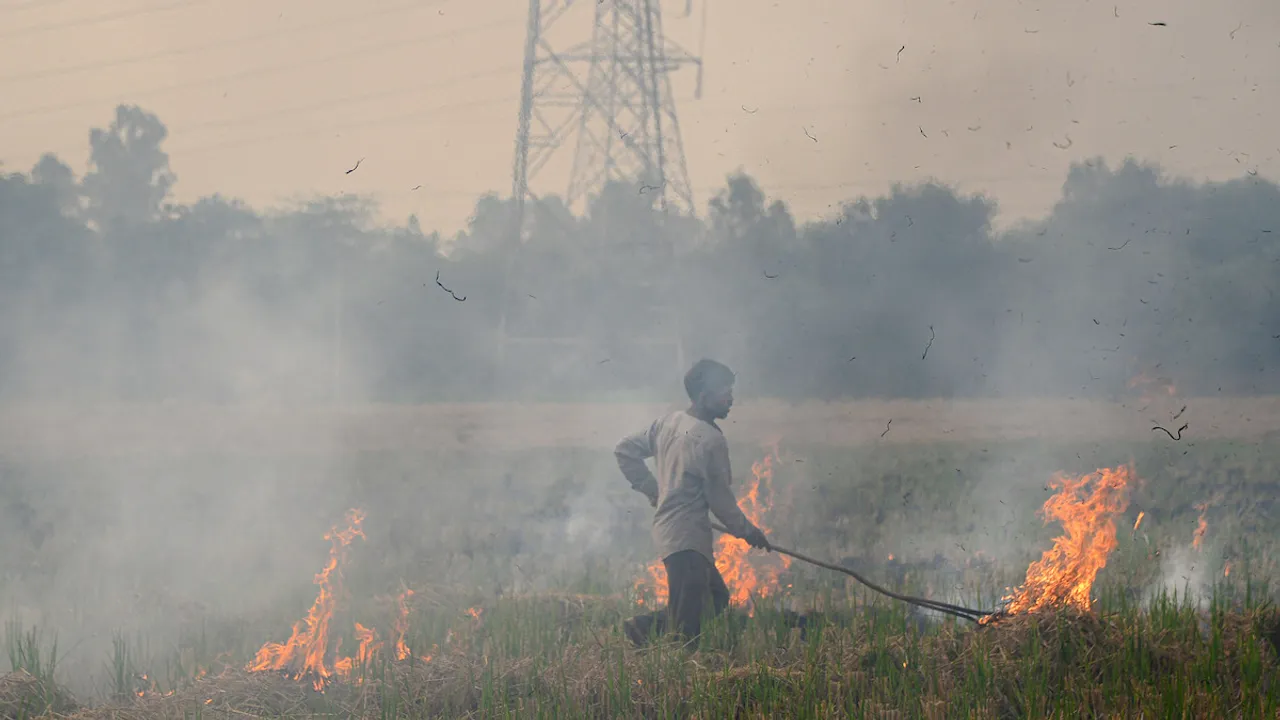 Chandigarh: Not just in the national capital Delhi, air quality in several cities across Punjab and Haryana has turned poor as the burning of paddy crop waste aka stubble picked up substantially in the region.
Punjab has again been the epicentre of farm fires as the average daily cases since November 1 have almost reached 1,700 cases.
Since harvesting is still due in almost one-third of the paddy area in the state, Punjab might see a further spike in stubble-burning cases.
Of 20,176 burning cases recorded so far in six states between September 15 and November 3, Punjab topped the chart with 12,814 cases followed by Madhya Pradesh (3,905), Haryana (1,372), UP (1,102), Rajasthan (982) and Delhi (2), reveals the data compiled by central government agency Indian Agriculture Research Institute.
As the pollution data reveals, the rise in stubble burning cases has coincided with the rise in air pollution levels not just in Delhi but in several parts of northern India.
For instance, the air quality index of Punjab's Amritsar, Bathinda, Jalandhar, Ludhiana and Patiala was in the poor and very poor category today on November 4, according to data from the Central Pollution Control Board (CPCB) website.
The cities in Haryana including Kurukshetra, Karnal, Rohtak and Panipat had a similar situation.
On the contrary, the air quality level in Delhi and the national capital region including Gurgaon, Faridabad and Noida has been the worst.
The AQI level of NCR, as recorded on November 4, crossed the 400-mark, which means a severe pollution level.
This, as per CPCB, is enough to affect healthy people and to seriously impact those with existing diseases.
According to experts, the current situation is the mixture of the intensification of stubble burning as well as the prevailing meteorological conditions, which is allowing pollutants to trap in the lower atmosphere rather than move out, thereby causing a spike in pollution levels.
Better wind speed and early rainfall is seen as an immediate solution to the prevailing conditions. But the major worry is that there is no rainfall forecast in the next week in Delhi.
On the contrary, public health experts in Punjab deny stubble burning as the sole reason for severe air pollution in Delhi and other parts.
Dr. Ravindra Khaiwal, who is an associate professor of Environment Health at Post Graduate Institute of Medical Education and Research in Chandigarh, told Newsdrum that even when the stubble cases were at their peak in Punjab, its contribution to air pollution level in the national capital region (NCR) was to the tune of 30% to 40%.
This season the average daily burning cases are down by half. If in November last year, average cases were 3000 per day, it is not more than 1600-1700 per day this year, he said.
"I don't think in these circumstances, stubble can be pinned as the sole reason for air pollution level in NCR. Other pollutant emission sources are playing too along with stubble burning, which must be addressed to get relief from prevailing circumstances in the near future," he said
He said a lot of solutions are being worked out to deal with stubble burning and other sources of emission but these steps must be expedited to lessen the pollution level on a short and long-term basis.